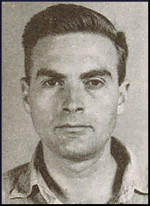 William Remington, the son of Frederick C. Remington (1870–1956), was born in New York City on 25th October, 1917. "His father had been an executive in a large corporation, his mother an art teacher." (1) Remington was educated at Dartmouth College and Columbia University.
Remington developed left-wing political views. Remington argued that he had been greatly influenced by the Russian Revolution: "I thought Russia a great experiment: they were making great progress toward improvement of living standards and I liked what the Russians were proposing for collective security against Nazism and Fascism." (2) While he was at college he joined the Young Communist League, which was the official youth movement of the Communist Party of the United States (CPUS). (3)
Remington was an enthusiastic supporter of the New Deal and in 1936 he found temporary employment with the Tennessee Valley Authority. He met Ann Moos in the CPUS in 1936 and he married her three years later. He returned to Columbia University to work for a master's degree in economics. During this period he became close to Joseph North, the editor of the New Masses.
William Remington & the New Deal
Remington, an economist, he worked for the National Resources Planning Board and the Department of Commerce. When his boss, Thomas C. Blaisdell, became assistant of the director of the War Production Board in February 1942, he took Remington with him. The historian, Kathryn S. Olmsted, has argued: "Remington and his wife, Ann, longed to reestablish contact with the Party in Washington, but they knew that open membership would hurt Bill's career. As a solution some Party friends introduced them to a mysterious, redheaded man with an Eastern European accent." The man's real name was Jacob Golos and he was a Soviet spy. (4)
Golos passed Remington over to Elizabeth Bentley. Over the next two years, Bentley met Remington on a regular basis. She later recalled that he gave her classified information on aircraft production and testing. She claimed that "he was one of the most frightened people with whom I have ever had to deal". Eventually, he refused to meet Bentley and openly joined pro-Communist organizations in the hope that he would lessen his value as a spy. Bentley dismissed Remington as "a small boy trying to avoid moving the lawn or cleaning out the furnace when he would much rather go fishing." Bentley advised Golos that they should drop him but he insisted that they remained in contact as other powerful members of the network might be able to "push him into a really good position." (5)
Roy Cohn later argued: "Remington regularly handed Elizabeth Bentley documents and information from the War Production Board which she took to Golos in New York. He gave her material such as airplane production schedules. One item was unique. Remington had learned that the War Production Board was working on a secret process to produce synthetic rubber from garbage. The project was under careful and secret scrutiny by the Government and large sums of money were being expended on its research. Remington got hold of the formula of this secret process. He considered it one of his greatest achievements and emphasized its potential importance as he turned it over to Helen (Bentley)." (6)
In 1944 Elizabeth Bentley left the Communist Party and the following year she considered telling the authorities about her spying activities. In August 1945 she was on holiday to Old Lyme. While in Connecticut she visited the FBI in New Haven. She was interviewed by Special Agent Edward Coady but she was reluctant to give any details of her fellow spies but did tell them that they she was vice-president of the U.S. Service and Shipping Corporation and the company was being used to send information to the Soviet Union. Coady sent a memo to the New York City office suggesting that Bentley could be used as an informant. (7)
On 11th October 1945, Louis Budenz, the editor of the Daily Worker, announced that he was leaving the Communist Party of the United State and had rejoined "the faith of my fathers" because Communism "aims to establish tyranny over the human spirit". He also said that he intended to expose the "Communist menace". (8) Budenz knew that Bentley was a spy and four days later showed up at the FBI's New York office. Vsevolod Merkulov later wrote in a memo to Joseph Stalin that "Bentley's betrayal might have been caused by her fear of being unmasked by the renegade Budenz." (9) At this meeting she only gave the names of Jacob Golos and Earl Browder as spies.
Another meeting was held on the 7th November 1945. This time she the FBI a 107 page statement that named William Remington, Victor Perlo, Harry Dexter White, Nathan Silvermaster, Abraham George Silverman, Nathan Witt, Marion Bachrach, Julian Wadleigh, Harold Glasser, Charles Kramer, Ludwig Ullman, Henry Hill Collins, Frank Coe, Cedric Belfrage and Lauchlin Currie as Soviet spies. The following day J. Edgar Hoover, sent a message to Harry S. Truman confirming that an espionage ring was operating in the United States government. (10) Some of these people, including White, Currie, Bachrach, Witt and Wadleigh, were named by Whittaker Chambers in 1939. (11)
There is no doubt that the FBI was taking her information very seriously. As G. Edward White, has pointed out: "Among her networks were two in the Washington area: one centered in the War Production Board, the other in the Treasury Department. The networks included two of the most highly placed Soviet agents in the government, Harry Dexter White in Treasury and Laughlin Currie, an administrative assistant in the White House." (12) Amy W. Knight, the author of How the Cold War Began: The Ignor Gouzenko Affair and the Hunt for Soviet Spies (2005) has suggested that it had added significance because it followed the defection of Ignor Gouzenko. (13)
On 15th April, 1947, the FBI descended on the homes and businesses of twelve of the names provided by Bentley. Their properties were searched and they were interrogated by agents over several weeks. However, all of them refused to confess to their crimes. J. Edgar Hoover was eventually advised that the evidence provided by Elizabeth Bentley, Louis Budenz, Whittaker Chambers and Hede Massing was not enough to get convictions. Hoover's main concern now was to protect himself from charges that he had bungled the investigation. (14)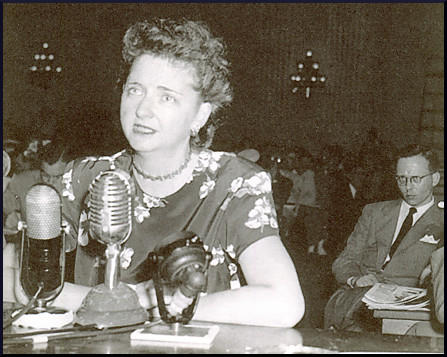 On 30th July 1948, Elizabeth Bentley appeared before the House of Un-American Activities Committee. The senators were relatively retrained in their questioning. They asked Bentley to mention only two names in public: William Remington and Mary Price. Apparently the reason for this was that Remington and Price had both been involved in Henry A. Wallace campaign. Bentley was also reluctant to give evidence against these people and made it clear that she was not sure if Remington knew his information was going to the Soviet Union. She also described spies such as Remington and Price as "misguided idealists". (15)
The following day Bentley named several people she believed had been Soviet spies while working for the United States government. This included Victor Perlo, Harry Dexter White, Nathan Silvermaster, Abraham George Silverman, Nathan Witt, Marion Bachrach, Julian Wadleigh, Harold Glasser, Henry Hill Collins, Frank Coe, Charles Kramer and Lauchlin Currie. One of the members of the HUAC, John Rankin, and well-known racist, pointed out the Jewish origins of these agents. (16) Silverman, Kramer, Collins and Witt all used the Fifth Amendment defence and refused to answer any questions put by the HUAC. (17)
William Remington agreed to answer questions before Congressional committees. Athan Theoharis, the author of Chasing Spies (2002), believes this was a serious mistake: "Remington's problems stemmed from two factors. First, he did not take the Fifth Amendment when responding to the committee's questions in striking contrast, for example, to Silvermaster and Perlo. Second, by then most of the individuals named by Bentley were no longer federal employees while Remington continued to hold a sensitive appointment in the Commerce Department. He was one of only three named by Bentley who was currently employed in the federal government." (18)
William Remington appeared before the Homer Ferguson Senate Committee. He admitted meeting Elizabeth Bentley but denied he helped her to spy. He claimed that Bentley had presented herself as a reporter for a liberal periodical. They had discussed the Second World War on about ten occasions but had never given her classified information. The committee did not find Remington's explanation persuasive, and neither did the regional loyalty board. The board soon recommended his dismissal from the government. (19)
Elizabeth Bentley appeared before the NBC Radio's Meet the Press. One of the reporters asked her if William Remington was a member of the Communist Party of the United States (CPUSA)? She replied: "Certainly... I testified before the committee that William Remington was a communist." To preserve his credibility Remington sued both NBC and Bentley. On 15th December, 1948, Remington's lawyers served her with the libel papers. The libel suit was settled out of court shortly thereafter, with NBC paying Remington $10,000. (20)
John Gilland Brunini, the foreman of the new grand jury investigating the charges made by Elizabeth Bentley, insisted that Ann Remington, who had divorced her husband, should appear before them. During interrogation by Bentley's lawyer, Thomas J. Donegan, Ann Remington admitted that William Remington was a member of the CPUSA and that he had provided Bentley with secret government documents. "Ann Remington was the first person from Elizabeth's espionage days who did not portray her as a fantasist and a psychopath." (21) On 18th May, 1950, Elizabeth Bentley testified before the grand jury that Remington was a communist. When he stopped spying we "hated to let him go." The grand jury now decided to indict Remington for committing perjury. (22)
William Remington's Trial
William Remington's trial began on 26th December 1950. Irving Saypol led the prosecution team. In his opening speech he argued: "We will prove that William W. Remington was a member of the Communist Parry, and we will prove that he lied when he denied it.... We will show his Communist Party membership from the mouths of witnesses who will take the stand before you, and from written documents which are immutable.... You will see... how, while drawing a high salary from the Government, he prostituted his position of trust... for the benefit of his Communist Party to which he was attached. For that Party we will show that he took documents and vital information from the War Production Board and turned these over to a fellow member of the Communist Party, for ultimate delivery to Russia. It will he shown ... that his adherence and his loyalty was primarily to the Russian Government.... I am confident that on the basis of the overwhelming and undisputed evidence which is about to he presented to you, you will find beyond any reasonable doubt that Remington lied to the grand jury, that he is guilty of... perjury." (23)
Roy Cohn, was a member of the prosecuting team. He pointed out that the main witness against William Remington was his former wife, Ann Remington. She explained that her husband had joined the Communist Party of the United States in 1937. Ann also testified that he had been in contact with both Elizabeth Bentley and Jacob Golos. "Elizabeth Bentley later supplied a wealth of detail about Remington's involvement with her and the espionage conspiracy. Remington's defense was that he had never handled any classified material, hence could not have given any to Miss Bentley. But she remembered all the facts about the rubber-from-garbage invention. We had searched through the archives and discovered the files on the process. We also found the aircraft schedules, which were set up exactly as she said, and inter office memos and tables of personnel which proved Remington had access to both these items. We also discovered Remington's application for a naval commission in which he specifically pointed out that he was, in his present position with the Commerce Department, entrusted with secret military information involving airplanes, armaments, radar, and the Manhattan Project (the atomic bomb)." (24)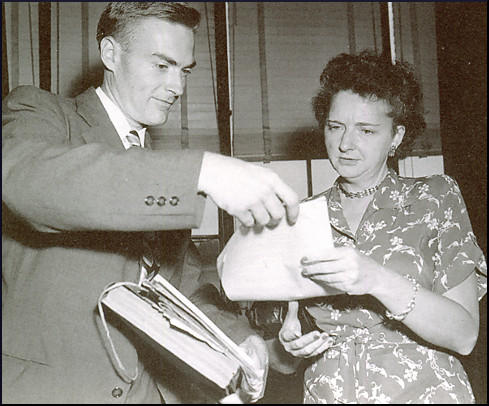 One of Remington's main witnesses was Bernard Redmont. During cross-examination Irving Saypol attempted to show that Redmont was a secret member of the Communist Party of the United States. Saypol asked him why he had changed his name from Rothenberg to Redmont. He explained that it was because "there is a certain amount of anti-Semitism in the world, unfortunately." Saypol (whose real name was Ike Sapolsky) replied "I take it you are of the Hebrew heritage?... So you wanted to conceal that by taking this other name... That is your concept of good Americanism?... As a matter of fact, it is the Communists who take the false names, isn't it?"
Saypol then went onto question Redmont about the name of his eight-year-old son, Dennis Foster Redmont. Saypol suggested that he had been named after two senior members of the CPUSA: William Z. Foster and Eugene Dennis. Redmont replied: "We named him Dennis because we liked the name. We named him Foster after... my grandfather." Saypol then suggested: "Didn't you tell some members of the Communist Party in Washington, D.C that you named your son Dennis Foster in honor of these dignitaries... of the Communist Parry?" "I certainly did not," Redmont insisted. (25)
During the trial eleven witnesses claimed they knew Remington was a communist. This included Elizabeth Bentley, Ann Remington, Professor Howard Bridgeman of Tufts University, Kenneth McConnell, an Communist organizer in Knoxville, Rudolph Bertram and Christine Benson, who worked with him at the Tennessee Valley Authority and Paul Crouch who provided him with copies of the southern edition of the communist newspaper, the Daily Worker. (26)
Remington was convicted after a seven-week trial. Judge Gregory E. Noonan handed down a sentence of five years - the maximum for perjury - noting that Remington's act of perjury had involved disloyalty to his country. One newspaper reported: "William W. Remington now joins the odiferous list of young Communist punks who wormed their way upward in the Government under the New Deal. He was sentenced to five years in prison, and he should serve every minute of it. In Russia, he would have been shot without trial." (27)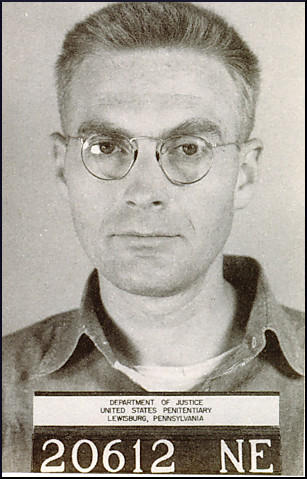 Thomas W. Swan, was highly critical of Saypol's behaviour during Remington's trial. He was especially unhappy with his cross-examination of Bernard Redmont: "We wish to admonish counsel for the prosecution that in case of a re-trial there should he no repetition of the cross-examination attack on defense witness Redmont.... Redmont testified that he had changed his name for professional reasons and that he had done so pursuant to Court order. On cross-examination the prosecutor continued his inquiry of this matter long after it became clear that the change of name had no relevancy to any issue at the trial, and could only serve to arouse possible racial prejudice on the part of the jury." (28)
The U.S. Circuit Court of Appeals reversed the perjury conviction on the ground that Judge Noonan's charge to the jury had been "too vague and indefinite" in defining exactly what constituted party "membership." The court, which did not touch upon the guilt or innocence of the defendant, ordered a new trial to be held. Roy Cohn was convinced that this time they would be successful as he believed the evidence was overwhelming: "He had denied turning over secret information to Elizabeth Bentley - yet she had testified that he gave documents to her and we had produced copies of some of the documents. He had denied that he had attended Communist party meetings in Knoxville - yet witness after witness, all former Communists, had come forth to swear that Remington had attended the meetings. He had denied that he had paid dues to the Communist party - yet both Miss Bentley and his own former wife had said that he did. He had denied that he had asked anyone to join the party - yet his former boss at the TVA had testified Remington had asked him. He had denied even knowing about the existence of the Young Communist League at Dartmouth while he was an undergraduate - yet a classmate had said they had discussed the organization when they were students." (29)
Elizabeth Bentley was drinking heavily during this period and her lover during this period, Harvey Matusow, was worried about the impression she would make in court. He claimed that she was upset at her "frivolous treatment" in the press. "She didn't understand the hostility... She never got to the point where she could handle it." Bentley complained about the way she had been treated by the FBI: "She felt that she'd been used and abused." (30) Bentley told her friend, Ruth Matthews that she "should step out in front of a car and settle everything." (31)
However, according to Kathryn S. Olmsted, the author of Red Spy Queen (2002), she was a very good witness. "Once again, though, despite her emotional problems outside of court, Elizabeth performed well on the stand. As usual, she was somewhat snappish and impatient under cross-examination... But like his predecessors, Jack Minton (Remington's new attorney) could not shake her self-confidence. She again succeeded in creating the illusion of a calm, controlled, and even patronizing witness, a Sunday school teacher somehow dropped into the middle of an espionage trial." (32)
On 4th February, 1953, William Remington was sentenced to a three-year term. The Court of Appeals upheld the conviction, the Supreme Court denied Remington's application to be heard, and he was sent to Lewisburg Penitentiary. (33) The FBI was pleased by Elizabeth Bentley's testimony and pointed out that she had "conducted herself in a creditable fashion" and recommended continuing her weekly payments for another three months. J. Edgar Hoover approved the recommendation. (34)
On 22nd November, 1954, two of Remington's fellow inmates George McCoy and Lewis Cagle, Jr., attacked Remington in his cell. According to Kathryn S. Olmsted: "William Remington attracted the attention of a group of young thugs in the cell across the hall. They despised this young man of education and privilege who had inexplicably turned on his country and become a 'damn Communist' and a 'traitor.' One morning, as Remington slept, they crept into his room and slugged him repeatedly with a brickbat. The handsome Ivy Leaguer died two days later. He was thirty-seven years old." (35)
People writing about the case have disagreed about the motivation of McCoy and Cagle. Roy Cohn, in his book, McCarthy (1968) argues that "Three fellow convicts crept into Remington's cell while he was asleep and bludgeoned him with a brick wrapped in a stocking. Remington staggered out and collapsed at the foot of a stairs. He died sixteen hours later in the prison hospital. At first there was suspicion that Remington had been murdered for his political views. Later it was disclosed that there had been other motives. It was a tragic end to what might have been a brilliant career." (36)
However, Gary May, the author of Un-American Activities: The Trials of William Remington (1994) believes that the killers were motivated by anti-Communism. He points out that one of the prison warders told Remington's wife that "the actions of a couple of hoodlums who got all worked up by... the publicity about Communists." May points out that when McCoy confessed he said he hated Remington for being a Communist and denied any robbery motive. (37)
Max Lerner, who knew Remington, wrote in the New York Post: "William Remington died as he lived, in dubious and ambiguous battle. He was a man who teetered on the edge of ideas, never a whole-hearted partisan of any cause.... He lived a life of bewildering mirror images. But while he was not a man to he admired, he did not deserve the vindictive pursuit he suffered, nor the hatreds he engendered among the unthinking and hysterical. Least of all did he deserve the brick in the sock wielded by two thugs who broke his skull in his prison cell." Murray Kempton added that Remington "was the least fortunate of men... the small sinner who paid capital penalties." (38)
(7) Silvermaster FBI File 65-56402-3414
(23) Irving Saypol, speech in court at the William Remington trial (26th December, 1950)
(28) Thomas W. Swan, court opinion of the William Remington trial (22nd August, 1951)
(31) Elizabeth Bentley FBI File 134-182-66
(34) J. Edgar Hoover, memo to New York office (5th February, 1953)