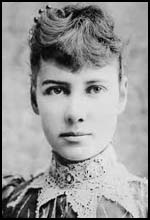 Elizabeth Cochrane was born in Cochran Mills, Allegheny County, Pennsylvania, on 5th May, 1864. Her father died six years later, leaving her mother, Mary Jane Cochrane, with fifteen children to raise. Elizabeth was not an impressive student at school but she did develop a strong desire to be a writer.
The family were fairly poor and when Elizabeth reached sixteen she moved to Pittsburgh to find work. She soon discovered that only low-paid occupations were available to women. In 1885 she read an article in the Pittsburgh Dispatch entitled What Girls Are Good For. The male writer argued that women were only good for housework and taking care of children. Elizabeth was furious and wrote a letter of protest to the editor. George Madden responded by asking her what articles she would write if she was a journalist. She replied that newspapers should be publishing articles that told the stories of ordinary people. As a result of her letter, Madden commissioned Elizabeth, who was only eighteen, to write an article on the lives of women.
Elizabeth accepted, but as it was considered improper for at the time for women journalists to use their real names, she used a pseudonym: Nellie Bly. She decided to write an article on divorce based on interviews with women that she knew. In the piece, Bly used the material to argue for the reform of the marriage and divorce laws. Madden was so impressed with the article he hired her as a full-time reporter for the Pittsburgh Dispatch. Bly's journalistic style was marked by her first-hand tales of the lives of ordinary people. She often obtained this material by becoming involved in a series of undercover adventures. For example, she worked in a Pittsburgh factory to investigate child labour, low wages and unsafe working conditions. Bly was not only interested in writing about social problems but was always willing to suggest ways that they could be solved.
Madden later wrote that Nellie Bly was "full of fire and her writing was charged with youthful exuberance." However, it was not long before he was receiving complaints from those institutions that Bly was attacking in her articles. When companies began threatening to stop buying advertising space in the Pittsburgh Dispatch, the editor was forced to bring an end to the series.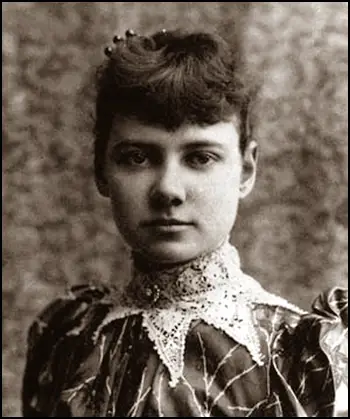 Bly was now given cultural and social events to cover. Unhappy with this new job, Bly decided to go to Mexico where she wrote about poverty and political corruption. When the Mexican government discovered what Bly had been writing, they ordered her out of the country. Her account of life in Mexico was later published as Six Months in Mexico (1888). It included the followed: "The constitution of Mexico is said to excel, in the way of freedom and liberty to its subjects, that of the United States; but it is only on paper. It is a republic only in name, being in reality the worst monarchy in existence. Its subjects know nothing of the delights of a presidential campaign; they are men of a voting age, but they have never indulged in this manly pursuit, which even our women are hankering after. No two candidates are nominated for the position, but the organized ring allows one of its members - whoever has the most power - to say who shall be president."
In 1887 Bly was recruited by Joseph Pulitzer to write for his newspaper, the New York World. Over the next few years she pioneered the idea of investigative journalism by writing articles about poverty, housing and labour conditions in New York. This often involved undercover work and she feigned insanity to get into New York's insane asylum on Blackwell's Island.
Bly later wrote in Ten Days in a Mad House (1888): "Excepting the first two days after I entered the asylum, there was no salt for the food. The hungry and even famishing women made an attempt to eat the horrible messes. Mustard and vinegar were put on meat and in soup to give it a taste, but it only helped to make it worse. Even that was all consumed after two days, and the patients had to try to choke down fresh fish, just boiled in water, without salt, pepper or butter; mutton, beef, and potatoes without the faintest seasoning. The most insane refused to swallow the food and were threatened with punishment. In our short walks we passed the kitchen where food was prepared for the nurses and doctors. There we got glimpses of melons and grapes and all kinds of fruits, beautiful white bread and nice meats, and the hungry feeling would be increased tenfold. I spoke to some of the physicians, but it had no effect, and when I was taken away the food was yet unsalted."
Bly discovered while staying in the hospital that patients were fed vermin-infested food and physically abused by the staff. She also found out that some patients were not psychologically disturbed but were suffering from a physical illness. Others had been maliciously placed there by family members. For example, one woman had been declared insane by her husband after he caught her being unfaithful. Bly's scathing attacks on the way patients were treated at Blackwell's Island led to much needed reforms.
After reading Jules Verne's Around the World in Eighty Days in 1889, Bly suggested to Joseph Pulitzer that his newspaper should finance an attempt to break the record illustrated in the book. He liked the idea and used Bly's journey to publicize the New York World. The newspaper held a competition which involved guessing the time it would take Bly to circle the globe. Over 1,000,000 people entered the contest and when she arrived back in New York on 25th January, 1890, she was met by a massive crowd to see her break the record in 72 days, 6 hours, 11 minutes and 14 seconds.
Bly retired from journalism after marrying Robert Seaman in 1895. Seaman, the millionaire owner of the Iron Clad Manufacturing Company and the American Steel Barrel Company, died in 1904. Bly decided to take over the running of these two ailing companies. Recognizing the importance of the well-being of the workers, Bly introduced a series of reforms that included the provision of health-care schemes, gymnasiums and libraries.
Bly was on holiday in Europe on the outbreak of the First World War. She immediately travelled to the Eastern Front where she reported the war for the New York Journal American.
Nellie Bly died of pneumonia at St. Mark's Hospital in New York City on 27th January, 1922. She was interred at Woodlawn Cemetery in the Bronx.