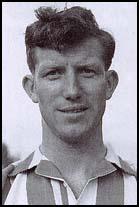 Derek Dooley, the son of two factory workers, was born in Sheffield on 13th December 1929. Like his father, Dooley was a talented footballer. He left school at fourteen and began work with a firm manufacturing deaf aids.
Dooley played football for the local YMCA. He was initially a centre-half but after he was switched to centre-forward he became a prolific goalscorer. In 1947 Dooley signed as an amateur for Lincoln City in the Third Division. He scored two goals in two games before being sold to his home club, Sheffield Wednesday in 1947.
Ivan Ponting pointed out that: "Though he was quick, bullishly strong and utterly fearless when fighting for the ball, the 6ft 3in spearhead appeared cumbersome and poorly balanced when a degree of finesse was required." It was not until 11th March 1950 that Dooley made his debut for his new club against Preston North End. Soon afterwards he started his National Service with the Royal Air Force. He did not return to Hillsborough until October 1951 by which time the club was near the bottom of the Second Division.
His first game after returning from the RAF was against Barnsley. Dooley scored two goals in the match. This was followed by five goals in Wednesday's 6-0 win over Notts County and all four in the 4-0 victory over Everton. By the end of the 1951-52 season, with Sheffield Wednesday top of the table, Dooley had contributed almost half the Owls' goals, 46 in just 30 games. Ivan Ponting argued that: "Fans who previously had denigrated his clumsiness now hailed the savagery of his right-foot finishing, his fearsome aerial prowess and a willingness to strike from any angle which yielded several seemingly impossible goals. Though arguments continued to rage about the perceived rashness of the young warrior whose untempered aggression risked injury where more polished performers would hold back, his tigerish chasing of apparently lost causes was applauded".
Brian Glanville, the football journalist, had doubts about Dooley's ability to make it in the First Division. "His style did not appeal to everyone, and he was frequently booed when Wednesday played away from home. With his bulk, his huge feet, his ungainly movement, abrasive approach to the game and his perpetual harassing of goalkeepers, Dooley was always a controversial figure."
Dooley came in for some rough treatment at the beginning of the next season. After three games in the First Division, Eric Taylor, the club manager left Dooley out of the team against Charlton Athletic "to emphasise our protest against the rough treatment he was getting from defences and for the marked-man attention from referees." Liverpool, the last side to play Wednesday, were incensed by the suggestion and replied: "Dooley got no more than he gave".
Another reason why Dooley was dropped from the team was that he had failed to score in his opening three games. However, Eric Taylor recalled him into the side after only one game in the reserves. Dooley rewarded his manager by scoring 16 goals in 26 games and journalists began talking about playing in the forthcoming international games.
On 14th February 1953 Sheffield Wednesday played Preston North End. As the football journalist Brian Glanville pointed out: "At Deepdale, the Preston North End ground, he was pursuing a long pass from the clever little Albert Quixall, knowing that the advancing goalkeeper, George Thompson, was more than likely to get there first. In the event, Thompson crashed into Dooley just as he made contact with the ball, breaking the centre-forward's leg in two places."
After nine weeks in Preston Royal Infirmary, it was discovered that he had gangrene. It seems that he had been infected through a cut sustained before the collision. Dooley was operated on and as he later recalled that when he regained consciousness he discovered that his right leg had been amputated "six inches from the top because the gangrene had already reached my knee joint and beyond". At the age of 23 Dooley's football career was over. He had the impressive record of scoring 64 goals in 63 games.
There was great sympathy for Dooley who had been seen as one of England's brightest young stars. The Sheffield Telegraph promoted a shilling fund which raised £2,700. Dooley's benefit match at Hillsborough, an international XI and a Sheffield team, attracted 55,000 spectators and raised a further £7,500.
Dooley did some journalism before finding work at a Sheffield bakery. He also helped out coaching Wednesday's juniors and in 1962 Eric Taylor appointed him to run the club development fund.
In February 1971 Dooley was appointed manager of Sheffield Wednesday. At that time the club was in the Second Division. At the end of the season Wednesday finished in 15th place. It was hoped that under Dooley's leadership the club could get promoted to the First Division. However, in the 1971-72 season they finished a disappointing 14th. The following season they reached 10th place but this was not good enough for the directors of the club and he was sacked in 1973.
In November 1974 Dooley became the commercial manager of Sheffield United. Later he became a director and in 1999 chairman of the club. He is also the author of Dooley!: The Autobiography of a Soccer Legend (2000). In 2003 Dooley was awarded the MBE.
In April 2006, under Dooley's leadership, Sheffield United was promoted to the Premier League. He now resigned as chairman and became vice-president of the club.
Derek Dooley died in Sheffield on 5th March 2008.