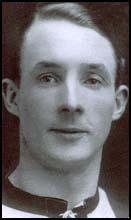 George Pyke was born in Gateshead on 26th August 1893. A centre-forward, he joined Newcastle United in 1913.
In October 1914, the Secretary of State, Lord Kitchener, issued a call for volunteers to both replace those killed in the early battles of the First World War. Two months later William Joynson Hicks established the 17th Service (Football) Battalion of the Middlesex Regiment.
This group became known as the Football Battalion. According to Frederick Wall, the secretary of the Football Association, the England international centre-half, Frank Buckley, was the first person to join the Football Battalion. At first, because of the problems with contracts, only amateur players like Vivian Woodward, and Evelyn Lintott were able to sign-up.
George Pyke was one of those who joined the Football Battalion. The battalion took heavy casualties during the Somme offensive in July, 1916. This included the death of England international footballer, Evelyn Lintott. Major Frank Buckley was also seriously injured during this offensive when metal shrapnel had hit him in the chest and had punctured his lungs. George Pyke was with Buckley when it happened. He later wrote: "A stretcher party was passing the trench at the time. They asked if we had a passenger to go back. They took Major Buckley but he seemed so badly hit, you would not think he would last out as far as the Casulalty Clearing Station." Buckley was sent to a military hospital in Kent and after operating on him, surgeons were able to remove the shrapnel from his body. However, his lungs were badly damaged and was never able to play football again.
Pyke played for Newcastle United after the First World War. However, after scoring three goals in 13 games he moved to Blyth Spartans. Between 1922 and 1927 he scored 136 goals for the club.