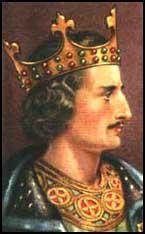 Henry, the son of William the Conqueror and Matilda of Flanders, was born in England, possibly at Selby, in about 1068. His mother gave birth to nine children. Seven of these survived: Robert Curthose, William Rufus, Richard (killed in a hunting accident in about 1074), Cecily, Agatha and Adela. (1)
Henry was reared in England, where his father was king, and remained there, apart from occasional trips to Normandy. William of Malmesbury and Ordericus Vitalis "testify independently that Henry was literate and, indeed, well educated in the liberal arts" and probably better educated than any previous English king except Alfred the Great. (2) He was better educated than his brothers and felt at ease in the company of learned men and was given the nickname Beauclerk (the learned). (3)
In 1083 his mother died leaving him lands worth something in excess of £300 a year. However, the records show that this was stolen from him by his older brothers. (4)
Henry was only a teenager when his father became ill. While fighting in Normandy he fell from his horse and suffered internal injuries. Ordericus Vitalis said that as he was "very corpulent" he "fell sick from the excessive heat and his great fatigues". (5)
William was taken to the priory of St. Gervase. Close to death, he directed that Robert Curthose should succeed him in Normandy and William Rufus should become king of England. The decision was an acknowledgement that unlike Robert, Rufus had always remained loyal to his father. From his father's will he received no land, but was given instead £5,000 in silver. It was said that at once he "hurried to the Treasury to supervise the weighing out of the money." (6)
There survived in medieval Europe a tradition of kingship more exalted than that of feudal overlord. The king was not merely the, apex of the feudal pyramid, but the anointed Vicegerent of God upon earth. The collapse of the Roman Empire had not entirely destroyed this Roman conception of sovereignty, and Henry now set himself to inject this idea of kingship into the Anglo-Norman State. The chroniclers spoke well of Henry I. We must regard his reign as a period when the central Government, by adroit and sharp accountancy and clerking, established in a more precise form the structure and resources of the State.
On the whole, Henry I got a good press from the chroniclers of the day. In part this might be attributed to fear or hope of favour; in part to tact, since for example William of Malmesbury's Chronicle of the Kings of the English was dedicated to Henry's most distinguished illegitimate son, Robert earl of Gloucester... Several of the chroniclers are frank about some of his weaknesses, all praise his virtues. God had endowed him, says Henry of Huntingdon, with three gifts of wisdom, victory and riches; but these were offset by three vices, avarice, cruelty and lust.
The contemporary historian William of Malmesbury, who excelled in the art of personal description, portrayed Henry as of medium height, with black, receding hair, a broad chest, and a tendency to gain weight with advancing years. He was sociable and witty, temperate in eating and drinking, casual and informal in speech. He slept soundly and had a most regrettable tendency to snore. Unlike Rufus, he preferred diplomacy to battle...

In political affairs, Henry was more cautious than Rufus, more thoughtful (or calculating), and by all indications more intelligent. He was unique among medieval monarchs in maintaining strict peace throughout his kingdom of England during his final thirty-three years - an achievement that was widely and deeply appreciated by his subjects. He maintained this peace through a policy that combined strict justice, high taxes (particularly in times of war in Normandy), severe punishment for wrongdoing, and the adroit use of royal patronage to attract talented new men to his court while at the same time keeping most of the old conquest families loyal to his regime.