In about 1026, Herleva of Falaise, the sixteen year old daughter of a tanner from Falaise in Normandy, gave birth to a son called Richard. The boy's father was Gilbert, Count of Brionne, one of the most powerful landowners in Normandy. As Herleva was not married to Gilbert, the boy became known as Richard Fitz Gilbert. The term 'Fitz' was used to show that Richard was the illegitimate son of Gilbert.
When Robert, Duke of Normandy died in 1035 William of Normandy inherited his father's title. Several leading Normans, including Gilbert of Brionne, Osbern the Seneschal and Alan of Brittany, became William's guardians.
A number of Norman barons would not accept an illegitimate son as their leader and in 1040 an attempt was made to kill William. The plot failed but they did manage to kill Gilbert of Brionne. As Richard was illegitimate, he did not receive very much land when his father died.
Richard married Rohese, daughter of Walter Giffard of Normandy. The couple had at least three children, Rohaise, Gilbert de Clare and Walter of Clare.
When William of Normandy, decided to invade England in 1066, he invited his three half-brothers, Richard Fitz Gilbert, Odo of Bayeux and Robert of Mortain to join him. Richard, who had married Rohese, daughter of Walter Giffard of Normandy, also brought with him members of his wife's family.
After his coronation in 1066, William the Conqueror claimed that all the land in England now belonged to him. William retained about a fifth of this land for his own use. The rest was distributed to those men who had helped him defeat Harold at the Battle of Hastings.
Richard Fitz Gilbert, was granted land in Kent, Essex, Surrey, Suffolk and Norfolk. In exchange for this land. Richard had to promise to provide the king with sixty knights. In order to supply these knights, barons divided their land up into smaller units called manors. These manors were then passed on to men who promised to serve as knights when the king needed them.
Richard built castles at Tonbridge (Kent), Clare (Suffolk), Bletchingley (Surrey) and Hanley (Worcester). His knights normally lived in the manor that they had been granted. Once or twice a year, Richard would visit his knights to check the manor accounts and to collect the profits that the land had made.
The Normans were very impressed with Richard's castle at Tonbridge. After a while people in Kent began calling him Richard of Tonbridge. Other people called him Richard of Clare, after the castle and large estates he owned in Clare in Suffolk. In time, Richard adopted Clare as his family name and he became known as Richard de Clare.
William the Conqueror trusted Richard de Clare and appointed him as a member of his ruling council. Richard was also given the title Chief Justiciar. This meant that Richard took over the running of the government when the king was making one of his many visits to Normandy. In this post he played an important role in the suppression of the revolt against William in 1075.
Just before William the Conqueror died he decided that William Rufus, rather than his older brother, Robert Curthose, should be king of England. He was crowned by Lanfranc, the Archbishop of Canterbury, on 26th September, 1087.
The following year some Normans, including Richard de Clare, Odo of Bayeux, Robert of Mortain, William Fitz Osbern and Geoffrey of Coutances, led a rebellion against the rule of Rufus in order to place Robert Curthose on the throne. However most Normans in England remained loyal and Rufus and his army successfully attacked the rebel strongholds at Tonbridge, Pevensey and Rochester.
After a two day siege at Tonbridge Castle, Richard de Clare was forced to surrender to William Rufus. Richard was punished by having his castle and the town of Tonbridge burnt to the ground. Richard de Clare was also forced to live in a monastery where he died three years later. His land was inherited by his son, Gilbert de Clare.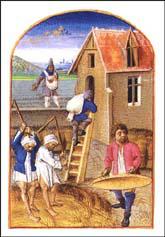 (1) Edward Hasted, The History of the County of Kent (1797)
Richard de Clare came into England with William the Conqueror and gave him great assistance at the Battle of Hastings... in return he was granted large estates in England.
(2) Jennifer Ward, The Lands of the Clare Family (1980)
William the Conqueror aimed to secure Kent and Sussex and to guard the routes to London by giving estates there to men on whom he especially trusted... important places like Tonbndge on the River Medway, was given to Richard de Clare... Richard de Clare granted some of his manors to vassals. Stoke in Surrey, for instance, was given to Roger de Abernon... vassals like Roger de Abernon performed military service.