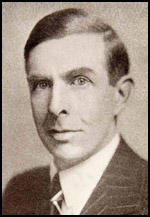 William Bolitho was born in 1890. After leaving university he became a journalist with the
Manchester Guardian
. On the outbreak of the
First World War
Bolitho moved to
Paris
. Where he joined up with other journalists such as
Richard Harding Davis
,
Philip Gibbs
,
Percival Phillips
,
William Beach Thomas
,
Henry Perry Robinson
,
Herbert Russell
,
Frederick Palmer
,
Floyd Gibbons
and Edwin L. James.
Another journalist based in France at that time was Walter Duranty of the New York Times. Duranty later argued that Bolitho taught him "nearly all about the newspaper business that is worth knowing." He added that Bolitho "possessed to a remarkable degree... the gift of making a quick and accurate summary of facts and drawing there from the right, logical and inevitable conclusions."
In March 1920 Bolitho went to report on the communist rebellion that was taking place in the Rhineland. This included covering a rebellion by coal miners in Alten Essen. Bolitho had spent time with the revolutionaries and was amazed by their attitude. According to Sally J. Taylor: "He told the leaders they had only one chance, and that was to threaten to blow up all the key mines and factories in the area, then go ahead and blow one up to show they meant to do what they threatened. Bolitho advised them that they could then bargain for certain political and economic concessions, as well as their own pardons... They had told Bolitho that if they blew up the mines, they would have nowhere to work afterwards. They preferred to throw themselves on the mercy of the authorities, who, Bolitho told Duranty, had already begun executing the men even before he could get out of town."
Bolitho was joined by Walter Duranty. In In his autobiography, I Write As I Please, Duranty recorded that Bolitho told him: "Don't forget ... that the majority of people and the majority of opinions are nearly always wrong about everything, not always, but nearly always, and if you ever are in doubt and can't make up your mind, and have to make it up, there are long odds in favor of your being right if you take the opposite view from the majority."
In the early 1920s Bolitho worked for the Manchester Guardian. Based in Paris he became friendly with other journalists living in the city. This included figures such as Lincoln Steffens, Ella Winter, William Christian Bullitt and Louise Bryant. He also became close to Ernest Hemingway who described him as "a strange-looking man with a white lantern-jawed face... that is supposed to haunt you if seen suddenly in a London fog". They met nearly every evening for dinner. It has been claimed that this "marked the beginning of Heminway's education in international politics."
Noël Coward considered Bolitho a great writer: "Bolitho had a mind that colours life with imagination based on necessarily bitter experience, a mind that has survived the squalor of small humiliations and the melancholy of great disillusions." Coward believed that Bolitho belonged to a tradition "of literature to which no short cuts are possible, but which must be, when attained, well worth all the agony and bloody sweat which went into its achievement."
Herbert Bayard Swope, the editor of New York World, appointed Bolitho as one of his columnists. Heywood Broun, who also wrote for the newspaper, later argued that he was the "most brilliant journalist of our time". Broun explained that "he was far more interested in the explanation than in the event. Many had better eyes to see and ears to hear but less of analytical power. Sometimes, like an overeager short-stop who throws before the ball is in his hands, Bolitho began to interpret episodes which were still in motion. It is hard for any interpreter to remain patient until the play has been completed. Yet news must be a deeper and a more significant thing than a mere recital of names, addresses and the doctor's diagnosis. Causes, however far beneath the surface they may lie, are distinctly within the province of journalism. That is, if journalism is to be a kingdom and not a little parish."
Bolitho had a great commercial success with his book, Twelve Against the Gods (1929). With the money he purchased a chateau near Avignon. His friend, Walter Duranty pointed out that "he was able to put a good deal of money into the garden, determined to make a place of wonder and beauty, no matter what it costs."
William Bolitho died of a burst appendix in Avignon on 2nd June, 1930.