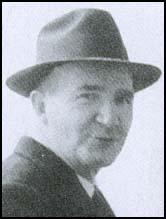 David Francis Powers was born in Charlestown, Massachusetts on 25th April, 1912. Both his parents had emigrated to the United States from County Cork, Ireland. After leaving school he worked for Sampson and Murdock Publishing Company but continued his education by taking evening courses at Boston University.
In 1942 Powers joined the 14th Air Force and during the Second World War and later served with the Flying Tigers in Japan, China and Burma.
In 1946 Powers joined the political campaign of John F. Kennedy. Concentrating on the working-class neighborhood of Charlestown, Powers helped Kennedy to win the 11th Congressional district seat. Powers also helped Kennedy against Henry Cabot Lodge in the 1952 Senate race. During this period, Powers, Larry O'Brien, Matthew McCloskey and Kenneth O'Donnell became known as Kennedy's Irish Mafia.
After Kennedy's successful presidential campaign in 1960, Powers became his Special Assistant. His duties included escorting guests in the White House. Powers was also one of Kennedy's closest political advisers. Pierre Salinger, Kennedy's press secretary, said Powers was "the most gregarious and popular member of the staff." Kenneth O'Donnell said: "Outside of Bobby, President Kennedy had one really close friend and that was Dave Powers."
On the 22nd November, 1963, Powers travelled in the Secret Service car immediately behind the presidential car. Powers later admitted to Tip O'Neill that say that he was sure he had heard two shots that came from behind the Grassy Knoll fence. Kenneth O'Donnell, who was sitting next to Powers, also supported this view of the assassination. O'Donnell commented: "I told the FBI what I had heard, but they said it couldn't have happened that way and that I must have been imagining things. So I testified the way they wanted me to. I just didn't want to stir up any more pain and trouble for the family."
President Lyndon B. Johnson kept Powers on the White House staff. For several months after the assassination, Powers had lunch with Jacqueline Kennedy every day at her house in Georgetown. Powers resigned in 1965 and later helped Robert F. Kennedy in his attempt to become president in 1968.
Powers was appointed curator of the John F. Kennedy Library and Museum in Boston from its opening in 1979. He also co-wrote Johnny, We Hardly Knew Ye: Memories of John Fitzgerald Kennedy with Kenneth O'Donnell. The book was published in 1976.
David Francis Powers died in Arlington, Massachusetts on 27th March, 1998.