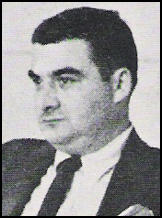 Pierre Salinger, the son of a German mining engineer, was born in San Francisco on 14th June, 1925. His mother was a French journalist. After completing his degree at the University of San Francisco he began work as an investigative journalist with the San Francisco Chronicle.
A member of the Democratic Party he was an active supporter of Harry Truman in the 1948 Presidential Election. It was while working for the Senate Committee on the Improper Activities in Labour and Management in 1957 that he met Robert Kennedy. He joined the Kennedy inner-circle and in 1960 John F. Kennedy appointed Salinger as his press secretary. He held the post until the assassination of the president. He agreed to stay on under Lyndon B. Johnson.
In 1964 Salinger was appointed to the Senate after the death of Clair Engle of California. He served for only 148 days as he was defeating in the subsequent election. He remained active in politics and helped Robert Kennedy in his bid to become president in 1968. After Kennedy's assassination he moved to France where he worked for L'Express. This was followed by work as ABC's Paris Bureau Chief. In 1983 ABC moved to London as the network's chief foreign correspondent.
Salinger was the author of several books including With Kennedy (1966), For the Eyes of the President Only (1971), America Held Hostage: The Secret Negotiations (1983), The Dossier (1984), Above Paris (1985), Mortal Games (1989), Secret Dossier: The Hidden Agenda Behind the Gulf War (1991), An Honorable Profession: A Tribute to Robert F. Kennedy (1993), A Memoir (1995) and John F.Kennedy, Commander-in-chief (1997).
Pierre Salinger died on 16th October, 2004.