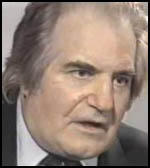 John H. Davis, the son of John E. Davis, a stockbroker, and Maude Bouvier Davis, was born in Manhattan on 14th June, 1929. His mother, was the sister of John Vernou Bouvier, the father of Jacqueline Bouvier and her sister Caroline Lee Bouvier.
After graduating from Princeton University he served as a naval officer with the Sixth Fleet in the Mediterranean. Later he lived in Naples where he taught Italian history and literature at schools and ran the Tufts University's American Studies Center.
Davies returned to the United States after the marriage of Jacqueline Bouvier to John F. Kennedy. Davies decided to become a writer and in 1969, published The Bouviers: Portrait of An American Family. In the book he revealed that Jackie's grandfather, John Vernou Bouvier, Jr. (1865–1948) had fabricated the family's ancestry in a vanity book called Our Forebears. He also argued that John Vernou Bouvier was too drunk to give her away when she married on 12th September 1953.
As The New York Times pointed out: "The Bouviers: Portrait of an American Family, a brisk seller that boded well for his future in the book trade but left relations with his cousins Jackie and Lee Radziwill, her sister, strained... Another bestseller in 1984, the 900-page The Kennedys: Dynasty and Disaster, which offered an unflattering view of family dynamics, ended any further contact between them. It included a rehash of the Chappaquiddick episode, in which a young woman drowned when Edward M. Kennedy drove his car off a bridge on an island near Martha's Vineyard, and a painfully close-up view of the 1984 drug overdose death of Robert Kennedy's son David."
Davis's sister, Maude Davis, has pointed out: "After 1984, Jackie made it pretty clear she didn't want my brother's company. It's kind of too bad; they had a lot in common. My brother was a writer at heart, as was she. But she was about family myths, and John tried very hard to write truthfully."
Davis was the author of several books on John F. Kennedy and the Mafia. This includes Kennedys: Dynasty and Disaster (1983), Mafia Kingfish (1989), The Kennedy Contract: The Mafia Plot to Assassinate the President (1993), Mafia Dynasty: Rise and Fall of the Gambino Crime Family (1994), The Mafia Family (1994) and The Bouviers: From Waterloo to the Kennedys and Beyond (1995).
Davis was much criticised by other researchers into the assassination of the president. However, he was defended by G. Robert Blakey, who was chief counsel and staff director to the House Select Committee on Assassinations: "I think John Davis wrote one of the best books on this theory. And I don't just say that because I happen to agree with his theory.... His reputation among some writers and assassination investigators as a dilettante was ill-deserved."
John H. Davies died from advanced Alzheimers on 29th January, 2012.