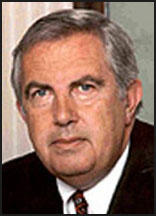 Fred Fisher Fielding was born in was born in Philadelphia on 21st March, 1939. He was educated at the Gettysburg College and the University of Virginia School of Law.
Fielding served in the United States Army between 1965 and 1967, and worked at the Office of Security at the National Security Agency before being discharged from Fort Meade with the rank of captain.
In 1970 President Richard Nixon appointed him as his Associate Counsel. Fielding was deputy to John Dean during the Watergate Scandal. After the resignation of Nixon in 1974, Fielding joined the Washington law firm Morgan, Lewis and Bockius.
In his book, The Ends of Power (1978) H. R. Haldeman argues that Fielding was Deep Throat, the main source of information used by Bob Woodward and Carl Bernstein in their articles on Watergate. Haldeman also claims that this was also the view of Richard Nixon. This view is supported by William Gaines, head of the Department of Journalism at the University of Illinois. As he points out "my students over 12 semesters poured over FBI reports, congressional testimony, White House documents in the National Archives and autobiographies of Watergate figures". Eventually, like Haldeman, they became convinced that Fielding was Deep Throat.
However, this theory was rejected by John Dean in his book Lost Honor (1982). Dean believes Deep Throat was Alexander Haig. Whereas Mark Riebling (The Wedge: From Pearl Harbor to 9/11) claims it is Cord Meyer and Deborah Davis makes a convincing argument that it was Richard Ober (Katharine the Great).
In 1981 Fielding was appointed Counsel to President Ronald Reagan. He left in 1986 to become a senior partner at Wiley, Rein, & Fielding in Washington. Fielding also served on the Tribunal on the U.S.-U.K. Air Treaty Dispute (1989-1994) and as a member of the Secretary of Transportation's Task Force on Aviation Disasters (1997-1998).
Fielding was also a member of the National Commission on Terrorist Attacks Upon the United States (9-11 Commission).