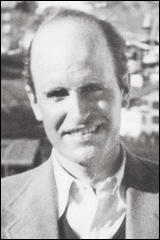 Adam von Trott zu Solz, the fifth child of the Prussian Culture Minister August von Trott zu Solz, was born in Potsdam, Germany on 9th August 1909. When his father resigned from office in 1917, the family moved to Kassel where von Trott attended the Friedrichsgymnasium. From 1922 he lived in Hann. He obtained his Abitur degree in 1927 and went on to study law at the universities of Munich and Göttingen. In 1931 he went to Mansfield College at Oxford University. (1)
In 1934 he began to practice law in Kassel. In 1937 he was employed by the American Institute of Pacific Relations on a project in China. In October 1938 Trott went to Washington to inform his friends there of the German Resistance. (2)
Trott believed that Neville Chamberlain should make it clear to Adolf Hitler that the appeasement policy was going to end. On 1st June, 1939, he arrived in London to have talks with British officials, including Edward Wood (Lord Halifax) and Philip Henry Kerr (Lord Lothian). According to Peter Hoffmann: At this time Trott was wondering whether he should leave Germany for the duration of the Nazi regime which he loathed, or whether he could fight the regime in some way." (3)
Adam von Trott zu Solz studied at Oxford in 1932-33. Posted to China between 1937 and 1938, traveling by way of the United States. Used that trip and numerous others to establish contracts on behalf of the resistance, sometimes with exiled opponents of the regime. Joined the NSDAP in 1940 to provide a cover. Legation counselor in the Foreign Office's information division. Later worked in the India branch. Foreign policy adviser to the Kreisau Circle. Undertook further travels abroad in 1941 and 1943 to explore the Allied attitude toward a new German government but bitterly disappointed by the indifference of the Western Allies.
The son of a former Prussian minister of education, Adam von Trott zu Solz had an American grandmother who was the granddaughter of John Jay, the first Chief Justice of the United States. After early training at Kurt Hahn's school at Schloss Salem, he went in 1931 to Mansfield College, Oxford, and later entered Balliol as a Rhodes scholar. He returned to Germany in 1934 and began to practice law in Kassel. From the beginning Von Trott zu Solz opposed the Nazi regime. He was a member of the small Kreisau Circle, which hoped to overthrow the Nazis and restore Germany to the social ethic of Christianity.
The name the Gestapo gave it (the Kreisau Circle) is misleading, for it gives the impression of an organised, coherent group, with definite aims. This is not true. The circle, which met formally at Kreisau only three times, was a large, loosely knit group of people who came mainly from the young landowning aristocracy, the Foreign Office, the Civil Service, the old Social Democratic Party and the Church. Its membership shifted and changed, and for a long time its leaders were averse to taking action of any kind against Hitler, preferring instead to let him run his course - a matter which they considered inevitable - while in the meantime they discussed what sort of Germany they would rebuild after his equally inevitable fall...

There were perhaps twenty core members of the circle, and they were all relatively young men. Half were under thirty-six and only two were over fifty. The young landowning aristocrats had left-wing ideals and sympathies and created a welcome haven for leading Social Democrats who had elected to stay like the journalist-turned-politician Carlo Mierendorff, and... Julius Leber, were the political leaders of the group, and their ideas struck lively sparks off older members of the Resistance like Goerdeler.