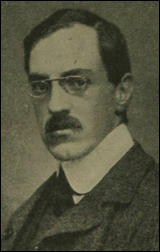 Edwin Montagu was born on 6th February 1879, at 12 Kensington Palace Gardens, London. He was the second son of Samuel Montagu and Ellen Cohen Montagu. His father was a millionaire banker and his mother came from a prominent Jewish banking family of Liverpool. (1)
Samuel was a long-term financial backer of the Liberal Party and in the 1885 General Election he was elected to represent Whitechapel. A great supporter of William Gladstone, in the House of Commons he argued in favour of Jewish colonisation in Palestine. In 1888 he was a member of the select committee on alien immigration, an issue on which he opposed over-restriction and spoke for the interests of persecuted Jews. (2)
In 1891 Edwin Montague was sent to a boarding-school, Clifton College, "where he did not settle, suffering from frequent bouts of homesickness, especially missing his mother, to whom he was very close". In April 1893 he was moved to the City of London School. (3)
In December 1895 Edwin Montagu entered University College, specializing in biology. After briefly attending University College Hospital as a medical student, he began studying at Trinity College, in October 1898. Montagu was an undistinguished student, but developed a reputation for political debating and was praised for his use of "delightful satire". (4)
In 1902 Montagu was elected as President of the Cambridge Union. During this period he became friends with Raymond Asquith, the son of H. H. Asquith, a senior figure in the Liberal Party. Asquith was impressed with the young man and he was recruited to speak at "meetings throughout the country, earning a reputation as an up-and-coming Liberal of radical opinions". It was during this period he became known as Asquith's protégé. (5)
If he (Asquith) wins (secures agreement over Ulster) you first will share his triumph, if he loses you alone can make it tolerable... Don't you know what you are to him? How amused you can afford to be at his relaxation. Those who know you both would laugh at a comparison between your relations with him and those of any other woman in the world.

So show him you acknowledge his right to any amusement he chooses in order that he may give every ounce of himself for the struggle. Show him how confident you are of him and yourself and you will prove to be once again the big minded great loving Margot, who has no more loyal admirer and friend.
Since I wrote to you this morning I have gone through a Cabinet, a luncheon with Prince Paul of Serbia and Sir R. McBride of British Columbia and a rather searching question time at the House and I hope I got through them all without any sign of disquietude or impotence. All the same, I don't suppose there is in the kingdom at this moment a much more unhappy man.

I had never any illusions, and often told Venetia: and she also was always most frank about her someday getting married. But this. We have always treated it as a kind of freakish, but unimaginable venture. I don't believe there are two living people who, each in their separate ways, are more devoted to me than she and Montagu: and it is the way of fortune that they two should combine to deal a death-blow to me... I am really fond of him, recognise his intellectual merits, find him excellent company and have always been able to reckon on his loyalty and devotion. Anything but this!

It is not merely the prohibitive physical side (bad as that is) - I won't say anything about race and religion though they are not quite negligible factors. But he is not a man: a shamble of words and nerves and symptoms, intensely self absorbed, and - but I won't go on with the dismal catalogue...

She says at the end of a sadly meagre letter: "I can't help feeling, after all the joy you've given me, that mine is a very treacherous return". Poor darling: I wouldn't have put it like that. But in essence it is true: and it leaves me sore and humiliated.

Dearest Sylvia, I am almost ashamed to write to you like this, and I know you won't say a word to her of what I have written. But whom have I but you to turn to? in this searching trial, which comes upon me, when I am almost overwhelmed with every kind and degree of care and responsibility. Don't think that I am blaming her: I shall love her with all my heart to my dying day; she has given me untold happiness. I shall always bless her. But - I know you will understand. Send me a line of help and sympathy.
Curious and disturbing news reached us on Wednesday evening of Montagu's engagement to Venetia... Montagu's physical repulsiveness to me is such that I would lightly leap from the top story of Queen Anne's Mansions - or the Eiffel Tower itself to avoid the lightest contact - the thought of any erotic amenities with him is enough to freeze one's blood. Apart from this he is not only very unlike and Englishman - or indeed a European - but also extraordinarily unlike a man... He has no robustness, virility, courage, physical competency - he is devoured by hypochondria - which if it does not spring from a diseased body must indicate a very unhealthy mind. As against this he has imagination, ambition, fire in his stomach (my favourite quality!) and real generosity and powers of devotion. A better friend than lover I should say.

I asked Montagu about the religious difficulty - he replied "we can get round that". I have since learned that by getting round it - he meant Venetia going through it. This shocked me to the marrow. To renounce England and Christianity - even if one has never held it - at the dead bidding of foul old Lord Swaythling and to secure his filthy £10,000 a year - for that to renounce one's religion and take on a new one - become a Jew - seems to me the most impossibility, squalidly cynical antic.

It is true that Venetia believes nothing - has no spiritual "apprehension" whatever - but she then is not entitled to masquerade as a believing of the case. She seemed quite calm - rather cheerful than happy - admitted she felt no "glow" about it and used one phrase which haunted me "there was nothing else much there". I cannot help feeling she would have done anything else if there had been.
Father is happier over Venetia's marriage though not converted - he thinks he would mind less were it anyone else but I tell him whoever she married he would mind deeply as he has been very much in love - he says if she had only told him he would have felt it less. That want of candour in Venetia is what has hurt him but she has suffered tortures of remorse poor darling and I feel sorry for her... He is wonderful over it all - courageous, convinced and very humble. They were both old enough to know their own minds and no one must tease them now. There's a good deal of bosh in the religion campaign, though superficially it takes one in... It is Montagu's physique that I could never get over not his religion.
Your letter is a powerful indictment, and though I don't agree with it I am glad to see that a year of soldiering has not blunted the edge of your pen. It has turned mine into a ploughshare... I am entirely in favour of the Stanley/Montagu match. (i) Because for a woman any marriage is better than perpetual virginity, which after a certain age (not very far distant in Venetia's case) becomes insufferably absurd. (ii) Because, as you say yourself, she has had a fair chance of conceiving a romantic passion for someone or other during the last 12 years and has not done so and is probably incapable of doing so. This being so I think she is well advised to make a marriage of convenience. (iii) Because, in my opinion, this is a marriage of convenience. If a man has private means and private parts (specially if both are large) he is a convenience to a woman. (iv) Because it annoys Lord and Lady Sheffield. (v) Because it profoundly shocks the entire Christian community.

Of course I see your point when you say you wouldn't like to go to bed with Edwin. I don't mind admitting that I shouldn't myself. But you must remember that women are not refined, sensitive delicate-minded creatures like you and me: none of them have much physical squeamishness and Venetia far less than most. You say she must have weighed the consequences and so she did, quite carefully: but what frightened her most was not the prospect of the bed being too full but of the board being too empty. She was afraid that her friends might give her up in disgust; but after sounding a few of them - Katharine e.g. and Diana - she concluded that it would be all right and decided to flout the interested disapproval of Mr. H. H. and the idiotic indignation of Miss V. Asquith.

Your character sketch of Edwin is done in much too dark colours. You are obviously prejudiced against him by the fact (if fact it be) that he steals birds' eggs, a vice utterly immaterial in a bride-groom. I agree that he has not a drop of European blood, but then neither has he a drop of American. I don't agree that he is a wet-blanket in Society. He is moody certainly, but is capable of being extremely amusing and (specially during the last year) has succeeded in attracting some very critical and some very beautiful women. He is broadminded, minded, free from cant, open to new impressions, tolerant of new people. I do not think he will be either a dull or a tyrannical husband, and I understand that the terms of alliance permit a wide licence to both parties to indulge such extra conjugal conjugal caprices as either may be lucky enough to conceive.
(6) Edwin Montagu, speech at the Cambridge University Liberal Club (11th March, 1922)
We have been governed by a great genius (David Lloyd George) - a dictator who has called together from time to time conferences of Ministers, men who had access to him day and night, leaving all those who, like myself, found it impossible to get to him for days together. He has come to epoch-making decisions, over and over again. It is notorious that members of the Cabinet had no knowledge of those decisions.
While there's no proof that they had a physical relationship, Venetia and Violet constantly professed undying love for one another, as well as sending each other little presents. "I've sent you a tiny and very humble gift which you must wear always (in your bath and in your bed)," wrote Violet, "and if you think it too ugly you may tuck it in under your combies."

So who was Venetia Stanley, the object of not only the Prime Minister's affections, but his daughter's, too? On the surface, she came from an impeccably conventional aristocratic family. Peer a little more closely, though, and what emerges is anything but conventional.

It seems quite possible that Venetia's uncle may also have been her father. Certainly there were lots of rumours to that effect and her mother was known to have had an affair with her husband's brother. Despite Venetia possessing what one friend of hers called "a gruff baritone voice", Asquith thought her the most alluring woman he'd ever met..

When Venetia announced her engagement to an extremely drippy man called Edwin Montagu - Secretary of State for India - the Prime Minister was heartbroken.

However, he didn't repine for long, swiftly transferring his attentions to Venetia's younger sister, Sylvia. Initially flattered, Sylvia soon discovered that if she was alone with Asquith, "it was safest to sit either side of the fire... or to make sure there was a table between them."

Not that she was the only object of his attentions. By today's standards, Asquith was a serial groper. One woman recalled an incident when "the Prime Minister had his head jammed down in to my shoulder and all my fingers in his mouth"...

When Edwin died in 1924, Venetia literally took to the air, buying herself an airplane and whizzing around the Middle East with yet another of her lovers. By now some of her old friends, appalled by all this conjugal carnage, had given her up as a bad lot.

But not Winston Churchill and his wife, Clementine, who had always been fond of Venetia - she'd been a bridesmaid at their wedding. During World War II they regularly invited her to their weekend retreat at Ditchley Park in Oxfordshire.
(14) Violet Asquith, diary entry (14th May, 1915)
(27) The Times (2nd December, 1916)
(29) The Times (4th December, 1916)
(39) Edwin Montagu, speech at the Cambridge University Liberal Club (11th March, 1922)