John Owens, the successful Manchester cotton merchant, held strong views on the relationship between education and religion. A Nonconformist, Owens objected to the dominate role that the Church of England played in education. Owens, who never married, decided that he would leave most of his wealth to help establish a further education college for men that would not have: "to submit to any test whatsoever of, their religious opinions".
John Owens died at his house in Chorlton-upon-Medlock on 29th July, 1846. In his will he left £96,654 for the establishment of the college. His Unitarian friends, John Fielden and Thomas Ashton, also raised money for the venture and arranged to purchase the former home of Richard Cobden, in Quay Street, Deansgate. This became the first premises of Owens College when it was opened in 1851.
The Nonconformist business community in Manchester continued to raise money for this venture and supported by Charles Prestwich Scott, the editor of the Manchester Guardian, the trustees were able to arrange the building of new premises at Oxford Street. Designed by Alfred Waterhouse, the new Owens College was opened in 1873. Seven years later, the college, along with those in Liverpool and Leeds, became Victoria University. In 1902 Liverpool, Leeds and Machester obtained charters as independent universities.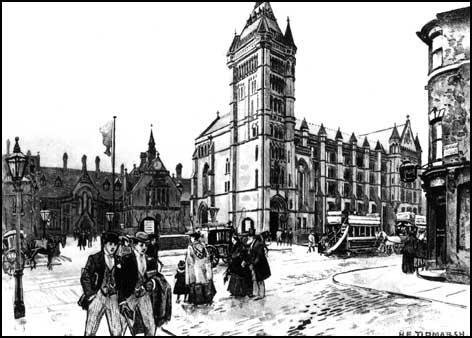 (1) Instructions left by John Owens for the establishment of Owens College (signed 31st May, 1845)
The bequest is for the foundation of an institution within the parliamentary borough of Manchester, or within two miles of any part of the limits thereof, for providing or aiding the means of instructing and improving young persons of the male sex (and being of an age not less than fourteen years) in such branches of learning and science as are now and may be hereafter usually taught in the English universities, but subject, nevertheless, to the fundamental and immutable rule and condition that the students, professors, teachers, and other officers and persons connected with the said institutions shall not be required to make any declaration as to, or submit to any test whatsoever of, their religious opinions: and that nothing shall be introduced in the matter or mode of education or instruction in reference to any religious or theological subject which shall be reasonably offensive to the conscience of any student or of his relations, guardians, or friends under whose immediate care he shall be. The institution shall be open to all applicants for admission without respect to place of birth, and without distinction of rank or condition in society.