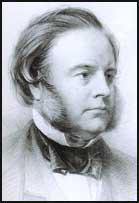 Richard Cobden, was born in Heyshott, near Midhurst, West Sussex, on 3rd June, 1804. His parents had eleven children and spent his early life in extreme poverty. Richard's father was an unsuccessful small farmer and eventually he was forced to distribute his children to numerous relatives. Richard was sent to an uncle in Yorkshire where he was treated very badly.
Cobden received very little formal schooling and at the age of fourteen became a clerk in the textile industry. A year later he was working as a commercial traveller. After developing knowledge of the cotton trade, Cobden decided to start his own business.
In 1828 he joined with two other young men to start a company selling calico prints in London. The business was an immediate success and by 1832 Richard Cobden was living in an affluent part of Manchester. After eight years Cobden and his partners had turned a £1,000 investment into £80,000.
Cobden had made enough money to spend time travelling. Between 1833 and 1837 he visited France, Italy, Portugal, Spain, Switzerland, America, Egypt, Greece and Russia. Cobden collected information about these countries and in 1835 published his book, England, Ireland and America. In this book Cobden warned that in the future Britain would find it difficult to compete with the emerging economic power of America. Cobden was also extremely critical of the way that Ireland was being ruled. In the book Cobden also advocated a policy of free trade, low taxation, reduced military spending and an improvement in our system of education.
In 1837 Richard Cobden became a member of the Manchester Chamber of Commerce and joined Thomas Potter and John Shuttleworth in the agitation that resulted in Manchester achieving a democratically elected local council. In 1838 Cobden was one if the first men to be elected as a Manchester alderman.
In October 1837, Joseph Hume, Francis Place and John Roebuck formed the Anti-Corn Law Association in London. The following year Cobden joined with Archibald Prentice to establish a branch of this organisation in Manchester. In 1839 Cobden and the Manchester Anti-Corn Law Association presented a petition to Parliament. With four-fifths of all MPs representing rural constituencies it soon became clear to Cobden that petitions in themselves would not achieve the repeal of the Corn Laws.
In March 1839 Cobden was instrumental in establishing a new centralized Anti-Corn Law League. Cobden was now able to organize a national campaign in favour of reform. Cobden recruited a number of talented speakers to the movement, the most important of which was John Bright, who at that time was Britain's most successful orators.
In 1841 General Election Cobden became the MP for Stockport. Although Cobden continued to tour the country making speeches against the Corn Laws, he was now in a position to constantly remind the British government that reform was needed. The economic depression of 1840-1842 increased membership of the Anti-Corn Law League and Cobden and John Bright spoke to very large audiences all over the country. By 1845 the League was the wealthiest and best organised political group in Britain.
The failure of the Irish potato crop in 1845 and the mass starvation that followed, forced Sir Robert Peel and his Conservative government to reconsider the wisdom of the Corn Laws. Irish nationalists such as Daniel O'Connell also became involved in the campaign. Peel was gradual won over and in January 1846 a new Corn Law was passed that reduced the duty on oats, barley and wheat to the insignificant sum of one shilling per quarter became law.
Richard Cobden was now a national hero but because he had neglected his business in Manchester he was now deeply in debt. His supporters raised £8,000 as a reward for his efforts and he used this money to purchase Dunford, the farmhouse where he was born in Heyshott.
After the resignation of Sir Robert Peel, the new Prime Minister, Lord John Russell, offered Cobden a post in his government. Cobden refused and now switched his attention to campaigning for parliamentary reform and state supported education.
Cobden was completely opposed to the aggressive foreign policy of Lord Palmerston. Cobden joined with John Bright to campaign against the Crimean War (1854-1856). The two men were much abused by the press and some MPs even accused them of treason.
The British public shared the government's enthusiasm for the war and in the 1857 General Election, both Cobden and John Bright lost their seats in Parliament. By the 1859 General Election the public had forgiven Cobden for his anti-war stance and he was elected to represent Rochdale. Lord Palmerston, offered Cobden the chance to become President of the Board of Trade. However, Cobden declined saying he could not as a matter of principal serve under Palmerston.
Cobden believed that international trade was essential if war between major powers was to be avoided. William Gladstone, the Chancellor of the Exchequer agreed and recruited Cobden to negotiate a new trade agreement with France. In 1860 Britain and France signed a commercial treaty that reduced the tariff on a variety of goods.
The outbreak of the American Civil War upset Cobden who was a great admirer of American democracy. Cobden feared that the British government might intervene on the side of the Confederacy. Cobden was a passionate supporter of Abraham Lincoln but he did not live to see the Union victory. On 2nd April, 1865, Richard Cobden died of an acute attack of bronchitis.