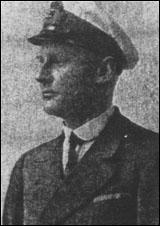 Charles Edward Hudson was born in 1874. He joined the British Navy and reached the rank of Lieutenant-Commander. (1)
In 1907 Major Vernon Kell become Director of the Home Section of the Secret Service Bureau with responsibility for investigating espionage, sabotage and subversion within and without Britain. (2)
In 1911, a new section, headed by Captain Mansfield Cumming, became responsible for for secret operations outside Britain. In 1916 he appointed Hudson as the Copenhagen bureau chief. He used the cover of being a passport control officer. (3)
After retiring from British Naval Intelligence he married Alma Derrington Bell. The couple moved to Arnen, Limmer Lane, Felpham. Over the next few years Alma gave birth to three children. (4) In 1921 he was a founder member of the British Legion, a charity providing financial, social and emotional support to members and veterans of the British Armed Forces, their families and dependants. (5) Hudson had a senior post for the Dunlop Rubber Company. A member of the Conservative Party he became a local councillor and Vice Chairman of Felpham Council. (6)
I am a convent-educated Roman Catholic. My father, Charles Edward Hudson, was fifty-four when I was born. An ex-naval Commander and ex founder member of MI6, he also served as British Consul in Copenhagen. My mother Alma Violet Derrington Hudson, then twenty-four came from Worcestershire, and had been taught to sign by Elgar. A straight-forward British family, you might think.

In 1934 my father joined the British Union of Fascists, and my mother followed, with my father soon becoming leader in Sussex, as well as a parliamentary candidate. My siblings - a sister, brother and I aged ten, nine and seven respectively, joined in the excitement.

Oswald Mosley came to dinner, we painted slogans on street walls, raised our arms in Nazi salute, shouted PJ (perish the Jews), and sang Giovinezza - an Italian Fascist song.

When war came in 1939 both my parents were interned under Regulation 18B – my mother on 30 May and my father two weeks later. He spent three and a half years on the Isle of Man, whilst my mother had nine months in Holloway, with neither of them ever being charged. In the meantime we children had stones thrown at us and felt orphaned.