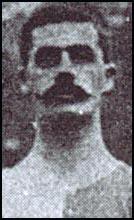 Robert (Bob) Evans was born in Wrexham, Wales, in 1881. He played local football for Olympic Juniors and Stansty Villa before joining Wrexham. An outstanding goalkeeper he was transferred to Blackburn Rovers in 1903 for a fee of £150.
Blackburn finished in 15th place in the league that season. Despite good individual performances from Bob Evans, Bob Crompton, Adam Bowman, Fred Blackburn, Arnie Whittaker and Fred Pentland, Blackburn could only finish in 13th place the following season. In an article that appeared in the Blackburn Times a journalist wrote: "Like its two predecessors, the season of 1904-05 has been one of disgrace to the Rovers".
Lawrence Cotton, a local wealthy businessman, became chairman of Blackburn Rovers in March 1905. The following month Robert Middleton signed Evans' former colleague, Billy Davies from Wrexham.
Blackburn Rovers finished in 9th place in the 1905-06 season. Adam Bowman was once again the club's top scorer with 15 goals. His strike partner, Billy Davies, added 11 more.
Robert Middleton made several significant signings that year, including Jack Martin, Edwin Latheron, and Wattie Aitkenhead. Blackburn Rovers finished in 12th place in the 1906-07 season.
Bob Evans left Blackburn Rovers in 1907. Over a four year period he played 104 times for the club. Evans also won ten international caps for Wales. Evans also played for Birmingham City, Coventry City and Nuneaton Town before retiring from football.
Bob Evans died in 1962.