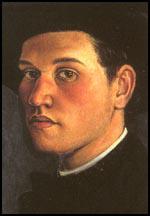 Christopher Richard Wynne Nevinson, the son of Henry Nevinson, the radical journalist, and Margaret Nevinson, an activist in the campaign for women's rights, was born in Hampstead on 13th August 1889. Frank Rutter argued in Art in My Time (1935): "Nevinson was the child of parents who had singularly noble ideas, who were markedly progressive and humane in their habit of thought... Nevinson started life with a pre-natal tendency to revolt against injustice, cruelty and oppression." However, his parents' constant campaigning meant that he often felt ignored as a child. He later wrote: "If my mother does happen to be in for a meal she is so engrossed in other things that she hardly hears and certainly never takes in a word I say."
Nevinson was sent away to boarding school. He hated the experience and in his autobiography, Paint and Prejudice (1937) he recalled: "I went to a large school, a ghastly place from which I was rapidly removed as I had some sort of breakdown owing to being publicly flogged, at the age of seven, for giving away some stamps which I believed to be my own. I was not only described as a thief but as a fence. From this moment I developed a shyness which later on became almost a disease. During my sufferings under injustice a conflict was born in me, and my secret life began.
His parents developed a reputation for holding radical political opinions. On the outbreak of the Boer War they became unpopular with the local population. "I worked steadily and nothing much happened until the outbreak of war with the Boers, when my father was seen at pro-Boer meetings on Parliament Hill, at which all manner of cranks were present. Morris, the slum reformer, was one of them, and I think another was G. B. Shaw. Whether my father was present in his capacity as a journalist or as a pro-Boer made no difference to the young men of Hampstead. I became a pariah and several times was thrown into handy ponds by patriots."
On 9th September 1899, Henry Nevinson was sent to South Africa to cover the war. Nevinson reached the garrison town of Ladysmith on 5th October. Later that month he witnessed "Black Monday" when over 800 men were taken prisoner were taken after an engagement extending about fifteen miles from Nicholson's Nek. As the Boers launched no immediate assault, the British force reorganised and constructed defensive lines around the town. The Siege of Ladysmith lasted until 28th February 1900. Nevinson's account of the siege first appeared in The Daily Chronicle. Later that year Methuen published his Ladysmith: The Diary of a Siege.
In 1903 Nevinson was sent to Uppingham School. "I had no wish to go to any such school at all, but nevertheless Uppingham did seem to be the best. Since then I have often wondered what the worst was like. No qualms of mine gave me an inkling of the horrors I was to undergo. Bad feeding, adolescence - always a dangerous period for the male - and the brutality and bestiality in the dormitories, made life a hell on earth. An apathy settled on me. I withered. I learned nothing. I did nothing. I was kicked, hounded, canned, flogged, hairbrushed, morning, noon and night. The more I suffered the less I cared."
After leaving Uppingham he went to the St John's Wood School of Art. "From Uppingham I went straight to heaven: to St. John's Wood School of Art, where I was to train for the Royal Academy Schools." He also began to have relationships with young women. The most important was Philippa Preston, but he eventually lost her to Maurice Elvey: "My shyness went, and I spent a good deal of my time with Philippa Preston, a lovely creature who was later to marry Maurice Elvey. There were others, blondes and brunettes. There were wild dances, student rags as they were called... and various excursions with exquisite students, young girls and earnest boys; shouting too much, laughing too often."
Nevinson met Ramsay MacDonald while he was visiting his mother. He noticed some of his drawings and suggested that he should consider producing some posters for the Labour Party. MacDonald introduced Nevinson to James Keir Hardie, who he described as "a man with a head like a lion". Nevinson submitted a design for a poster: "Naturally in this phase of artistic prejudice my poster for the Labour Party was a dismal affair: too black, too overworked, and the hands of the labourer were more Dürer than Dürer. It was rejected."
In 1909 he entered the Slade School. His first impressions were unfavourable: "Immediately I was aware again of that terrible disapproving atmosphere of the public school. Once more shyness and uncertainty came back to me." However, after a few months he made friends with a group of very talented students. This included Mark Gertler, Stanley Spencer, John Currie, Edward Wadsworth, Adrian Allinson and Rudolph Ihlee. This group became known as the Coster Gang. According to David Boyd Haycock this was "because they mostly wore black jerseys, scarlet mufflers and black caps or hats like the costermongers who sold fruit and vegetables from carts in the street".
Nevinson commented that the Slade "was full with a crowd of men such as I have never seen before or since." Another student, Paul Nash, said that the "Slade... was in one of its periodical triumphal flows". One of their tutors, Henry Tonks, who found them too rebellious, later pondered: "What a brood I have raised." During this period Tonks told Nevinson he lacked the talent to become an artist.
In 1910 Dora Carrington joined the Slade School. According to Michael J. K. Walsh, the author of C. R. W. Nevinson: The Cult of Violence (2002): "Nevinson's infatuation with Dora Carrington became progressively more acute. In Carrington he had met his match, not only in intellect and in personality, but also in that she could be as obtuse as he could... The friendship was always confused, faltering between brotherly affection and unfulfilled love affair, rooted in Nevinson's reluctance to trust strangers and her notorious desire to remain unattached."
They spent a great deal of time together and they were also regular correspondents. Nevinson told Carrington in April 1912: "I have risen early in the morning before the day was dawning in order to await the post which comes about eight o'clock! I do not recall ever having been in such an exotic condition." Later that month: "I am flattered, I believe you really love me. If I should happen to be in a fools' paradise don't tell me. I infinitely prefer it to a wise man's purgatory."
While Nevinson was at the Slade School he was accused of making one of the life-models pregnant. In his autobiography he joked that it could have been any one of seventeen men, including his teacher, Tonks. When the child was born Tonks collected money for the women but Nevinson could not afford to make his contribution. He told Dora Carrington: "Tonks has been saying about me that he has never in all his life heard of any man behaving worse than I have done, he little knows how I loathe not being able to pay for my own misfortune (if it is mine) but as it is by the girl's particular wish not to tell my people I do not see how I can pay Tonks the beastly £10 or whatever it is he gave the girl."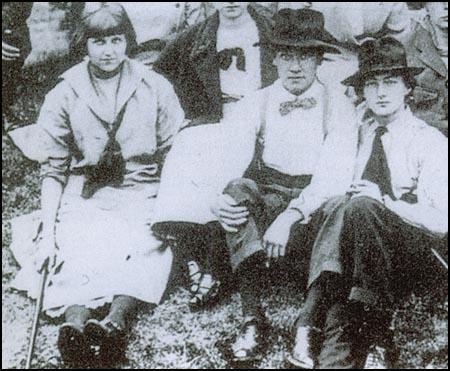 Nevinson became a close friend of Mark Gertler. Gertler wrote to William Rothenstein: "My chief friend and pal is young Nevinson, a very, very nice chap. I am awfully fond of him. I am so happy when I am out with him. He invites me down to dinners and then we go on Hampstead Heath talking of the future." According to Michael J. K. Walsh: "Together they studied at the British Museum, met in the Café Royal, dined at the Nevinson household, went on short holidays and discussed art at length. Independently of each other too, they wrote of the value of their friendship and of the mutual respect they held for each other as artists."
Nevinson recorded in his autobiography, Paint and Prejudice (1937): "I am proud and glad to say that both my parents were extremely fond of him." Henry Nevinson recalled: "Gertler came to supper, very successful, with admirable naive stories of his behaviour in rich houses and at a dinner given him by a portrait club, how he asked to begin because he was hungry."
On 12th June 1912, Dora Carrington wrote to Nevinson. The letter has not survived, but his response to it has. It starts: "Your note came as a horrible surprise to me. I cannot guess what has happened to make you wish to do without me as a friend next term." It seems that Carrington had complained about the intimacy of his letters. He added: "I swear I will never speak a word to you as your lover... I promise you I will be a great friend of yours nothing more and nothing less and if you want to get simple again I am only too willing to do the same."
Carrington also received a letter from Mark Gertler asking her to marry him. When she rejected this proposal he wrote a further letter on 2nd July, suggesting: "Your affections are completely given to Nevinson. I must have been a fool to stand it as long as I have, without seeing through you. I have written to Nevinson telling him that we, he and I, are no longer friends." In the letter he argued, "much as I have tried to overlook it, I have come to the conclusion that rivals, and rivals in love, cannot be friends."
Nevinson continued to plead with Dora Carrington to remain his friend: "I am now without a friend in the whole world except you.... I cannot give you up, you have put a reason into my life and I am through you slowly winning back my self-respect. I did feel so useless so futile before I devoted my life to you." He also wanted a return of Gertler's friendship: "I am aching for the companionship of Gertler, our talks on Art, on my work, his work and our life in general. God how fond of him I am. I never realised it so thoroughly till now."
Mark Gertler now wrote to Nevinson: "I am writing here to tell you that our friendship must end from now, my sole reason being that I am in love with Carrington and I have reason to believe that you are so too. Therefore, much as I have tried to overlook it, I have come to the conclusion that rivals, and rivals in love, cannot be friends. You must know that ever since you brought Carrington to my studio my love for her has been steadily increasing. You might also remember that many times, when you asked me down to dinner. I refused to come. Jealously was the cause of it. Whenever you told me that you had been kissing her, you could have knocked me down with a feather, so faint was I. Whenever you saw me depressed of late, when we were all out together, it wasn't boredom as I pretended but love."
Nevinson left the Slade School in the summer of 1912 and travelled to Paris. There he met Gino Severini and Filippo Marinetti, two advocates of Futurism. Nevinson was impressed with their ideas and in June 1914 he joined forces with Marinetti to publish Vital English Art, a futurist manifesto. This created a great deal of controversy. The Times reported on 16th June, 1914: "Nevinson is a rebel in execution. He used to be a painter with a modest talent; but now he is like a singer with a small voice who has taken to shouting. Futurism, we are sure, is merely poison to him; and, if he has not lost his talent altogether, it will take him some time to recover it."
On the outbreak of the First World War, Nevinson, as a pacifist, refused to become involved in combat duties, and volunteered instead to work for the Red Cross. Sent to the Western Front in November 1914, Nevinson worked as a driver, stretcher-bearer and hospital orderly. He returned home in January 1915. The following month he wrote in The Daily Express: "All artists should go to the front to strengthen their art by a worship of physical and moral courage and a fearless desire of adventure, risk and daring and free themselves from the canker of professors, archaeologists, cicerones, antiquaries and beauty worshippers."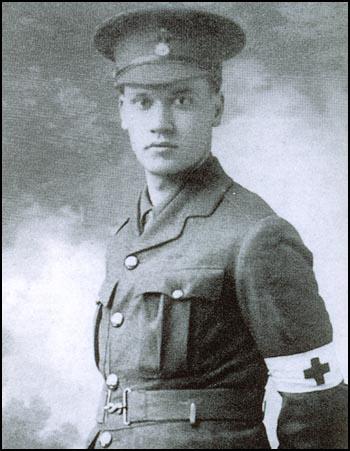 Nevinson argued that: "Our Futurist technique is the only possible medium to express the crudeness, violence and brutality of the emotions seen and felt on the present battlefields of Europe." This was reflected in his painting, Returning to the Trenches, that he had painted on the Western Front. The art critic, P. G. Konody wrote in The Sunday Observer on 14th March, 1915: "He has realised the uselessness of painting pictures that have no meaning for anybody but the artist himself, and therefore places his Futurist experiment on a lucid basis of realism. His Returning to the Trenches is really an uncommonly interesting picture, in which he has found an extremely expressive formula for the rhythmic marching of a body of French infantrymen fully armed and laden with all the paraphernalia for a prolonged stay in the trenches."
Nevinson was quoted in The Daily Graphic as saying that all artists in Britain should experience the fighting in the First World War: "I am firmly convinced that all artists should enlist and go to the front, no matter how little they owe England for her contempt of modern art, but to strengthen their art of physical and moral courage and a fearless desire of adventure, risk and daring."
Nevinson decided to join the Royal Army Medical Corps. On 1st November 1915, Nevinson married Kathleen Knowlman at Hampstead Town Hall. Margaret Nevinson recalled: "My son informed me, suddenly, one evening that, though not engaged, he meant to get married before he was killed." Instead of being sent to France he helped nurse soldiers being treated at the Third General Hospital in London. After contacting rheumatic fever in January, 1916, he was invalided out of the army. Nevinson later recalled: "I was now crippled completely. I began to think I should never walk again. Everything was tried on me while I lay helpless on my bed."
While recuperating, Nevinson painted a series of paintings based on his experiences in France. His first exhibition took place in March 1916. La Mitrailleuse, was much praised by the critics. Charles Lewis-Hind wrote: "You peer into a pit in the zone of fire; barbed wire stretches across the surface of the machinomorphic pit; above is the grey, clear sky of France. In the pit are four French soldiers. One lies dead. The three living men are conscious of one thing only - the control of their death-scattering mitrailleuse. There it lurks, rigid and venemous, ready to spit out immense destruction. And the gunners? Are they men? No! They have become machines. They are as rigid and as implacable as their terrible gun." Walter Sickert described it as "the most concentrated and authoritative utterance on war in the history of painting." Another critic wrote: "the hard lines of the machinery dictate those of the robotised soldiers who become as one with the killing machine." Another pointed out that: "the painting translates the mechanical aspect of modern warfare where man and machine combine to form a single force of nature".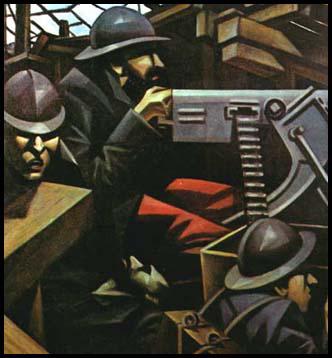 Other war paintings by Nevinson include Paths of Glory, The Harvest of Battle, Marching Men, A Group of Soldiers, Troops Resting and The Road from Arras to Bapaume. Some critics dismissed his paintings as unrealistic. One soldier wrote to the Saturday Review and defended Nevinson's paintings: "Show them to any fellow who has inhabited a dug-out. Pass them round any mess in France or Flanders. Ask the man next to you in hospital in town what he thinks of them... I think you will find he has a pretty whole-hearted admiration for the art of the man who has realised it so wonderfully."
An exhibition of his work in September, 1916, brought him to the attention of Charles Masterman, head of the government's War Propaganda Bureau (WPB). In 1917 the WPB sent Nevinson to the Western Front where he painted another sixty pictures. Nevinson was unhappy with his work as a member of the WPB. He shared the feelings of Paul Nash who wrote at the time: "I am no longer an artist. I am a messenger who will bring back word from the men who are fighting to those who want the war to go on for ever. Feeble, inarticulate will be my message, but it will have a bitter truth and may it burn their lousy souls."
Some of Nevinson's paintings such as Paths of Glory, were considered to be unacceptable and were not exhibited to after the Armistice. Nevinson wrote to Masterman: "My only instructions from you were to paint exactly what I wanted, as you knew my work would be valueless as an artist and propagandist otherwise."
Michael J. K. Walsh, the author of C. R. W. Nevinson: The Cult of Violence (2002) argued: "As the public lost their taste for the war theme, so would they lose their enthusiasm for Nevenson's art". The art critic, Frank Rutter, pointed out: "There is a danger that Mr Nevinson may have survived the war only for his art to be killed by his popularity."
Nevinson's wife gave birth to a son, Anthony Christopher Wynne on 21st May 1919. His mother, Margaret Nevinson, recorded that the child only lived for fifteen days, which had been "just enough time to get fond of him." Nevinson wrote in his autobiography: "On my arrival in London I was met by my mother, who told me my son was dead." He later added "I am glad I have not been responsible for bringing any human life into this world."
After the war he wrote regular articles for The Daily Mail, The Daily Express, The New Statesman, The Strand Magazine, and Harper's Bazaar. His biographer, Julian Freeman, pointed out: "From 1920 until 1940 they carried his strident, maverick diatribes, aimed at society at large, and at the establishment in all its forms... and the variety, salacity, and often uncompromising savagery of his egocentric articles remains enormously entertaining. However, his autobiography is marked and marred by a strong undercurrent of confrontational right-wing xenophobia, and some of his private correspondence in the Imperial War Museum in London is explicitly racist: true signs of the times to which he was such a conspicuous contributor."
Nevinson published his autobiography, Paint and Prejudice in 1937 and two years later was elected an ARA. Nevinson became a war artist in the Second World War but his career came to an end when he had a series of severe strokes in 1942 and 1943.
Christopher Nevinson died of heart disease on 7th October 1946 at his home, 1 Steeles Studios, Haverstock Hill, Hampstead.