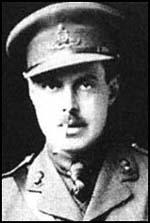 Percy Wyndham Lewis, the son of Captain Charles Edward Lewis, was born in Amehurst, Nova Scotia on 18th November, 1882. His father had been educated at West Point and had fought in the American Civil War. In 1893 the couple separated and his mother returned to England where she had been born.
Lewis was educated at Rugby School. His growing passion for drawing and painting led him to study at the Slade School of Fine Art in London between 1898 and 1901. After leaving art college Lewis visited Madrid and Munich with his friend Spencer Gore. He then moved to Paris where he stayed for several years. With the encouragement of Augustus John, he started to paint more seriously. According to his biographer, Richard Cork: "In 1907 his older friend and mentor Augustus John saw Les demoiselles d'Avignon in Picasso's studio. Lewis probably heard about the painting from John, but he was not yet ready to pursue a singlemindedly experimental path. John, already enjoying considerable acclaim in Britain, inhibited Lewis at this stage. He found more satisfaction in writing short stories about the itinerant acrobats and assorted eccentrics he encountered during his travels in Brittany."
In 1909 Lewis returned to London and soon afterwards, Ford Madox Ford, the editor of the English Review, published several of his short stories. Lewis continued to paint and in 1911 became a member of the Camden Town Group. Other members included Henry Lamb, Spencer Gore, Walter Bayes, Augustus John, Adrian Allinson, John Nash, Maxwell Gordon Lightfoot, Walter Sickert and Harold Gilman.
Lewis also became friends with Roger Fry, who selected paintings for the exhibition entitled "British, French and Russian Artists" that was held at the Grafton Galleries, between October 1912 and January 1913. Artists included in the exhibition included Fry, Lewis, Vanessa Bell, Duncan Grant, Spencer Gore, Pablo Picasso, Henri Matisse, Paul Cézanne and Wassily Kandinsky. According to David Boyd Haycock: "Fry's second exhibition was not as badly received as the first. The intervening two years had seen a number of avant-garde shows in London, highlighting the work of continental modernism, and the art world was suddenly awash with isms."
In 1913 Fry joined with Lewis, Vanessa Bell and Duncan Grant to form the Omega Workshops. Other artists involved included Henri Gaudier-Brzeska, Edward Wadsworth and Frederick Etchells. Fry's biographer, Anne-Pascale Bruneau has suggested that: "It was an ideal platform for experimentation in abstract design, and for cross-fertilization between fine and applied arts."
Gretchen Gerzina has argued: "The Omega Workshops were the scene for some interesting - and sometimes volatile - conjunctions of personality and ideas. Their aim was to make art, through decoration, part of everyday life, and to provide both a workplace and an income for talented but hungry artists. Roger Fry had started the Omega in 1913 with these aims in mind and when it closed in 1919, he had substantially achieved them, despite commercial failure. The two Post-Impressionist Exhibitions which preceded its opening had given the artists a sense of imaginative freedom which canvas painting could not always express. Whole rooms, and all the objects within them, became their canvasses as they turned their brushes to textiles, dishes, screens, furniture and walls."
Richard Cork has pointed out: "He (Lewis) executed a painted screen, some lampshade designs, and studies for rugs, but his dissatisfaction with the Omega soon erupted into antagonism. No longer willing to be dominated by Fry, Lewis abruptly left the Omega with Edward Wadsworth, Cuthbert Hamilton, and Frederick Etchells in October 1913. By the end of the year he had begun to define an alternative to Fry's exclusive concentration on modern French art." This new movement became known as Vorticism.
In his journal, Blast (1914-15), Lewis attacked the sentimentality of 19th century art and emphasized the value of violence, energy and the machine. In the visual arts Vorticism was expressed in abstract compositions of bold lines, sharp angles and planes. Others who joined this movement included Christopher Nevinson, Henri Gaudier-Brzeska, William Roberts, David Bomberg, Edward Wadsworth and Alvin Langdon Coburn.
On the outbreak of the First World War, Lewis joined the British Army. He wrote at the time: "I must join the Army. I have as little reason to be shot at once and without a hearsay as any artist in Europe, but have certain accomplishments (such as an unusual mastery of French) that might be of more use than my trusty right arm, which, I flatter myself, is rather a creative than destructive limb."
From 1916 to 1918 Lewis served on the Western Front as a battery officer. He was also commissioned by Lord Beaverbrook and the Canadian War Memorials Fund to paint A Canadian Gun Pit. However, his most famous war painting is A Battery Shelled. The art critic of The Daily Express argued: "Wyndham Lewis endeavours to show the war in terms of energy - Battery Shelled - in which the symbolism dominates, in which men lose their human form in action; chimneys wave and bend, and the very shells zigzag in lumps and masses across the sky."
The war changed Percy Wyndham Lewis' views on art as a result of his experiences in the First World War. He told a friend that Vorticism was only "a little narrow segment of time, on the far side of the war... you have to regard, as far as I am concerned, as a black solid mass, cutting off all that went before it". It has been argued that the "destructive power of a war dominated by terrible mechanical weapons altered Lewis's attitude towards the machine age."
Lewis began a relationship with Edith Sitwell. According to her biographer, Victoria Glendinning, "this is the only occasion on record when any man is alleged to have shown direct sexual interest in Edith". During this period he began painting a portrait of Sitwell. This was abandoned in 1923 when he decided to give up painting. Over the next few years he concentrated on writing The Man of the World, a book that was never published.
In 1927 he returned to painting and his most important painting during this period was Bagdad. A novel, The Apes of God, was published in 1930. This was followed by an admiring book on Adolf Hitler. His neo-fascist political views seriously damaged his reputation and just before the outbreak of the Second World War, Wyndham Lewis returned to Canada. He lived in Toronto before being appointed as a lecturer at Assumption College in Windsor.
Lewis moved back to London in 1945. The following year he became the art critic of The Listener. He held the post until losing his sight in 1951. With the help of friends he managed to publish the autobiographical Self-Condemned (1954) and The Human Age (1955).
Percy Wyndham Lewis died in the Westminster Hospital on 7th March 1957.