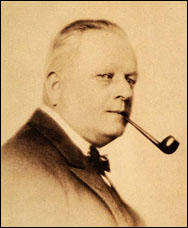 Ludwig Hohlwein was born in Wiesbaden, Germany, on 27th July, 1874. He trained as an architect in Munich. During this period he designed program booklets, invitations and book decorations for the Academic Architects Association. In 1911 he moved to Berlin to concentrate on poster design. (1)
Holwein was influenced by the work of Lucian Bernhard but as John Clifford pointed out: "While he worked in the poster style that Bernhard had pioneered, the two differed in some important aesthetic ways. Rather than total flatness Hohlwein incorporated depth in his poster designs; pattern, texture, and colour gave his work more volume, which was well suited for his clothing and retail clients." (2)
According to Alain Weill: "Hohlwein was the most prolific and brilliant German posterist of the 20th century... Beginning with his first efforts, Hohlwein found his style with disconcerting facility. It would vary little for the next forty years. The drawing was perfect from the start, nothing seemed alien to him, and in any case, nothing posed a problem for him. His figures are full of touches of color and a play of light and shade that brings them out of their background and gives them substance." (3)
Hohlwein developed his own individual style that included "applying colours, letting them dry at different times, and printing one on top of the other, producing modulations of shading". The subject "seems to be reduced to coloured surfaces and points, a network of interlocking shapes in a vivid and elegant pallet of colours". Ludwig Hohlein "plays with only a few elements, light and dark, foreground and background in his rather sober compositions." (4)
Hohlwein was employed by the German government during the First World War to produce posters. It is claimed that during the war Hohlwein "used light and shade to give them a more of a human touch". For instance, in his "poster promoting an exhibit of artwork by German prisoners of war, the balance of the graphic cross with the soldier's expressive face appeals to the viewers emotion." (5)
By 1925, he had already designed 3,000 different advertisements and had become the best-known German commercial artist of his time. He moved to the United States and received commissions for Camel and Fatima cigarettes. But given the competition he never achieved the same fame in the USA as he did in Germany and with the Great Depression, he found it difficult to make a living and in 1931 he returned to Germany. (6)
Hohlwein became a strong supporter of Adolf Hitler and in 1933 he joined the Nazi Party. "Holhwein's posters for Nazi Germany are the most dramatic examples of National Socialist realism. Although he resisted developing any work which perpetuated negative stereotypes, he was ardent in his depiction of heroic and monumental beauty, believing such work could inspire all Germans in their aspirations toward a magnificent culture." (7)
Holwein was willing to design propaganda posters that "idealized the fair-haired youth so admired by the Nazis". (8) He was quoted as saying: "May the best among us realize fully the significance of what is at stake and their own responsibility, and may we labor creatively and with conviction at the preservation of our cultural civilization and its restoration to perfectly healthy conditions." (9)
Ludwig Hohlwein died on 15th September, 1949.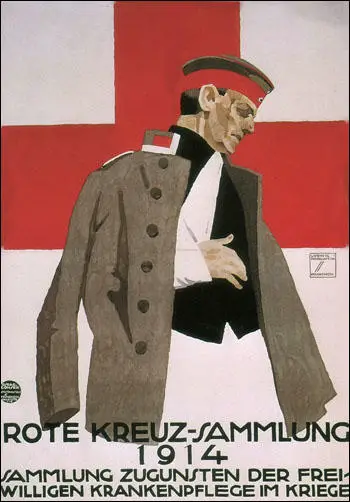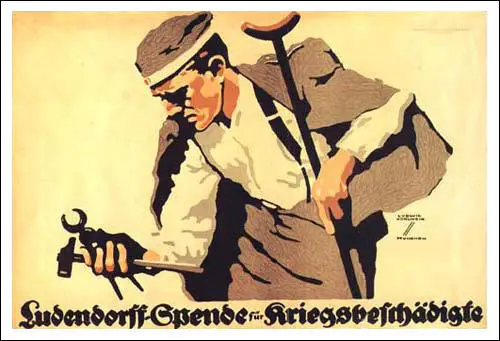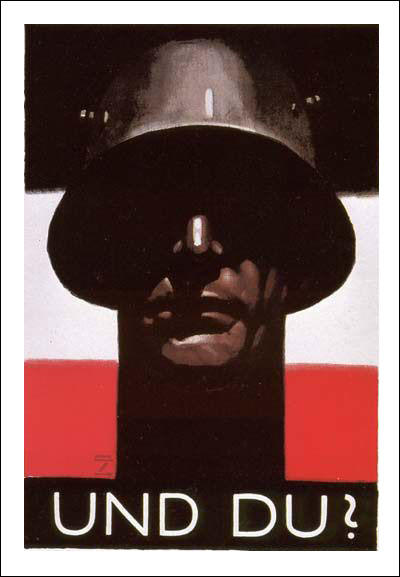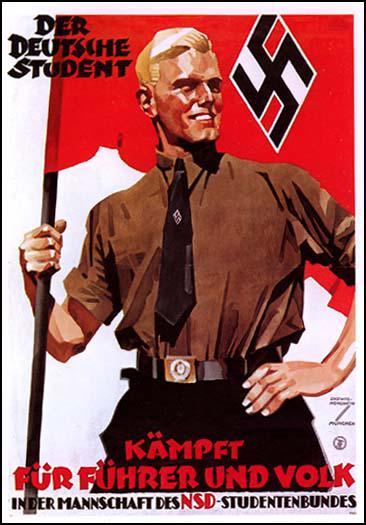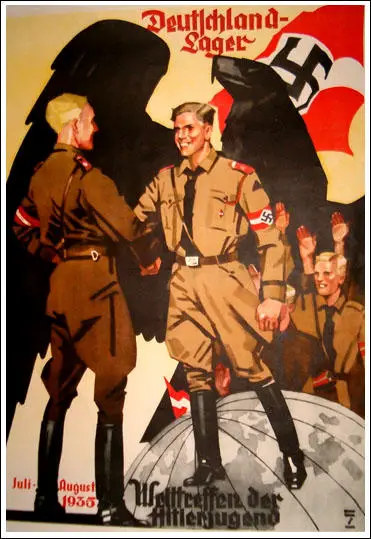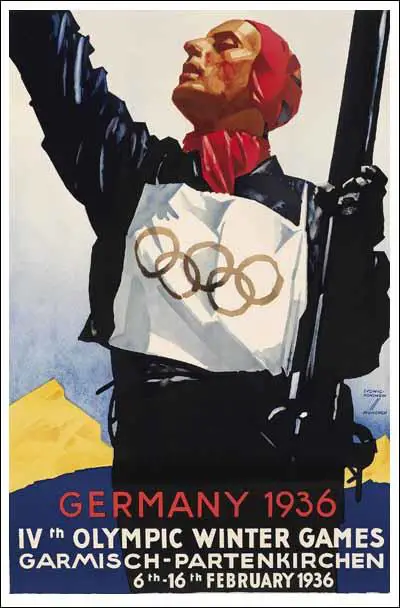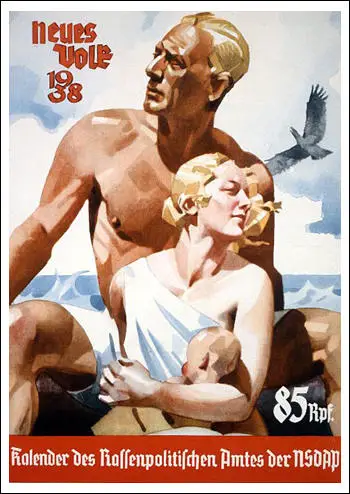 Another influential German designewr, Ludwig Hohlwein, drew inspiration from the Beggarstaffs and their flat, simple, graphic style. Trained as an architect, Hohlwein left Munich in 1911 for Berlin, where he worked as a poster artist. While he worked in the poster style that Bernhard had pioneered, the two differed in some important aesthetic ways. Rather than total flatness Hohlwein incorporated depth in his poster designs; pattern, texture, and colour gave his work more volume, which was well suited for his clothing and retail clients.
Hohlwein was the most prolific and brilliant German posterist of the 20th century... Beginning with his first efforts, Hohlwein found his style with disconcerting facility. It would vary little for the next forty years. The drawing was perfect from the start, nothing seemed alien to him, and in any case, nothing posed a problem for him. His figures are full of touches of color and a play of light and shade that brings them out of their background and gives them substance.
Like Lucian Bernhard, Ludwig Hohlwein began as a commercial designer, and as an avid outdoors man his work incorporated realistic detail into the overall theme of at and bold surface design. While both Hohlwein and Bernhard designed posters for Germany during World War I, and both travelled to the United States in the 1920s to pursue commercial work, only Hohlwein returned to Germany to design propaganda for the Nazi party. Holhwein's posters for Nazi Germany are the most dramatic examples of National Socialist realism. Although he resisted developing any work which perpetuated negative stereotypes, he was ardent in his depiction of heroic and monumental beauty, believing such work could inspire all Germans in their aspirations toward a magnificent culture. "May the best among us realize fully the significance of what is at stake and their own responsibility, and may we labor creatively and with conviction at the preservation of our cultural civilization and its restoration to perfectly healthy conditions."

Hohlwein was an expert renderer and draftsman, and his strident work philosophy closely echoed the Nazi pursuit of Aryan ideals. He was a party member, working directly for Goebbels, and his work exemplified the heroic striving of theoretical National Socialist realist style.The dynamic visual language of German Expressionism was briefly considered for the social Nazi style before being soundly condemned due to the pacifist beliefs of Expressionists artists like Käthe Kollwitz. Hans Schweitzer was unique in his artistic contributions to the Nazi party, in that his work was heavily influenced by the Expressionists. Schweitzer was also known as Mjölnir - the name of Thor's hammer - or his name given to him by Goebbels for his kinetic illustrative style.