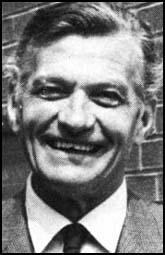 James Edgar (Johnnie) Johnson was born at Barrow-upon-Soar, Leicestershire, England, on 9th March, 1915. He studied at Loughborough College and Nottingham University but after being rejected by the Royal Air Force he became a civil engineer.
Johnson was also initially rejected by the RAF Volunteer Reserve but they changed their mind after the outbreak of the Second World War. Selected for pilot training he was sent to Hawarden in Cheshire to learn to fly the Supermarine Spitfire.
In September, 1940, Johnson was posted to 19 Squadron but missed most of the Battle of Britain after being forced to have an operation on his shoulder. When he recovered he joined 616 Squadron where he flew Douglas Bader, Hugh Dundas and Jeff West.
Johnson soon emerged as an outstanding fighter pilot. A master of accurate deflection shooting, a skill he had developed as a child when he hunted rabbits with a shotgun. In September 1941 Johnson was promoted to flight lieutenant and was given command of B Flight.
In 1942 Johnson became squadron leader and in March 1943 was promoted to wing commander and given command of 610 Squadron. The following year he took over the Canadian wing in the recently formed 2nd Tactical Air Force.
By the end of the Second World War Johnson had flown in over 1,000 combat missions. He holds the remarkable record of never being shot down and on only one occasion was his Spitfire damaged by the enemy. Johnson has been credited with 38 kills. Officially this is the highest total of any RAF pilot but some experts believe that Marmaduke 'Pat' Pattle scored more than 40.
Johnson, who was awarded the DSO and two bars, the DFC and bar, the Legion d'Honneur and the Croix de Guerre, stayed in the Royal Air Force after the war. He served with the United States Air Force in the Korean War where he was awarded the American DFC.
In 1956 Johnson published his autobiography, Wing Leader. In 1960 Johnson was appointed senior air staff officer in 3 Group, Bomber Command. He eventually retired in 1966 as Air Officer Commanding, Air Forces Middle East in Aden.
James Edgar Johnson, who lived for a while in Jersey before retiring to Buxton, Derbyshire, died on 30th January, 2001.