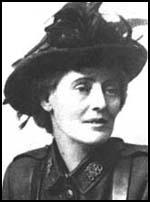 Constance Gore-Booth, the third child of Sir Henry Gore-Booth, was born on 4th February, 1868. Her sister was Eva Gore-Booth. She lived at Lissadell House in County Sligo. Her biographer, has pointed out: "Taking advantage of the family's extensive grounds Constance Gore-Booth enjoyed country pursuits, including hunting, driving, and riding, and became especially well known for her skill with the rifle and in the saddle. With Eva she was educated by governesses at home, her tutelage consisting mainly of instruction in the genteel arts of poetry, music, and art appreciation."
In 1886 she made a grand tour of the continent, and in the following year was presented to Queen Victoria. Her father, Sir Henry Gore-Booth, always attempted to act as a good landlord and provided free food for his tenants during the 1879-80 famine. It was probably the example of Gore-Booth that help develop in his two daughters, Constance and Eva Gore-Booth, a deep concern for the poor.
In 1893 Constance moved to London to study art at the Slade. It was at this time that she joined the National Union of Women's Suffrage Societies (NUWSS). Later she moved to France where she continued her studies at the Julian School in Paris. In 1896 she joined with Eva Gore-Booth, to establish the Sligo Women's Suffrage Association.
While in France Constance met and married Count Casimir Markiewicz, a Polish-Russian nobleman. Fran Abrams the author of Freedom's Cause: Lives of the Suffragettes (2003): "Like Constance Markiewicz he had thrown over the life allotted to him - in his case the study of law in Kiev - to travel to Paris and become an artist. Despite these seemingly good portents her announcement in early 1900 that she intended to marry Casi caused a certain amount of consternation."
They married in 1900 and and their daughter, Maeve, was born the following year. The couple moved to Paris in 1902 and their daughter was left in the care of Lady Gore-Booth. They returned to Dublin and Constance developed a reputation as a talented landscape artist. She also acted in several plays at the Abbey Theatre and joined Maud Gonne as a member of revolutionary group, the Daughters of Ireland.
Constance Markiewicz continued to be interested in the struggle for women's rights. In one speech she said: "We are told the principal argument against our having votes is that we don't make noise enough. Of course it is an excellent thing to be able to make a good deal of noise, but not having done so seems hardly a good enough reason for refusing the franchise." In 1908 she joined Eva Gore-Booth, Esther Roper, May Billinghurst, Annie Kenney and Adela Pankhurst in the campaign against Winston Churchill in the parliamentary election in Manchester North West.
In 1908 Constance became a member of Sinn Fein, an organization formed by Arthur Griffith six years earlier. The following year she founded Fianna Eireann, the youth movement of the Irish Republican Brotherhood. In 1911 Constance Markiewicz was arrested with Helena Moloney when they took part in a demonstration against the visit of George V to Ireland.
Constance Markiewicz joined James Connolly , James Larkin and Maud Gonne in the campaign to force the authorities to extend the 1906 Provision of School Meals Act to Ireland. She also started a scheme to feed poor children in Dublin and provided a soup kitchen in Liberty Hall during the lockout of unionized workers in 1913. Later that year she was elected Honorary treasurer to the Irish Citizen Army.
During the Easter Rising in April 1916, Constance Markiewicz was appointed second in command to Michael Mallin in St Stephen's Green. After a week of intense fighting Markievicz and her fellow rebels surrendered. After her arrest was charged with treason and sentenced to death. Her sister, Eva Gore-Booth, organised the successful campaign against her death sentence. It was eventually commuted to penal servitude for life because the authorities were unwilling to execute a woman. She was almost the only leader of the uprising to have survived.
Constance Markiewicz served fourteen months of her sentence at Aylesbury Prison before being released in the general amnesty of June 1917. She was immediately elected to the executive of Sinn Fein. Soon afterwards she was imprisoned again for her part in the campaign against the conscription of Irish men into the British Army.
After the passing of the passing of the Qualification of Women Act, Constance, while in prison, stood as the Sinn Fein candidate for the St. Patrick's division of Dublin. She was the only woman who was successful in the 1918 General Election. However, like the seventy two Sinn Fein MPs, she did not attend the House of Commons in London.
Released from prison in March 1919 she was appointed secretary for labour in the first Dáil Éireann. She was arrested again in June for making a seditious speech, and was sentenced to four months' hard labour - her third prison term in four years. After another arrest a sentence of two years' hard labour in the following year was interrupted by the general amnesty that followed the signing of the Irish Peace Treaty.
Constance Markiewicz was elected to the Irish Free State parliament in August 1923. She was arrested for the last time in November 1923 but was released soon after she went on hunger strike in protest. She joined Fianna Fáil on its establishment in 1926 and stood successfully as a candidate for the new party in the general election of 1927.
Her biographer, Anne Marreco, commented: "The young intellectual republicans who met her during these last years of her life found it hard to penetrate the mask of tense exhaustion, the gum-chewing, the chain-smoking, the shabby clothes, in order to perceive the exceptional being that still lay behind the ruins of her beauty and her physical elan."
Constance Markiewicz died of peritonitis at Sir Patrick Dun's Hospital in Dublin on 15th July 1927 and was buried in Glasnevin Cemetery in the city.
The WSPU would later set up a Dublin branch in apparent competition with the IWFL in the hope of attracting Protestant women to its cause, but for the time the two organisations worked closely together - so much so that the Irish group would be accused of being little more than an adjunct of the London one. Indeed, letters written by Annie Kenney to Hanna Sheehy-Skeffington in 1912 Suggest she felt justified in handing out orders: "I will let you know in the course of a day or two the best time for you to come to London to lobby ... Do as we do in England - simply pester the lives out of Cabinet ministers, leaders of the Irish Party, the Labour Party," she wrote."There were a number of militant incidents in Ireland and some IWFL members were imprisoned, but the suffrage battle never reached the intensity it did in England. The most spectacular incident happened in July 1912 during a visit to Dublin by Herbert Asquith in support of his plans for Irish Horne Rule. Both IWFL and WSPU activists were there to greet him, with the Irish campaigners sailing out to meet his boat at Kingstown, now Dun Laoghaire, and raining confetti on him from a window as he walked with the Nationalist leader John Redmond in a torchlight procession.

The real trouble was caused by two English suffragettes, Mary Leigh and Gladys Evans, who first threw a hatchet into the Prime Minister's carriage and then tried to set fire to the Theatre Royal with petrol. In response, angry crowds began heckling INAIFI, women at an outdoor meeting near the theatre and the police were forced to protect them. Constance, some little distance away, was mobbed and took refuge in Liberty Hall, the headquarters of the Irish Transport and General Workers' Union.

By now Constance was a regular visitor to Liberty Hall. In the summer of 1910, during a brief phase in which she attempted to set up a co-operative market garden outside Dublin, she had cycled into the city to hear the union leader James Larkin propound his belief that Irish labour should not be controlled from England. Constance had been an instant convert, and her association with Larkin had also brought her into contact with the republican socialist James Connolly. Soon she was attending the meetings of a variety of organisations: the Gaelic League, Sinn Fein and the labour movement as well as the women's causes with which she had for some time been involved.
The young intellectual republicans who met her during these last years of her life found it hard to penetrate the mask of tense exhaustion, the gum-chewing, the chain-smoking, the shabby clothes, in order to perceive the exceptional being that still lay behind the ruins of her beauty and her physical elan.