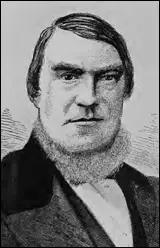 William Allan, the son of a Scottish cotton-mill manager, was born at Carrickfergus in County Antrim, in 1813. His parents soon moved back to Scotland where at the age of twelve he began work as a cotton piecer, but then shifted to an engineering apprenticeship at Holdsworths in Glasgow. (1)
He married his employer's niece, and on finishing his apprenticeship moved to Liverpool and then to the railway works at Crewe, where he became an active member of the Journeymen Steam Engine and Machine Makers' Friendly Society. At the time it was the strongest engineering trade union, with some 3,000 members. (2)
In March 1847, Henry Selsby, the union's general secretary was charged with collecting subscriptions for engineering strikers at a locomotive works in Manchester. Selsby was found guilty and resigned in 1848 and Allan took over as general secretary. He was already a well-known advocate of amalgamation of the engineering unions, and in January 1851 with the help of William Newton he established the Amalgamated Society of Engineers. (3)
Within a year the union had 10,841 members. Weekly contributions to the new society was 1s per week. John Saville has argued: "William Allan was above all else an efficient administrator, immensely hard-working with a great capacity for detailed administration. His major contribution to his own union and to the trade union movement in general was to put the day-to-day union affairs on an efficient working basis. In industrial matters he was cautious and conciliatory, yet he never lost sight of the aims and objectives for which the unions were organised... A poor speaker, often ungrammatical, often blundering, but a man of sterling honesty." (4)
William Allan: Trade Unionist
In August 1859 William Allan suggested the formation of the London Trades Council. A group of trade unionists that became known collectively as the "junta" urged the establishment of an international organisation. This included William Allan, Robert Applegarth, Benjamin Lucraft, George Odger and Johann Eccarius. "The aim of the Junta was to satisfy the new demands which were being voiced by the workers as an outcome of the economic crisis and the strike movement. They hoped to broaden the narrow outlook of British trade unionism, and to induce the unions to participate in the political struggle". (5)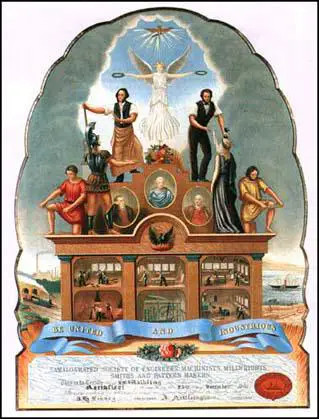 On September 28, 1864, an international meeting for the reception of French trade unionists took place in St. Martin's Hall in London. The meeting was organised by George Howell and attended by a wide array of radicals including Karl Marx and Friedrich Engels. The historian Edward Spencer Beesly was in the chair and he advocated "a union of the workers of the world for the realisation of justice on earth". (6)
In his speech, Beesly "pilloried the violent proceedings of the governments and referred to their flagrant breaches of international law. As an internationalist he showed the same energy in denouncing the crimes of all the governments, Russian, French, and British, alike. He summoned the workers to the struggle against the prejudices of patriotism, and advocated a union of the toilers of all lands for the realisation of justice on earth." (7)
International Workingmen's Association
The new organisation was called the International Workingmen's Association (IWMA). Karl Marx was asked to become a member of the General Council that consisted of two Germans, two Italians, three Frenchmen and twenty-seven Englishmen (eleven of them from the building trade). Marx was proposed as President but as he later explained: "I declared that under no circumstances could I accept such a thing, and proposed Odger in my turn, who was then in fact re-elected, although some people voted for me despite my declaration." (8)
The General Council met for the first time on 5th October. George Odger was elected as President and William Cremer as Secretary. After "a very long and animated discussion" the Council could not agree on a programme. Johann Eccarius privately told Marx: "You absolutely must impress the stamp of your terse yet pregnant style upon the first-born child of the European workmen's organisation". (9)
Karl Marx agreed to outline the purpose of the organization. The General Rules of the International Workingmen's Association was published in October 1864. Marx's introduction pointed out what they hoped to achieve: "That the emancipation of the working classes must be conquered by the working classes themselves, that the struggle for the emancipation of the working classes means not a struggle for class privileges and monopolies, but for equal rights and duties, and the abolition of all class rule... That the emancipation of labor is neither a local nor a national, but a social problem, embracing all countries in which modern society exists, and depending for its solution on the concurrence, practical and theoretical, of the most advanced countries." (10)
Over the next few months other European radicals such as Wilhelm Liebknecht, August Bebel, Élisée Reclus, Ferdinand Lassalle, William Greene, Pierre-Joseph Proudhon, Friedrich Sorge and Louis Auguste Blanqui joined the organisation. Mikhail Bakunin was aware of the growth of the IWMA and after forming the International Alliance of Socialist Democracy, he proposed a merger between the two organisations on equal terms, where he would effectively become co-president of the IWMA. This idea was rejected but it was agreed to allow the Alliance of Socialist Democracy to become an ordinary affiliate organisation. (11)
In 1867 William Allan was interviewed by the Royal Commission on Trade Unions. He was asked the question: "Is not the interest of the employer and the employed to work together?" Allan replied: "Every day of the week I hear that the interests are identical. I scarcely see how they can be while we are in a state of society which recognises the principle of buying in the cheapest and selling in the dearest market. It is in their interest to get the labour done at as low a rate of wages as possible, and it is ours to get as high a rate of wages as possible, and you can never reconcile these two things." (12)
Tony Lane has argued that Allan's militant approach faded over the next few years because of several reasons: "First, there was the prolonged period of rising prosperity... which gave the artisan a wholly unexpected place in the sun. Second was the fact that trade unionism as such only confronts the basic contradiction of capitalism - the exploitation of labour - at the point of production. That is to say, trade unionism only experiences exploitation as an economic fact... Related to this was the tendency toward oligarchy amongst the new union officials." (13)
It has been claimed that William Allan was a supporter of Robert Owen: "On social questions he was inclined to Robert Owen's school, knowing as he did from experience how much depends upon man's surroundings and external influences. In his life and character he was truthful, upright, and honest, a hater of shams and trickery in any shape and form. In his conversation he was plain even to bluntness, but he always hesitated to wound an adversary." (14)
William Allan was active in the struggle for parliamentary reform. On 23rd February, 1865, Allan, Benjamin Lucraft, George Howell, George Odger, Johann Eccarius, William Cremer and several other members of the International Workingmen's Association established the Reform League, an organisation to campaign for one man, one vote. Karl Marx told Friedrich Engels "The International Association has managed so to constitute the majority on the committee to set up the new Reform League that the whole leadership is in our hands". (15)
On 2nd July 1866 the Reform League organised "a great street procession and meeting, 30,000 strong, in support of the popular demand for household suffrage... the London press for days after the procession had marched through the principal streets of the fashionable West End, teemed with half-frightened references to its military aspects, good marching, admirable order, well closed column and complete discipline." (16)
William Gladstone, the new leader of the Liberal Party, made it clear that he was in favour of increasing the number of people who could vote. Although the Conservative Party had opposed previous attempts to introduce parliamentary reform, they knew that if the Liberals returned to power, Gladstone was certain to try again. Benjamin Disraeli, leader of the House of Commons, argued that the Conservatives were in danger of being seen as an anti-reform party. In 1867 Disraeli proposed a new Reform Act. Lord Cranborne (later Lord Salisbury) resigned in protest against this extension of democracy. However, as he explained this had nothing to do with democracy: "We do not live - and I trust it will never be the fate of this country to live - under a democracy." (17)
Odger and other Reform League members had campaigned for adult suffrage but the government's proposals imposed strict restrictions on who could vote. At one meeting George Odger declared that "nothing short of manhood suffrage would satisfy the working people". He went onto argue the vote would "prevent the labourer working for eight shillings a week." (18) In December 1866, Allan denounced the "treachery" of the House of Commons. (19)
In the House of Commons, Disraeli's proposals were supported by Gladstone and his followers and the measure was passed. The 1867 Reform Act gave the vote to every male adult householder living in a borough constituency. Male lodgers paying £10 for unfurnished rooms were also granted the vote. This gave the vote to about 1,500,000 men. The Reform Act also dealt with constituencies and boroughs with less than 10,000 inhabitants lost one of their MPs. The forty-five seats left available were distributed by: (i) giving fifteen to towns which had never had an MP; (ii) giving one extra seat to some larger towns - Liverpool, Manchester, Birmingham and Leeds; (iii) creating a seat for the University of London; (iv) giving twenty-five seats to counties whose population had increased since 1832. (20)
William Allan, who was the father of five children, died on 15th October 1874 at his home, 90 Blackfriars Road, London.
William Allan was above all else an efficient administrator, immensely hard-working with a great capacity for detailed administration. His major contribution to his own union and to the trade union movement in general was to put the day-to-day union affairs on an efficient working basis. In industrial matters he was cautious and conciliatory, yet he never lost sight of the aims and objectives for which the unions were organised... He was untheoretical in general, hard-headed in union affairs and in politics a typical middle-of-the-road working-class radical... A poor speaker, often ungrammatical, often blundering, but a man of sterling honesty
In politics Mr Allan was a sound and consistent liberal, not given to political quackery in any form. On social questions he was inclined to Robert Owen's school, knowning as he did from experience how much depends upon man's surroundings and external influences. In his life and character he was truthful, upright, and honest, a hater of shams and trickery in any shape and form. In his conversation he was plain even to bluntness, but he always hestitated to wound an adversary. He was kind and generous in his nature, open-handed and open hearted in act and deed, trusting and trusted, one of nature's own nobleman; not courting favours or fearing frowns he pursued his duty and died at his post.
Allan also took part in wider trade union and political movements. He was the original proposer of the establishment of the London Trades Council in 1859 and became one of its most influential leaders. He was also active in the Reform League from 1865 and in the campaign for reform of trade union law which reached its peak at the time of the royal commission on trade unions of 1867–9, before which, as a member of the 'junta' or five-member Conference of Amalgamated Trades, he was an important witness. He was a major speaker at the first Co-operative Congress in 1869 and served as treasurer of the Trades Union Congress in 1871. He also became a practising Anglican, serving as churchwarden for the parish of Christchurch, London, as a member of the St Saviour's board of works, and as vice-president of the National Sunday League.