On 23rd February, 1865, George Odger, Benjamin Lucraft, George Howell, William Allan, Johann Eccarius, William Cremer and several other members of the International Workingmen's Association established the Reform League, an organisation to campaign for one man, one vote. Karl Marx told Friedrich Engels "The International Association has managed so to constitute the majority on the committee to set up the new Reform League that the whole leadership is in our hands". (1)
The Reform League received financial and political support from middle-class radicals such as Peter Alfred Taylor, John Bright, Charles Bradlaugh, John Stuart Mill, Thorold Rogers, Henry Fawcett, Titus Salt, Thomas Perronet Thompson, Samuel Morley and Wilfrid Lawson. Taylor was appointed vice-president and often spoke at public meetings. (2)
Bradlaugh, one of the greatest orators during this period, often appeared at meetings. Henry Snell commented: "Bradlaugh was already speaking when I arrived, and I remember, as clearly as though it were only yesterday, the immediate and compelling impression made upon me by that extraordinary man. I have never been so influenced by a human personality as I was by Charles Bradlaugh. The commanding strength, the massive head, the imposing stature, and the ringing eloquence of the man... I have seen strong men, under the storm of his passion, rise from their seats, and sometimes weep with emotion." (3)
Reform League Demonstrations
On 2nd July 1866 the Reform League organised "a great street procession and meeting, 30,000 strong, in support of the popular demand for household suffrage... the London press for days after the procession had marched through the principal streets of the fashionable West End, teemed with half-frightened references to its military aspects, good marching, admirable order, well closed column and complete discipline." (4)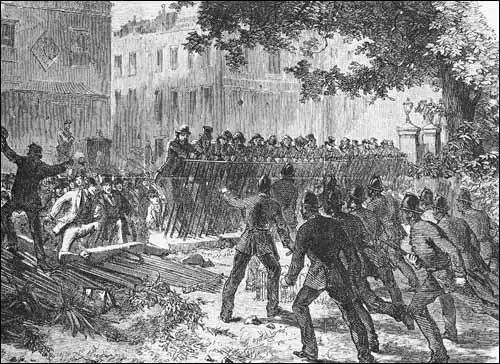 William Gladstone, the new leader of the Liberal Party, made it clear that he was in favour of increasing the number of people who could vote. Although the Conservative Party had opposed previous attempts to introduce parliamentary reform, they knew that if the Liberals returned to power, Gladstone was certain to try again. Gladstone was so popular that cheering crowds used to assemble outside his house. (5)
Benjamin Disraeli, leader of the House of Commons, argued that the Conservatives were in danger of being seen as an anti-reform party. In 1867 Disraeli proposed a new Reform Act. Lord Cranborne (later Lord Salisbury) resigned in protest against this extension of democracy. However, as he explained this had nothing to do with democracy: "We do not live - and I trust it will never be the fate of this country to live - under a democracy." (6)
Odger and other Reform League members had campaigned for adult suffrage but the government's proposals imposed strict restrictions on who could vote. At one meeting Odger declared that "nothing short of manhood suffrage would satisfy the working people". He went onto argue the vote would "prevent the labourer working for eight shillings a week." (7)
In the House of Commons, Disraeli's proposals were supported by Gladstone and his followers and the measure was passed. The 1867 Reform Act gave the vote to every male adult householder living in a borough constituency. Male lodgers paying £10 for unfurnished rooms were also granted the vote. This gave the vote to about 1,500,000 men. The Reform Act also dealt with constituencies and boroughs with less than 10,000 inhabitants lost one of their MPs. The forty-five seats left available were distributed by: (i) giving fifteen to towns which had never had an MP; (ii) giving one extra seat to some larger towns - Liverpool, Manchester, Birmingham and Leeds; (iii) creating a seat for the University of London; (iv) giving twenty-five seats to counties whose population had increased since 1832. (8)
Several leaders of the Reform League unsuccessfully attempted to be elected to the House of Commons. This included George Howell in Aylesbury and William Cremer in Warwick. However, it was George Odger, who made the greatest effort. He attempted to stand at Chelsea in 1868 but failed to win the Liberal Party nomination. The same thing happen in Stafford in 1869 and Bristol 1870. He did stand in Southwark in 1870 but lost to the Conservative Party candidate by 304 votes. (9)
The Spectator reported that he was the first working-class candidate to win more than 4,500 votes: "Nevertheless the result is that, for the first time, a member of the artizan class has polled upwards of 4,500 votes, and a considerably greater number of votes than a most wealthy, respectable, and benevolent member of the middle-class, who, in this borough, had every advantage that local connection could give him. That alone should be a pledge to members of the operative class that if they steadily persevere in their attempts to break down the class-feeling which at present excludes them from the House of Commons, they will soon succeed, and have quite sufficient success to secure to the House of Commons a very adequate infusion of the poorest, but by no means the least acute and energetic, class of the English people." (10)
The novelist, Henry James, was dismissive of Odger's attempts to become a member of the House of Commons: "George Odger... was an English radical agitator, of humble origin, who had distinguished himself by a perverse desire to get into Parliament. He exercised, I believe, the useful profession of shoemaker, and he knocked in vain at the door that opens but to golden keys." (11) However, Paul Foot has argued that Odger showed that it would not be long before working-class candidates would soon be elected to Parliament. (12)
The defeat of the Chartists was seen as a defeat for the idea of universal suffrage.... Marx detected a possible shift in this despondent tone when, early in 1865, he heard of a move among the founders of the International Working Men's Association to form a new workers' movement for parliamentary reform. The move turned into that third great meeting, at St Martin's Hall on 23 February 1865. It was addressed by the same speakers as at the International meeting a few months earlier. This meeting voted to establish a Reform League to campaign for one man, one vote.
The element of the grotesque was very noticeable to me in the most striking collection of the shabbier English types that I had seen since I came to London. The occasion of my seeing them was the funeral of Mr. George Odger, which befell some four or five weeks before the Easter period. Mr. George Odger, it will be remembered, was an English radical agitator, of humble origin, who had distinguished himself by a perverse desire to get into Parliament. He exercised, I believe, the useful profession of shoemaker, and he knocked in vain at the door that opens but to golden keys. But he was a useful and honorable man, and his own people gave him an honorable burial. I emerged accidentally into Piccadilly at the moment they were so engaged, and the spectacle was one I should have been sorry to miss. The crowd was enormous, but I managed to squeeze through it and to get into a hansom cab that was drawn up beside the pavement, and here I looked on as from a box at a play. Though it was a funeral that was going on I will not call it a tragedy; but it was a very serious comedy. The day happened to be magnificent - the finest of the year. The funeral had been taken in hand by the classes who are socially unrepresented in Parliament, and it had the character of a great popular "manifestation." The hearse was followed by very few carriages, but the cortege of pedestrians stretched away in the sunshine, up and down the classic gentility of Piccadilly, on a scale that was highly impressive. Here and there the line was broken by a small brass band - apparently one of those bands of itinerant Germans that play for coppers beneath lodginghouse windows; but for the rest it was compactly made up of
what the newspapers call the dregs of the population. It was the London rabble, the metropolitan mob, men and women, boys and girls, the decent poor and the indecent, who had scrambled into the ranks as they gathered them up on their passage, and were making a sort of solemn spree of it.