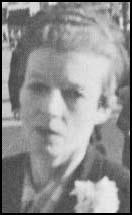 Nancy Cunard, the only child of Sir Bache Cunard, of the shipping family, was born in 1896. Educated at several exclusive schools, Cunard's poetry first appeared in magazines in 1916. Three volumes of poetry followed: Outlaws (1921), Sublunary (1923) and Parallax (1925), a book published by Virginia Woolf and her husband, Leonard Woolf.
In 1928 Cunard founded Hours Press that published writers such as Richard Aldington, Louis Aragon, George Moore, Robert Graves, Ezra Pound and Samuel Beckett.
Cunard's relationship with African-American musician, Henry Crowder, caused a major scandal and led to a break with her family. The couple moved to Austria where Cunard wrote the pamphlet, Black Man and White Ladyship (1931). With Crowder she also published Negro (1934), an anthology of African-American art. Cunard also became involved in the campaign to free the Scottsboro Boys, where nine young black men were falsely charged with the rape of two white women on a train.
On the outbreak of the Spanish Civil War Cunard went to Spain where she wrote for the Manchester Guardian. In 1937 she polled British writers on their attitudes towards the Spanish conflict and published their comments in the booklet, Authors Take Sides. Cunard argued that: "Spain is not politics but life; its immediate future will affect every human who has a sense of what life and its facts mean, who has respect for himself and humanity."
Cunard also campaigned for Spanish refugees and Republican prisoners. Cunard joined Sylvia Townsend Warner and Mary Valentine Ackland as part of the British delegation to the Second Congress of the International Association of Writers for the Defence of Culture in Madrid in 1937.
Later work by Cunard included Norman Douglas (1954), George Moore (1956) and the posthumously published These Were the Hours (1969). Nancy Cunard died in 1965.