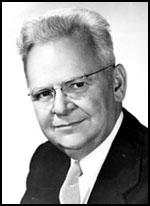 Walter Trohan was born in Mount Carmel, Pennsylvania, on 4th July, 1903. His father owned a grocery and meat shop, but went bankrupt. The family then moved to Chicago where his father became a wholesale grocer.
Trohan went to the University of Illinois to study law. However, he dropped out and got a job working for the Chicago City News Bureau. He then joined the Chicago Tribune on $32 a week. One of his first tasks was to report on the St Valantine Day's Massacre. At half-past ten on 14th February, 1929, six members of the Bugs Moran gang were sitting in a garage waiting for a consignment of illegal alcohol. Instead a Cadillac arrived carrying three men dressed as policemen. They were accompanied by two men in civilian clothes. The policemen entered the building and told the six gangsters and John May, a mechanic working in the garage, to stand in a row against the wall with their hands in the air. This was common procedure during a police raid and the men did as they were told. Two civilians then entered the garage and mowed them down with sub-machine gun fire.
Trohan was the first reporter to arrive at the garage: "I was the first man on the scene of carnage, being careful to avoid the hinging of the crazed police dog chained to one of the garage trucks. The most memorable remark of the day was that of O'Rourke of the Chicago Evening American who looked down at his feet after tracking around the garage and said: 'I've got more brains on my feet than I have in my head.' Other staffers joined me in tracing the path of ambush and the story of the slaying of six members of the George (Bugs) Moran mob, rivals of the Al Capone gang." Although it was assumed that the murders had been ordered by Al Capone, no one was ever convicted of the crime.
Trohan also reported on the death of his colleague, Jake Lingle. As Trohan explained in his autobiography, Political Animals: Memoirs of a Sentimental Cynic (1975): "Jake Lingle was shot by Leo V. Brothers, a St. Louis hoodlum, imported to do the job for the the North Side gang, known as the Aieilo-Zuta-Moran mob after its more important figures. These gangsters suspected Lingle was taking advantage of his long friendship with Police Commissioner William F. Russell to raid and close their gambling establishments in order to help Capone advance and extend his gambling empire. Lingle, who was never more than a legman, cultivated a mysterious manner, which could be taken as proof of such suspicions and of rumors which, even in his lifetime, reported he was profiting from questionable connections."
Trohan developed a good relationship with Colonel Robert McCormick, the owner of the Chicago Tribune. "In these early days McCormick was a dim and distant figure in his twenty-fourth-floor office. Yet, his spirit was in the local room at all times, He was known affectionately as the Colonel, but not without a tinge of awe and even fear. He was an admirable boss, because he was convinced, or at least convinced those in the vine-yard, that every employee with whom he dealt was the best possible man in his post. He was demanding and exacting, but he was also forgiving; he seemed to enjoy the making of mistakes by those about him, so that he could be forgiving." They shared the same right-wing political views and McCormick sent Trohan to Washington to cover the 1932 Presidential Election.
Trohan developed a good relationship with President Franklin D. Roosevelt: "Roosevelt and I became chummy from our meetings at Warm Springs.... FDR was gregarious, full of small talk, loved to laugh and genuinely liked people, even as I did. He was a gentleman, which I have always tried to be. It was not important to me that I share a man's political beliefs to be his friend. I genuinely liked the man, and I must confess I - was flattered being friendly with the President. I cooked for him, although I must say he was no gourmet, but rather one who ate to live. I poured drinks for him-and loaded them - although he was one who could take liquor or leave it. I shared many of his hours of leisure, where he could be the best of company. I don't pretend I was his favorite reporter, although I might have become so had I forsworn my loyalty to McCormick and pledged allegiance to him."
Robert McCormick was totally opposed to the New Deal, which he considered to be socialism and this was reflected in Trohan's reporting: "In office, FDR overturned his campaign promises by inviting the professors and crackpots to launch the concept of big government, and socialist government at that. There was nothing new in his approach, although it was claimed to be new. It was the age-old game of taking from the haves and giving it to the have-nots... Class was pitted against class, even though FDR was promising to make all men equal. The favored ones were to be more equal than the others. The favored were the new federal aristocracy of planners and managers, who were wired into permanent jobs under the extension of civil service."
Trohan was convinced that the New Deal was a communist conspiracy and accused Alger Hiss of being a member of the American Communist Party and a disciple of Felix Frankfurter. "The next day the list of enforced partings included Alger Hiss, then known as one of the zealots of planned economy. My story bluntly branded him as a Red, one spawned in the Harvard classrooms of Felix Frankfurter." Hiss was sacked from his post in the legal department of the AAA but soon afterwards got a job with Gerald P. Nye, who was chairman of the Munitions Investigating Committee. Trohan tried to persuade Nye to sack Hiss: "He (Nye) summoned Hiss to his office, as he told me, and said that he was satisfied with the lawyer's work, but wouldn't stand for any Communist connections. Hiss looked Nye in the eye and solemnly swore he was no communist, but offered to resign in order to spare Nye, the committee and the investigation possible embarrassment. Nye said he would not sacrifice an innocent man and persuaded Hiss to remain."
Trohan also investigated President Franklin D. Roosevelt relationship with Lucy Mercer Rutherford. However, Robert McCormick would not print the story and so he gave it to Westbrook Pegler: "Colonel McCormick wouldn't print any part of the story, saying the Tribune didn't fight that way, a refrain I was to hear from time to time. So I turned over my files to Westbrook Pegler when the columnist approached me on the story and put him in touch with my sources. His stories on the relationship, the first to be published, resulted in his being assailed as the worst of gossipmongers."
Trohan was an isolationist and was very much against the proposed help for the Allies. In December 1940 President Franklin D. Roosevelt made a speech where he proposed selling munitions to Britain and Canada. Isolationists like Arthur Vandenberg and Thomas Connally of Texas argued that this legislation would lead to American involvement in the Second World War.
It has been argued that both Vandenberg and Connally were targeted by British Security Coordination in order to persuade the Senate to pass the Lend-Lease proposal. Mary S. Lovell, the author of Cast No Shadow (1992) believes that the spy, Elizabeth Thorpe Pack (codename "Cynthia") who was working for the BSC, played an important role in this: "Cynthia's second mission for British Security Coordination was to try and convert the opinions of senators Connally and Vandenberg into, if not support, a less heated opposition to the Lend Lease bill which literally meant the difference between survival and defeat for the British. Other agents of both sexes were given similar missions with other politicians... with Vandenberg she was successful; with Senator Connally, chairman of the Senate Committee on Foreign Relations, she was not."
During the Lend-Lease debate Vandenberg announced on the floor of the Senate that he had finally decided to support the loan. He warned his colleagues: "If we do not lead some other great and powerful nation will capitalize our failure and we shall pay the price of our default." Richard N. Gardner, the author of Sterling Dollar Diplomacy in Current Perspective (1980), has argued that Vandenberg's speech was the "turning point in the Senate Debate" with sixteen other Republicans voting in favour of the bill.
Trohan argued in his autobiography, Political Animals: Memoirs of a Sentimental Cynic (1975): "The sex gambit was employed to influence policy by the British on Senator Arthur H. Vandenberg of Michigan, one of the vainest men to serve in a body where egos are often king size... He was strongly opposed to American intervention, but made a fast switch to intervention. Before the about-face, he was a regular attendant at keep-out-of-the-war strategy sessions, organized by Wheeler and Nye.... When the Canadian woman (who Vandenberg was having an affair with) left the capital for her home, she was replaced by a British woman. The replacement convinced those in the know that the British were working on the senator. Proof came when I learned the Office of Naval Intelligence had intercepted the woman's reports to British intelligence on her progress with Vandenberg."
Trohan also argues that President Franklin D. Roosevelt was behind the plan for Marshall Field III to start the Chicago Sun to counter the isolationist policy of Colonel Robert McCormick, who owned the Chicago Tribune. According to Field's editor, Turner Catledge: "It was early in 1941 that Field resolved to start a newspaper... Roosevelt was trying to move the nation toward support of England and Colonel McCormick was fighting him tooth and nail... The Tribune's influence on the American heartland was great, and to Field and others who thought the United States must fight Nazism, McCormick's daily tirades were agonizing." Trohan argues: "In order to help the paper get an Associated Press franchise, then a guarded possession, FDR had FBI agents call upon various small-town publishers and urge them to support Field's bid for a franchise. J. Edgar Hoover, head of the FBI, later showed me the order he had received to undertake a campaign, which he considered above and beyond his unit's functions."
General Henry H. Arnold, chief of the United States Air Force, leaked Roosevelt's war plans to Burton Wheeler, which called for ten million Americans in the armed services to carry on a global war. This information was passed to Trohan who broke the story in the Chicago Tribune. "As a result of the story Arnold got what he wanted - more arms and equipment."
In the 1950s Trohan was a supporter of Joseph McCarthy. However, in his autobiography, Political Animals: Memoirs of a Sentimental Cynic (1975) he claims that McCarthy had a strong interest in young girls and that he was surprised that the American Communist Party did not arrange for an underage girl to be "planted on McCarthy".
Walter Trohan died at the age of 100 on 30th October, 2003.