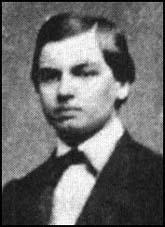 Robert Todd Lincoln, the first child of Abraham Lincoln and Mary Todd Lincoln, was born in Springfield, Illinois, in 1843. He had three brothers: Robert Lincoln (1843-1926), Edward Lincoln (1846-50), William Lincoln (1850-62) and Thomas Lincoln (1853-1871). Lincoln studied at Illinois State University and Harvard University.
During the American Civil War he joined the Union Army and was appointed to the rank of captain. His father did not want him sent to the front-line and so it was arranged that he should became assistant adjutant general of volunteers on the staff of General Ulysses S. Grant. This enabled him to be present when General Robert E. Lee surrendered his army at the Appomattox Court House.
After the assassination of his father he returned to the family home. In 1867 he was admitted to the Illinois Bar and became a successful lawyer. He married Mary Harlan, the daughter of James Harlan, and the couple had three children: Mary (born 15th October, 1869), Abraham (born 14th August, 1873) and Jessie (6th November, 1875).
Lincoln, like his father, was a member of the Republican Party. He shared the views of Radical Republicans and attacked the idea of taxes being used to compensate slaveowners for the loss of their slaves. He campaigned for the Republicans waving his father's "bloody shirt", and complaining about "so much precious blood" being spilt without the creation of a just and fair society.
Lincoln became increasingly concerned about the mental health of his mother. Mary Todd Lincoln worried unnecessarily about money. Charles Sumner had persuaded Congress to grant her a $3,000 a year pension. She also had received a large percentage of her husband's estate. However, her conviction that she was poor, resulting in strange and irrational behaviour. This included selling her clothes and writing letters begging money from prominent politicians.
In 1875 Lincoln, arranged for a sanity hearing. The court judged her insane and she was committed to a sanatorium in Batavia, Illinois. On 15th June, 1876, a second trial judged her sane and she went to live with her sister in Springfield. Her health continued to deteriorate and she refused to leave her bedroom.
In 1881 President James Garfield appointed Lincoln as his Secretary of War. He was with him when he was assassinated in 1881. Lincoln remained in the post under Garfield's replacement, Chester Arthur. Lincoln refused all attempts to nominate him as a presidential candidate but in 1889 he accepted the post as minister to England.
Lincoln grew increasingly conservative and in 1893 he bitterly attacked John P. Altgeld for pardoning the men found guilty of the Haymarket Bombing. He was strongly opposed to the growth in the trade union movement and supported his friend, George Pullman, in his struggle during the Pullman Strike. After the death of Pullman in 1897 Lincoln became president of the Pullman Palace Car Company.
Lincoln criticised the radicalism of Theodore Roosevelt and claimed that his ideas constituted "a revolution" and would lead to a dictatorship. Lincoln also raised doubts about what he called "an unchecked democracy" and disapproved of the progressive policies of Woodrow Wilson. Robert Todd Lincoln died in Manchester, Vermont, in 1926.