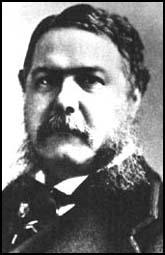 Chester Arthur, the son of a Baptist minister, was born in Fairfield, Vermont, on 5th October, 1829. He graduated from Union College in 1848 and three years later became principal of North Pownal Academy.
Arthur studied law and was admitted to the bar in 1854 and commenced practice in New York City. An opponent of slavery and racial discrimination, Arthur successfully represented Lizzie Jennings, an African American, it her case against a Brooklyn streetcar company, after she had been forced off a car reserved for whites. Arthur won the case and this led to city bringing an end to racial discrimination in public transport.
A member of the Republican Party, Arthur worked closely with Roscoe Conking, the political boss of New York. With Conkling's help, Arthur was appointed by President Ulysses S. Grant as customs collector for the city's port in 1871.
When President Rutherford Hayes obtained power he attempted to bring an end to Conkling's control of the New York City customhouse. In July 1878 Arthur was suspended from duty and he was forced to return to his former work as a lawyer.
In 1880 Arthur worked with Roscoe Conking to help Ulysses S. Grant become the Republican Party presidential candidate. After 36 ballots James Garfield defeated Grant and James G. Blaine for the nomination. To preserve party unity, Arthur became the vice-presidential candidate.
It was a close election and James Garfield defeated defeated Winfield S. Hancock, the Democratic Party candidate, by 4,449,053 votes to 4,442,030.Garfield attempted to select a Cabinet that would retain the unity of the Republican Party. However, Roscoe Conking, the leader of the Stalwart group, was unhappy with some of Garfield's choices and refused to serve in his administration.
On 2nd July, 1881, James Garfield was waiting for a train in Washington with Robert Lincoln, his Secretary of War, when Charles J. Guiteau, shot him in the back. A supporter of Roscoe Conking, Guiteau, surrendered to the police with the words: "I am a Stalwart. Chester Arthur is now the president of the United States. After a four month struggle Garfield died on 19th September, 1881 and Arthur became president.
There was fear that Arthur was under the control of Roscoe Conking. However, he gave his support to the Civil Service Act (1883) that created a merit-based system of appointment and promotion. He also vetoed an $18 million rivers and harbours bill that would have provided money for political patronage.
Arthur was a candidate for the presidential nomination in 1884, but was beaten by James G. Blaine. He therefore retired from politics after Grover Cleveland took office. Chester Arthur died in New York City on 18th November, 1886.