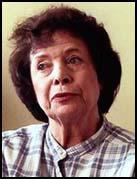 Joan LaCour was born in Long Branch, New Jersey on 21st May, 1921. Her mother performed in vaudeville and her father deserted the family in 1923. The family moved to Los Angeles and Joan attended Hollywood High School.
In 1937, at the age of sixteen, LaCour joined the American Communist Party. She was expelled from it three years later - because she was in psychoanalysis. as LaCour later recalled "and the party wouldn't have that."
After the Second World War she was a member of the Hollywood Independent Citizens Committee for the Arts, Sciences and the Professions (HICCASP), a left-wing pressure group. A fellow member was Ronald Reagan: "I have never met a more limited man - to put it politely. He was stupid. He was an actor who made a good speaker, but talking with him before and after events, this was a man who simply was not well informed, not very knowledgeable. He was a kind of personable performer."
In 1951 LaCour, who worked for the lawyer, Morris Cohn, met and began a relationship with Adrian Scott, a film producer and screenwriter, who along with Alvah Bessie, Herbert Biberman, John Howard Lawson, Albert Maltz, Dalton Trumbo, Lester Cole, Edward Dmytryk, Samuel Ornitz and Ring Lardner Jr, had been found guilty of contempt of Congress. Scott had been sentenced to twelve months in Ashland Federal Correctional Institution and fined $1,000.
Joan LaCour became executive secretary of the Television Writers of America. in August 1952. According to the San Francisco Chronicle "a Hollywood columnist wrote an attack piece alleging that LaCour was part of a plot to get Communist propaganda into TV scripts." After refusing to name former members of the House of Un-American Activities Committee she was blacklisted. Joan married Adrian Scott in 1955.
Scott was blacklisted and his wife agreed to submit the work under the name Joanne Court. Patrick McGilligan, the film historian who co-authored Tender Comrades (1997) has claimed: "I think of her as a stand-in for all the wives - and, in some cases, husbands - who were affected by the blacklist profoundly, horribly in her case, and never found their voice. Joan found her voice partly as a consequence of the blacklist, as a front for her husband. She emerged as a very sharp writer in her own right, not Oscar-nominated or famous but with a very interesting career." This included writing for television programmes such as Lassie, Have Gun - Will Travel, Meet McGraw, 77 Sunset Strip, Surfside Six and The Waltons.
The couple moved to London but after the blacklist was broken by Dalton Trumbo, the writer of Spartacus (1960), Scott was invited back to Hollywood by Jennings Lang, who was supervising new products at Universal Studio. Joan later recalled: "He was deliriously happy. I was not. I wept all the way back on the plane; he was ecstatic to be coming back home and working in Hollywood. It was redemption. I was miserable, but he didn't want to know. I hated change. But also I'd fallen in love with London."
Adrian Scott soon became disillusioned with life in Los Angeles. "He got assigned to work under this little pipsqueak of a kid who was young enough to be his son, an awful young guy. He was not nice and it was such a putdown, so demeaning. And that's when he was 61 and got diagnosed with lung cancer... The triumphant return was a disaster." Scott died of lung cancer in Los Angeles, on 25th December, 1973.
Joan remained hostile to those who had avoided the blacklist by informing on former members of the American Communist Party. She told Victor S. Navasky, the author of Naming Names (1980) about an incident where she shunned Edward Dmytryk: "Maybe if I hadn't lived with a man whose guts were torn out by it, I'd feel differently... But I feel personally responsible not to let anyone think he is forgiven."
Joan LaCour Scott, who suffered from vascular dementia, died in Woodland Hills, Los Angeles on 19th June, 2012.
There are those like Adrian Scott's widow Joan, who made sure to avoid informers as a matter of policy. She recalls the night Frank Tarloff brought an informer to a London party given by the actor Martin Balsam. Everybody, including many blacklisted expatriates, was civilized, but the Scotts decided to leave. Tarloff asked, "How long can this go on?" Joan said she would propose a statute of limitations - when the last victim is no longer a victim. "Frank put his arm around Adrian and said, "well, we needn't worry anyway because the cream always rises." The Scotts left and it wasn't until the next morning that Joan thought of the comeback: "The scum also rises."

"Maybe if I hadn't lived with a man whose guts were torn out by it, I'd feel differently," adds Mrs Scott. "But I feel personally responsible not to let anyone think he is forgiven."
After World War II, when her disastrous first marriage to an Army lieutenant ended, she joined the left-leaning Hollywood Independent Citizens Committee of the Arts, Sciences and Professions as a volunteer and later as a staff member. She also joined the Communist Party but quit after six months.

In the early 1950s, she was executive secretary of the Television Writers of America union when a Hollywood columnist wrote an attack piece alleging that Mrs. Scott was part of a plot to get Communist propaganda into TV scripts. She was blacklisted and called to testify before the House committee investigating subversives in the movie and television industries.

She met Adrian Scott at a rally for the Hollywood 10 and began dating him after he was released from prison in 1951. In 1955 they were married at the home of another Hollywood 10 member, screenwriter Dalton Trumbo.

Many writers in his situation had turned to fronts in order to make a living, but the Scotts knew that was chancy; some fronts were trustworthy but others, she said, "rooked you completely, shamelessly."

They eventually decided that Mrs. Scott was the best person for the job, even though she had never written a script. But there were risks. She couldn't front for her husband as Joan LaCour because that was the name she went by when she worked for the union. Using her married name was ill-advised for obvious reasons. So she became Joanne Court.

Fronting for her husband "was a mistake in a lot of ways," she said in the oral history for McGilligan. "There were times when it almost severed our marriage. Then again, there were times when it also saved us."

She made her debut as a front in 1955 on "Lassie," the popular children's series featuring the adventures of a brave collie and her young master. She presented Adrian's work at story conferences until one night when he was stumped for ideas. She came up with one he loved and he insisted she write the story. From then on, she wrote for the show herself.