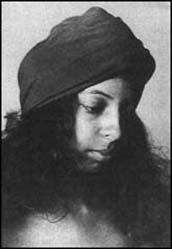 Angelina Weld Grimke was born in Boston, Massachusetts, on 27th February, 1880. Her father was the son of a wealthy white aristocrat and a slave. Angelina was born into a family of civil-rights activists that included Angelina Grimke, Sarah Grimke and Theodore Weld.
After graduating from the Boston Normal School of Gymnastics in 1902 she became an English teacher in Washington. Grimke also began to write articles and poems about racism and the problems of black people in the United States.
A close associate of Mary Church Terrell, Grimke was a strong advocate of women's suffrage. Grimke also worked with Margaret Sanger on her journal Birth Control Review.
In 1916 the National Association for the Advancement of Coloured People (NAACP) commissioned her to write a play about lynching. When Rachel was performed the NAACP announced that: "This is the first attempt to use the stage for race propaganda in order to enlighten the American people relative to the lamentable condition of ten millions of colored citizens in this free republic."
Other wrote by Grimke included Negro Poets and their Poems (1923) and Caroling Dusk (1927). Angelina Grimke died on 10th June, 1958.