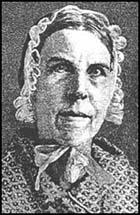 Sarah Grimke, the daughter of slaveholding judge from Charleston, South Carolina, was born on 26th November, 1792. Sarah and her sister, Angelina Grimke, both developed an early dislike of slavery and after moving to Philadelphia in 1819, joined the Society of Friends.
In 1835 Angelina Grimke had a letter against slavery published by William Lloyd Garrison, in his newspaper, The Liberator . She followed this with the pamphlet, An Appeal to the Christian Women of the South. Sarah followed her example by publishing An Epistle to the Clergy of the Southern States. These pamphlets were publicly burned by officials in South Carolina and the sisters were warned that they would be arrested if they ever returned home.
The sisters moved to New York where they became the first women to lecture for the Anti-Slavery Society. This brought attacks from religious leaders who disapproved of women speaking in public. Sarah wrote bitterly that men were attempting to "drive women from almost every sphere of moral action" and called on women "to rise from that degradation and bondage to which the faculties of our minds have been prevented from expanding to their full growth and are sometimes wholly crushed."
Refusing to give up their campaign, the sisters now became pioneers in the struggle forwomen's rights. In her book Letters on the Equality of the Sexes (1838), Grimke linked the rights of slaves to the rights of women. William Lloyd Garrison gave Grimke his support in this but Theodore Weld advised her not to "push your women's rights until human rights have gone ahead."
In 1838 Sara's sister, Angelina Grimke married Theodore Weld. Sarah moved with the couple to Belleville, New Jersey, where they opened their own school. Later they established a progressive school at the Raritan Bay Community in New York.
During the Civil War Sarah wrote and lectured in support of Abraham Lincoln. Sarah Grimke continued to work civil rights and woman's suffrage until her death on 23rd December, 1873.
Slavery in the United States (£1.29)