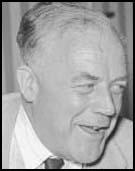 Richard Stokes, the fifth of the eight children of Philip Folliott Scott Stokes (1853–1922), a barrister, was born on 27th January 1897. His parents were wealthy, largely through his mother's family's ownership of the Ipswich engineering firm Ransomes and Rapier.
A devout Roman Catholic, he was educated at Downside School between 1906 and 1915, before attending the Royal Military Academy at Sandhurst. During the First World War he served on the Western Front with the Royal Artillery and won the Military Cross in 1917. Promoted to the rank of major in 1917, Stokes won the Croix de Guerre during the conflict. He was a strong critic of the Russian Revolution and became a passionate anti-communist. According to his biographer, Robert Crowcroft: "His experiences left him with a deep abhorrence of war, yet also a fierce patriotism in the face of the fresh threat posed by the new Bolshevik regime in Russia."
After the war Stokes studied engineering at Trinity College, Cambridge, before joining the family business of Ransomes and Rapier, of which he became chairman and managing director. Under his leadership the company were enlightened employers, introducing in the 1930s a profit-sharing scheme, paid holidays, and a forty-five hour working week (with no loss of output).
Stokes became a Christian Socialist and became a member of the Labour Party in 1934. He had been influenced by the ideas of Henry George and during an interview he gave to The Times in January 1938 he argued that unemployment and poverty were caused by the "private stranglehold" over land ownership, and favoured a land tax to force landowners to put their holdings to the most productive use.
Stokes unsuccessfully contested Glasgow Central in 1935. He was then adopted as the Labour Party candidate for Ipswich and entered the House of Commons after defeating Henry Willink, a supporter of the National Government, in February 1938.
In 1939 Stokes set up the Parliamentary Peace Aims Group to "urge the Government, while still there might be some hope of a settlement before war with all its horrors broke over Europe, to explore possibilities for the calling of a Conference prior to a negotiated peace." Other members included Neil Maclean and Sydney Silverman.
Stokes supported appeasement towards Adolf Hitler and Nazi Germany and argued that Neville Chamberlain and his government should concentrate on the threat posed by Joseph Stalin and the Soviet Union. According to Robert Crowcroft, during this period Stokes "flirted with fascism during the 1930s". This included membership of the antisemitic Militant Christian Patriots, the Council for a Christian Settlement in Europe, and the Kinship in Husbandry group.
Soon after the outbreak of the Second World War Stokes published What is Happening in Europe? (January 1940). Stokes argued that Hitler had been forced into its actions by the behaviour of others, and called for the revision of the Versailles Treaty and a redistribution of borders to be imposed on Poland and Czechoslovakia in Germany's favour. As Robert Crowcroft points out: "Germany was to be allowed domination of the continent in return for acting as a bulwark against the Soviet Union... Suggesting that war would lead to the hammer and sickle ascendant from the North Sea to the Pacific, he tried to persuade the former prime minister, David Lloyd George, to lead the campaign in favour of a negotiated peace with Germany."
Stokes was an opponent of bombing urban areas in Nazi Germany and joined forces with Alfred Salter and Bishop George Bell in condemning this strategy. As Salter pointed out: "All this is founded on the great and terrible fallacy that ends justify means. They never do. Is there no pity in the whole world? Are all our hearts hardened and coarsened by events?"
Stokes was also a supporter of Vera Brittain and her Letters to Peace Lovers. Stokes was particularly critical of the bombing of Dresden in 13th February 1945. Soon after the war came to an end he turned his attention to the dangers posed by the Soviet Union and argued that "another war is certain".
It has recently been revealed that Stokes worked closely with MI6 between 1945 and 1950 "to stir up ethnic strife in the Soviet Union through groups of exiles based in London and run by eastern European fascists, including Intermarium, the Promethean League, and the Anti-Bolshevik Bloc of Nations. Through the British League for European Freedom he campaigned for former Nazis and their eastern European collaborators to be brought to Britain as intelligence assets in the nascent cold war."
Stokes warned Stafford Cripps and then Hugh Gaitskell, not to impose high taxation on the middle-class voters who could become the mainstay of the Labour Party. He also campaigned about Labour government's education policy, that he argued discriminated against Roman Catholic schools and their religious practices.
Herbert Morrison shared Stokes' anti-communism and he successfully persuaded Clement Attlee to appoint him as Minister of Works (February 1950 - April 1951) and Minister of Materials (July - October 1951). Winston Churchill gained power after the 1951 General Election and in opposition, Stokes became the Labour Party spokesman on Defence.
Richard Stokes died on 3rd August 1957, from pulmonary embolism after fracturing ribs when his car overturned in floodwater, near Colchester, two weeks earlier.