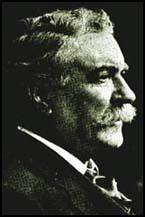 Ernest Belfort Bax, the son of Daniel Bax, a successful businessman, was born in Leamington, Warwickshire on 23rd July, 1854. His parents were strict Nonconformists who came from families that had suffered religious persecution. The family moved to Brighton soon after Ernest was born. He was educated at home by private tutors and as a young man had been encouraged to read John Stuart Mill and Herbert Spencer.
In 1875 Bax went to Stuttgart, Germany, to study music. While in Germany, he developed an interest in German philosophy. His read Hegel and later was introduced to the work of Karl Marx. Bax became a journalist and after moving to Berlin became a foreign correspondent for the Evening Standard.
After he returned to England in 1882, Bax became a freelance journalist, specializing in history and philosophy. Bax had been converted to socialism by reading Karl Marx and had two articles on the subject published in the journal, Modern Thought. In 1882 Bax joined the Social Democratic Federation (SDF). Bax was impressed by William Morris and supported him in his disputes with the party leader, H. H. Hyndman.
In December 1884, Bax joined Morris, Eleanor Marx and Edward Aveling in leaving the SDF and forming the Socialist League. Bax and Morris jointly wrote the Socialist League Manifesto, where they declared that the organisation would seek to "educate and organize public opinion for the transformation of Britain into a truly socialized society". Bax co-edited the party journal, Commonweal, with Morris. Articles written by Bax and Morris for Commonweal later appeared in the book he two men also jointly wrote the book Socialism, Its Growth and Outcome.
In his books The Religion of Socialism (1887) and Ethics of Socialism (1889), Bax argued that Christian ethics was gradually being replaced by the Utilitarian idea that ethical change was produced by the needs of society rather than from a supernatural level. Bax believed that this would develop into a "new ethic" called socialism. The highest expression of this new ethic was "self-sacrifice for the cause of true social change and human consciousness".
By 1888 the anarchists had gained control of the Socialist League so Bax returned to the Social Democratic Federation. Although Bax still had trouble working with H. H. Hyndman, he believed the SDF was the best Marxist party in Britain. Bax was elected to the party executive and became the editor of Justice, the party's weekly newspaper. After 1894 Bax tended to concentrate on his career as a barrister. He continued to contribute articles on politics and music for The Star and for a while edited the socialist journals, Time and Today.
Bax caused considerable controversy when he published The Fraud of Feminism (1913). Unlike most socialists, he was against women having the vote on the same terms as men. Bax looked at the subject from an historical perspective: "The position of women in social life was for a long time a matter of course. It did not arise as a question, because it was taken for granted. The dominance of men seemed to derive so obviously from natural causes, from the possession of faculties physical, moral and intellectual, in men, which were wanting in women, that no one thought of questioning the situation."
Bax was especially opposed to the militant tactics used by the Women's Social and Political Union: "Now I submit there is a very considerable difference between what is due to weakness that is harmless and unprovocative, and weakness that is aggressive, still more when this aggressive weakness presumes on itself as weakness, and on the consideration extended to it, in order to become tyrannical and oppressive. Weakness as such assuredly deserves all consideration, but aggressive weakness deserves none save to be crushed beneath the iron heel of strength."
During the First World War Bax supported the war effort and opposed the Russian Revolution. His friend, Robert Arch, argued: "The fact that the Bolsheviks, by drawing Russia out of the war, were in effect prolonging the life of the reactionary Central Empires against whom, in Bax's view, the war was justly – waged, made it impossible for him to support Bolshevism. He was further alienated by the cruelties of the Soviet Government towards its political opponents, particularly its Socialist opponents, and by its wanton invasion and conquest of Georgia. Yet, in conversations with Bax towards the end of his life, one felt that he was never extreme in his condemnation, and that the Soviet war on Christianity, at any rate, had his whole-hearted sympathy. The logic of events alone prevented him, as it should have prevented others, from being a Bolshevik."
Bax published an autobiography, Reminiscences in 1918. This was followed by The Real, the Rational and the Alogical (1920). He also contributed occasional articles for Justice and the Freethinker. A young friend, Robert Arch, claimed he continued to take a strong interest in politics: "Though he could be truculent with his pen, he was personally the most gentle and unassuming of men, and displayed an engaging interest in the ideas even of the youngest of us."
The health of Bax and his wife deteriorated and in the autumn of 1926 they both moved into a London nursing-home. They both died of blood-poisoning on 26th November, 1926.