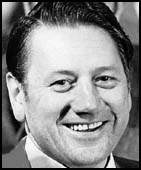 Norman Atkinson, the son of a bus driver, was born in Manchester on 25th March, 1923. His father died when he was five years old. After attending college he became a designer in a engineering department. A member of the Labour Party he was elected to Manchester City Council in 1945 at the age of 22.
A member of the Amalgamated Engineering Union he became branch president while working in Barrow. He was the unsuccessful candidate at Wythenshawe in the 1955 General Election. In 1957 he became chief designer at Manchester University's department of mechanical and nuclear engineering. Atkinson became the Labour candidate in Altrincham and Sale but failed to get elected in the 1959 General Election.
In 1962 Alan Grahame Brown, the Labour MP for Tottenham defected to the Conservative Party. Atkinson was selected over Ian Mikardo to replace Brown. Mikardo later recalled in his autobiography, Back Bencher (1988): "I knew I was merely making up the numbers since that was an AEU-sponsored seat and the AEU had put up an estimable young candidate, Norman Atkinson, who was virtually certain to be selected. (He was, won the seat, and made a notable contribution to the work and performance of the Party in Parliament.)"
The authors of Michael Foot (1981) pointed out that Atkinson became a supporter of Michael Foot: "The Parliament of 1964 had changed in several important ways. Until then the left in its various manifestations had a distinctly middle-class air. It did have working-class supporters, but the intellectual drive came primarily from highly educated people, often from public schools... This new generation of self-educated union officials were becoming MPs, and many entered Parliament in the 1964 and 1966 elections. Eric Heffer arrived, as did Stan Orme who went on to become a Cabinet minister, Albert Booth who replaced Foot as Employment Secretary, Norman Atkinson, later Treasurer of the Labour party, Norman Buchan, Russell Kerr, Sydney Bidwell, Roy Hughes, and many other names, famous and unfamiliar, who are now firmly bedded down in the active Labour left. These men were Foot's natural allies; they had looked up to him and drawn inspiration from his speeches and writings."
After winning the seat in the 1964 General Election he joined Michael Foot, Konni Zilliacus, William Warbey, Russell Kerr, John Mendelson, Anne Kerr, Stan Newens, and Sydney Silverman in protesting against American intervention in Vietnam. However, Atkinson and his friends were unable to persuade the Labour prime minister, Harold Wilson, to condemn US policy on Vietnam. Atkinson was also a member of the Socialist Campaign Group, that opposed nuclear weapons, prices and incomes and the European Common Market.
Atkinson warned Harold Wilson in 1968 that expelling rebels would "smash the party". Soon afterwards Atkinson was suspended by the parliamentary party. The following year he took on Barbara Castle when she launched her In Place of Strife union reforms. Atkinson accused her of "setting fire to the grass roots of the Labour movement". Anne Perkins, the author of Red Queen: The Authorized Biography of Barbara Castle (2003), Castle was "gentler with the young MPs like Norman Atkinson, one of the leading lights of the new left" and encouraged him to keep banging away at principles... to force us to change details back into principles from time to time in order to see how far we've strayed".
After the Labour defeat in the 1970 General Election, Atkinson concentrated his attacks on the government of Edward Heath. Atkinson, now chairman of the Tribune Group, led the campaign against Heath's Industrial Relations Act and his plan to join the European Common Market. According to The Daily Telegraph: "With Heath moving to take Britain into Europe, Atkinson... sought a pledge that Labour would pull out, reckoning the leadership's opposition to entry a sham."
Harold Wilson returned to power in 1974. When Jim Callaghan replaced Wilson as prime-minister in 1976 he offered Atkinson a job in the government but he turned it down, feeling more at ease on the backbenches. Atkinson was especially critical of the government's economic policies. He urged the Cabinet to take up "the Socialist case for reflating the economy" and warned that if this did not happen, Margaret Thatcher, the leader of the Conservative Party, would win "the greatest Tory majority for years"
Atkinson strongly disapproved when the Chancellor of the Exchequer, Denis Healey, controversially began imposing tight monetary controls. The Guardian reported: "Atkinson's straightforward lack of guile led to friction with some Labour leaders, notably in 1976 with Denis Healey as chancellor over economic policy. Atkinson argued that Healey had become too much of a prisoner of International Monetary Fund policy in making the public spending cuts that came as a condition of an IMF loan. Yet his criticism, which consistently based itself on a cry for more radical socialist policies, never reflected badly on his credibility, as was the case with some other leftwingers."
The government's economic policies included deep cuts in public spending on education and health. Healey explained his thinking in his autobiography The Time of My Life (1989): "Once the pay policy was in place in 1975, my overriding concern was to restore a healthy financial balance both at home and abroad. It had become customary among Keynesians - who had usually read no more of Keynes than most Marxists had read of Marx - to claim that there was no need to worry about a fiscal deficit when the economy was working below capacity, nor about a deficit on the current balance of payments when foreign capital was pouring into Britain. In 1975 unemployment was rising, and the Arab countries were parking their surplus oil revenues in British banks for the time being. So in theory there was no harm in running substantial deficits both at home and abroad.... Politically, by far the most difficult part of my ordeal was the continual reduction of public spending; almost all of the spending cuts ran against the Labour Party's principles, and many also ran against our campaign promises."
Left-wing critics like Atkinson have claimed that these policies laid the foundations of what became known as monetarism. This view was supported by the Conservative Party MP Iain Duncan-Smith has said that Healey deserves credit for the economic achievements of the future government of Margaret Thatcher. In 1978 these public spending cuts led to a wave of strikes (winter of discontent) and the Labour Party was easily defeated in the 1979 General Election.
In 1981 Atkinson was a strong supporter of Tony Benn in his unsuccessful attempt to beat Healey to become deputy leader. Atkinson was ousted as treasurer of the Labour Party as a result of taking on the leadership. Before the 1983 General Election Atkinson defeated his Left-wing neighbour Reg Race for the enlarged Tottenham constituency. He was comfortably elected, but in 1985 lost the nomination to Bernie Grant, leader of Haringey council. Atkinson left the House of Commons in 1987.
Atkinson published a biography of Joseph Whitworth entitled, Sir Joseph Whitworth: the World's Best Mechanician (1997). His first play, Old Merrypebbles, appeared in 2007. He argues: "My satirical play Old Merrypebbles, peels away in the best Shavian fashion, the last remnants of genteel propriety.... I hope the somewhat mischievous fun laden script also helps explain how parliament is sometimes abused."
Norman Atkinson died on 8th July, 2013. He was survived by his wife, Irene Parry, whom he married in 1948.