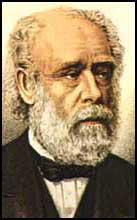 Joseph Whitworth, the son of a Congregational minister, was born in Stockport in 1803. At the age of fourteen he was apprenticed to a Derbyshire cotton-spinner. Whitworth studied the machinery in the factory and was critical of the poor standards of workmanship and this inspired him to become an engineer.
In 1821 Whitworth moved to Manchester where he found work as a mechanic. Four years later he moved to London where he trained under Henry Maudslay. After returning to Manchester in 1833 he set up his own machine shop. Over the next few years he built a successful knitting machine (1835) and a horse-drawn mechanical roadsweeper (1842). Probably his most important innovation was to devised a machine capable of measuring to an accuracy of one hundredth-thousandth of an inch.
By the time of the Great Exhibition in 1851 Whitworth had acquired a world-wide reputation of producing machines of unrivaled quality and precision. The Crimean War (1854-56) revealled that the Enfield Rifle, the main gun used by the British Army, was unreliable. Whitworth produced a far better rifle, and although rejected by the War Office, it was adopted by the French Army. Whitworth also developed a field gun capable of firing a shell up to six miles.
Since the beginning of the industrial revolution, each workshop used its own sizes for the equipment it made. By 1860 Whitworth's specifications for sizes of screw threads was generally accepted throughout Britain.
Whitworth was deeply concerned with working class poverty and donating large sums of money to educational organisations. He also supplied the funds for engineering scholarships research at technical colleges. Sir Joseph Whitworth died in 1887.