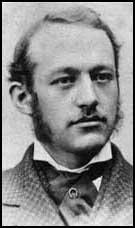 Thomas Fielden, the eldest surviving son of Joshua Fielden, the the grandson of John Fielden, and great grandson of Joshua Fielden, was born in Todmorden in 1854. After being educated at Wellington College and Trinity College, Cambridge, Thomas joined the family business, Fielden Brothers.
In 1878 Thomas married Martha Knowles, the daughter of Thomas Knowles, the Conservative MP for Wigan. The Fielden Brothers company was in decline and a major part of his income was the money he received from his inherited shares in the Lancashire & Yorkshire Railway Company.
John Fielden and Samuel Fielden had both held radical political views. However, Joshua, Samuel's brother, had been Conservative MP for West Riding (1868-1878). Thomas shared his father's political views and in the 1886 General Election, became MP for Middleton.
Thomas lost the seat at the 1892 General Election by 116 votes but regained it in the 1895 General Election with a majority of 865. Although a loyal supporter of the Marquess of Salisbury and his government, Thomas never spoke in a debate in the House of Commons.
Thomas Fielden, the father of six young children, died of a heart-attack while shooting grouse at Amulree in October 1897. Thomas' son, Edward Fielden, became the new chairman of Fielden Brothers, a post he was to hold until 1939. Fielden Brothers ceased trading in 1966.