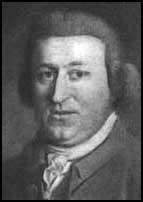 Joshua Fielden was born on Edge End Farm near Halifax in 1748. The Fieldens were members of the Society of Friends and Joshua was brought up as a strict Quaker.
As a young man Joshua worked as a clothier in Halifax. In 1771 Joshua married Jenny Greenwood, a fellow Quaker, at the local Friends Meeting House. At this time cotton was emerging as a promising new textile material. After borrowing £400 from friends and relatives, in 1782, Fielden purchased three cottages at Landside.
Fielden, his wife and eight children lived in one of the cottages and the other two were filled with a spinning jenny, a water-frame and a spinning mule. The company became known as Joshua Fielden & Sons. All Joshua's five sons worked in the business from an early age, including John Fielden, who was later to become one of the leaders of the campaign against child labour.
In 1794 Fielden expanded the business by buying a small water-powered spinning mill two miles away at Lumbutts. Once a week Joshua and his sons would take their cloth to Manchester, 20 miles away, and collect the bags of imported cotton.
Joshua retired in 1803 and his five sons took over the running of the business. Joshua Fielden did not make much money from his cotton business and when he died in 1811 he left only £200.