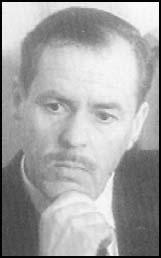 Greville Wynne was born in 1919. After graduating from Nottingham University he became an electrical engineer. He was recruited by MI5 during the Second World War.
After the war he became a businessman selling electrical equipment. As he often travelled to Eastern Europe he was asked to join MI6. In 1959 he played an important role in helping a Russian intelligence officer, Major Kuznov, to defect to the West.
In 1961, Oleg Penkovsky, deputy head of the foreign department of the Coordination of Scientific Research, told a British diplomat that he wished to sell Soviet secrets. Wynne was chosen as Penkovsky's British contact. In April 1961 Penkovsky began passing information about Soviet missile developments, nuclear plans, locations of military headquarters and the identities of KGB officers. This included evidence that Nikita Khrushchev had been making false claims about the number of nuclear missiles in the Soviet Union. Over a period of 14 months Penkovsky passed photographs of 5,000 secret papers to the CIA and MI6.
Penkovsky, described by one intelligence officer as the "best spy in history", was considered so important that a meeting was arranged between him and Sir Dick White, head of MI6.
The Soviet Union had two double agents, William Whalen and Jack Dunlap, working in Washington. Eventually information was passed to the KGB that Penkovsky was spying for the West. On 20th October, 1962, Russian intelligence officers raided Penkovsky's apartment and discovered a Minnox camera that had been used to photograph secret documents.
Penkovsky was immediately arrested and it was not long before he gave the name of Wynne as his British contact. A few days later Wynne was arrested at a trade fair in Budapest, Hungary, and flown to the Soviet Union.
After being convicted Wynne was sentenced to eight years' imprisonment and Oleg Penkovsky was sentenced to death and was executed on 16th May 1963.
Greville Wynne was released in exchange for Gordon Lonsdale in April 1964. Wynne later upset MI5 when he published his memoirs, The Man from Moscow and wrote the introduction to The Penkovsky Papers.
A British businessman accused of spying for the West has been sentenced to eight years' detention by a Moscow tribunal. The President of the Court declared Greville Wynne, aged 44, would serve three years in prison and five in a labour camp. Spectators in the crowded courtroom applauded and some shouted: "Not enough, not enough."

His co-accused, 43-year-old Soviet scientific official Oleg Penkovsky, was given the death sentence. There were loud cheers when his sentence was read out. He has also been stripped of his rank of colonel and all his medals.

Wynne's sentence began last November when he was arrested in Budapest, Hungary, and handed over to the Soviet authorities. During the four-day trial, the court heard both men had spied for British and American intelligence. Most of the evidence based on confessions given by the two men. Both men pleaded guilty - Wynne "with certain reservations".

The prosecution said Wynne had acted as a go-between passing on "information about Soviet rockets" provided for him by Penkovsky during secret meetings in London, Paris and Moscow.

After sentencing, the court also named British and American officials in Moscow who were said to have helped Wynne in his espionage activities.

British sources continue to deny Wynne was involved in spying.

After the trial, Wynne embraced his wife Sheila in a side room before being driven to the Lubyanka Prison where he has spent the last six months.

It is not known where he will spend the rest of his sentence. Mrs Wynne later told reporters her husband had joked he was not expecting "a Butlin's holiday camp".

Nikolai Borovik, Wynne's Soviet lawyer, said the businessman would appeal.

There are also hopes that he may be exchanged for Soviet spy Gordon Lonsdale, currently serving 25 years in a British prison.