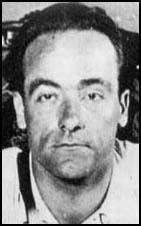 Juan Garcia Oliver was born in Spain in 1901. After the First World War he worked as a waiter. He joined the CNT and became a close associate of Buenaventura Durruti and is believed to have taken part in the assassination of Juan Soldevila Romero, the archbishop of Saragossa.
Garcia Oliver was imprisoned during the dictatorship of Miguel Primo de Rivera. After six months he was released and soon afterwards fled to France.
In the first year of the Spanish Civil War Garcia Oliver and the CNT tried to reorganize the Spanish economy. National and regional conferences of peasants, communication workers, metal workers and railway employees made efforts to introduce collectivization.
In September 1936 José Giral was replaced by Francisco Largo Caballero as prime minister. Largo Caballero brought into his government several left-wing radicals into his government including four anarchists, Garcia Oliver (Justice), Juan López (Commerce), Federica Montseny (Health) and Juan Peiró (Industry). He left the government later in the same month, but remained active in Barcelona until Catalonia fell in 1939.
Juan Garcia Oliver escaped to France and later moved to Sweden. He died in Mexico in 1980.