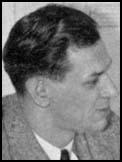 Edward Knoblaugh was a American journalist working for Associated Press in Madrid who went to Spain before the outbreak of the Spanish Civil War.
While in Spain he carried out interviews with several leading politicians including Julián Besteiro, José Calvo Sotelo, Niceto Alcalá Zamora, José Maria Gil Robles, José Antonio Primo de Rivera and Francisco Largo Caballero.
Knoblaugh left Spain during the Spanish Civil War. On his return to the United States he published Correspondent in Spain (1937). Knoblaugh also worked as a journalist during the Second World War.