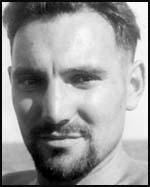 Lou Kenton, the first of nine children, was born in Stepney in 1908. His Jewish parents had fled from the Ukraine during the pogroms. Lou was one of nine children living in a three-roomed flat. His father, a tailor, died of tuberculosis when he was a child.
After leaving school at fourteen Kenton got a job in a paper factory in London. He later recalled: "On my first day at the factory, I was involved in seven fights. I reacted very badly to being called a Jew bastard."
Kenton joined the Communist Party in 1929 and was involved in the campaign against Oswald Mosley and the British Union of Fascists in the East End of London. This included heckling at the famous BUF meeting in Olympia meeting in 1934. Kenton also took part in the battle of Cable Street in November, 1936. He later recalled: "I had a motorbike at the time and was able to whizz around the periphery of the crowd, going from section to section to warn them what was going on. We had a number of people watching the Fascists and quickly telling the crowd what was happening. We were able to get word to the majority of the crowd in Commercial Road, which was some way from Cable Street, of what was happening. The dockers themselves were manning Cable Street and had thrown up barricades. As soon as the word got around that Mosley was on the way towards Cable Street, within minutes thousands of people were there. Although hundreds of police and the Mosley crowd tried to break through, they were stopped."
Kenton married Lillian, an Austrian nurse who had fled Nazi Germany. Soon after the outbreak of the Spanish Civil War, Kenton and his wife attended an anti-fascist meeting with Ben Glazer. "One evening myself and Lillian and my dear friend Ben Glazer walked along the Embankment. We walked - stopped at many coffee stalls - talking, wondering what it would be like in Spain. We didn't finally decide until we reached a coffee stall at Westminster Bridge, opposite the House of Commons. I think we had already decided to go, but didn't say so in as many words. I think we were deeply fearful in our hearts, hut none of us wanted to show our fears. What would it be like? Would we ever come back? What if we were captured? And when we decided - how we embraced! Lillian kissed us both. We linked arms and walked almost cheerfully down Whitehall to the all-night Lyons Corner House just off Trafalgar Square for more coffee and eggs and bacon. From there we decided that tomorrow morning we would go and volunteer."
Lillian Kenton joined the nursing staff set up by the British Medical Aid Committee. Lou wanted to join the International Brigades in the front-line but the Communist Party arranged for him to work with the medical teams that had been sent to Spain. He arrived in Valdeganga soon after the Battle of Jarma. "Every day I was either on my motorcycle or driving an ambulance, picking up wounded from the base camps. Often I would go to different units of the battalion scattered around Spain with messages or parcels of medical equipment, where they were in short supply.... I lived on grapes growing by the roadside, for days on end." Kenton returned to England in 1938 to raise money for the Republican Army.
During the Second World War he was badly injured in a bombing raid and was hospitalised for two years. According to his friend, Steve Donnelly: "After the war he worked as an organiser for the Communist party in London, and helped run the ex-servicemen's squatting movement. He incentivised recruitment by offering a trip to Paris for Bastille Day as a prize. The trip soon became an event in its own right and in 1947 it attracted 1,000 people who paid their own way."
Kenton continued to work in the print industry. He was also played an active role in Progressive Tours, the travel company that organised trips to communist countries in Eastern Europe. In 1955 he organised a trip to the village of Lidice, the scene of one of the worst German atrocities of the war, after the assassination of Reinhard Heydrich in 1942. The village was razed to the ground and its 173 male inhabitants were murdered. The 198 women were sent to a Concentration Camp in Ravensbueck.
Kenton remained in the Communist Party until the Soviet Union invaded Czechoslovakia in 1968. He then became active in the Labour Party. According to Steve Donnelly: "In retirement he found a new career, as a prolific maker of commemorative pottery for unions and other organisations. In 2009, he was one of the IB veterans awarded Spanish citizenship."
Lou Kenton, died aged 104, in September, 2012.