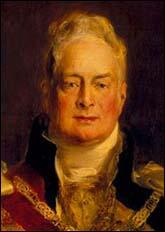 William, the third son of George III, was born at Buckingham Palace in 1765. He entered the navy in 1779, and saw service in America and the West Indies. In 1789 he was granted the title, the Duke of Clarence and given an allowance of £12,000 a year. William remained in the navy and by 1811 had reached the rank of admiral.
Like his brother George IV, William rebelled against his father's strict discipline. He lived with his mistress, the actress Dorothy Jordon, who bore him ten children. William also against his father's political views. Whereas George III preferred the Tories, William was a Whig, and at once time even considered becoming a Member of Parliament. In the House of Lords the Duke of Clarence supported Catholic Emancipation and showed signs he favoured parliamentary reform.
After the death of George IV's daughter, Princess Charlotte, in 1818, there was a royal scramble to marry an heir to the throne. Soon after Charlotte's death, William married Adelaide, eldest daughter of the Duke of Saxe-Coburg. The couple had two daughters but they both died in infancy.
When his brother, George IV, died in 1830, the Duke of Clarence became king. Like his father and brother, William IV was prone to strange behaviour. On the day he became king he raced through London in an open carriage, frequently removing his hat and bowing to his new subjects. Every so often he stopped and offered people a lift in his royal carriage. His habit of spitting in public also helped to obtain for him a reputation as an eccentric.
At first William IV was very popular. The people were pleased when he announced that he would attempt to keep royal spending to a minimum. People became convinced that he meant what he said when it was discovered that William's coronation only cost a tenth of the expense incurred by George IV's ceremony in 1821. In November 1830 Lord Grey and the Whigs came to power. The king told Grey that he would not interfere with Whig plans to introduce parliamentary reform.
In April 1831 Grey asked the king to dissolve Parliament so that the Whigs could secure a larger majority in the House of Commons. Grey explained this would help his government to carry their proposals for an increase in the number of people who could vote in elections. William agreed to Grey's request and after making his speech in the House of Lords, decided to walk back through cheering crowds to Buckingham Palace.
After Lord Grey's election victory, he tried again to introduce parliamentary reform but once again the Lords refused to pass the bill. On 7th May 1832, Grey and Henry Brougham met the king and asked him to create a large number of Wigg peers in order to get the Reform Bill passed in the House of Lords. William was now having doubts about the wisdom of parliamentary reform and refused.
Lord Grey's government resigned and William IV now asked the leader of the Tories, the Duke of Wellington, to form a new government. Wellington tried to do this but some Tories, including Sir Robert Peel, were unwilling to join a cabinet that was in opposition to the views of the vast majority of the people in Britain. Peel argued that if the king and Wellington went ahead with their plan there was a strong danger of a civil war in Britain.
When the Duke of Wellington failed to recruit another significant figures into his cabinet, William was forced to ask Grey to return to office. In his attempts to frustrate the will of the electorate, William IV lost the popularity he had enjoyed during the first part of his reign. Once again Lord Grey asked the king to create a large number of new Whig peers. William agreed that he would do this and when the Lords heard the news, they agreed to pass the Reform Act.
William IV resented the fact that Lord Grey had forced the Reform Act on him. However, Grey was so popular with the general public that he was unable to take action against him. After Grey resigned in 1834 and was replaced by Lord Melbourne, the king was in a stronger position.
In November 1834 William IV dismissed the Whig government and appointed the Tory, Sir Robert Peel as his new prime minister. By this time the king had developed an intense dislike for the Whig reformers such as Lord John Russell and Henry Brougham.
As there were more Whigs than Tories in the House of Commons, Sir Robert Peel found government very difficult. Peel was only able to pass legislation that was supported by the Whigs and on 8th April 1835 he resigned from office. The Tories were replaced by a Whig government and once again William had to preside over a series of reforms that he profoundly disagreed with. William IV died on 20th June 1837.