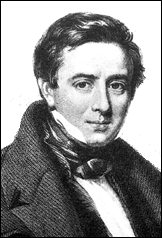 Thomas Talfourd, the son of Edward Talfourd, a brewer, and his wife, Ann Nood Talfourd, was born at Reading, Berkshire, on 26th May 1795.
After studying with private tutors he was educated at the recently founded protestant dissenters' grammar school in Mill Hill (1808–10) before transferring to a local grammar school (1810–12), where he became head boy. It has been claimed that Talfourd was deeply influenced by his headmaster, Dr Richard Valpy, who encouraged his enthusiasms for literature and for good causes. (1)
Talfourd's family's economic circumstances meant that he could not attend university. On the advice of Henry Brougham he decided on a legal career. In 1813 he joined the chambers of Joseph Chitty in the Inner Temple. He continued his interest in literature and his play, Freemasonry, or, More Secrets than One, was performed in 1815. But he was simultaneously becoming involved with philanthropic causes, He also became involved in the campaign against the pillory. (2)
Thomas Talfourd also became involved in politics and on 19th October 1819, he gave a passionate speech in defence of the right of public assembly, in protest against the Peterloo Massacre. He also supported universal male suffrage the total abolition of slavery and was in favour of women's rights. Over the next few years he became a significant figure in the fight for equality. (3)
Although his name is hardly remembered now, Talfourd was an outstanding figure in his day, idealistic, hard-working and effective.... He had protesting against the Peterloo Massacre in 1819, supported universal male suffrage and the total abolition of slavery, steered through the bill giving divorced women custody of their young children, and was currently seeing through the 1842 Copyright Act that for the first time protected authors' earnings in England during their lifetimes and for a period after their death.
As member of parliament Talfourd was responsible for two pieces of important legislation. The Infant Custody Act (1839) modified in mothers' favour the previously unlimited power fathers had exercised over their children, giving the court discretion to award custody of children under seven years of age to the mother in cases of separation or divorce, provided she was not guilty of adultery. In 1837, encouraged by Wordsworth, Talfourd delivered a brilliant speech introducing the Copyright Act. This was designed to enable the dependants of authors to profit from the sales of their writings after their deaths. Although it did not become law until 1842, when he was not in parliament, it was known as Talfourd's Act. Dickens applauded this initiative in the touching dedication to Talfourd of The Pickwick Papers (1837). Talfourd also campaigned for the repeal of the Theatrical Patents Act (1843).

(19) Sir Thomas Talfourd, statement (August, 1837)
(22) John Copley, 1st Baron Lyndhurst, speech in the House of Lords (18th July, 1839)
(23) William Best, 1st Lord Wynford, speech in the House of Lords (18th July, 1839)