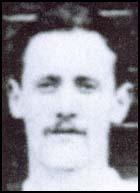 Robert Mills-Roberts was born in Penmachno, Wales, on 5th August 1862. He played in goal for Aberystwyth University before entering the teaching hospital at St Thomas in 1882.
Mills-Roberts played for Corinthians before signing for Preston North End in 1888. The first season of the Football League began in September, 1888. Mills-Roberts competed with James Trainer for the goalkeeping position. That season Preston North End won the championship without losing a single match.
Mills-Roberts played in the Preston side beat Wolverhampton Wanderers 3-0 to win the 1889 FA Cup Final. Preston won the competition without conceding a single goal.
Mills-Roberts won eight international caps playing for Wales. He was forced to leave Preston North End when he began work as a surgeon at Birmingham General Hospital.
In 1890 he was appointed surgeon for the hospital at Dinorwic Slate Quarry in North Wales. He also served with the British Army during the Boer War.
Robert Mills-Roberts died in 1935.