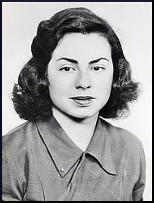 Judith Coplon, the daughter of Samuel and Rebecca Moroh Coplon, was born in Brooklyn on 17th May, 1921. Her father was a toy manufacturer. Her great-grandfather, a peddler who had emigrated from Prussia, was a prisoner during the American Civil War at Andersonville. (1)
Coplon won a full scholarship to Barnard College, where she majored in history and was a member of the Young Communist League. Coplon graduated in 1943. According to the FBI agent, Robert J. Lamphere: "When she had applied for a job with the Economic Warfare Section of Justice, in New York, the FBI had run a background profile on her and had told Justice that she'd been involved at school with a branch of the Young Communist League and had published pro-Soviet writings in the campus newspaper." (2)
Coplon joined the Justice Department in 1944. "A background security check conducted in 1944 when Coplon had first gone to work for the Justice Department had shown that she had been a member of a Young Communist League student club as an undergraduate at Barnard College. In 1944 that was not a bar to employment, however, and her personnel file was not even flagged for attention when she was transferred to a job giving her access to Justice Department and FBI internal security investigative data regarding Soviet espionage activities." (3) American cryptographers decoded an NKVD message dated 20th October, 1944, requesting information on "Judy Coplon" who "works in the US Justice Department". (4)
Judith Coplon - Soviet Spy
Judith Coplon had a meeting with Vladimir Pravdin, the NKVD station chief in New York City on 4th January, 1945. Pravdin was impressed by Coplon who was described as "very serious, shy, profound girl, ideologically close to us." He went on to argue: "We have no doubts about the sincerity of her desire to work with us. In the course of the conversation (Coplon) underlined how much she appreciated the credit we gave to her and that, now knowing for whom she was working, she would redouble her efforts. At the very first stage of her work (Coplon) thought she was helping the local compatriots (the CPUSA)... She thought the stuff acquired by her couldn't represent an interest to the compatriots but could for an organization like the Comintern or another institution bearing a relationship to us. She added that she hoped she was working specifically for us, since she considered it the highest honor to have an opportunity to provide us with modest help." (5) Soon afterwards she was recruited as a Soviet spy (codename Sima). (6)
Coplon, who had access to FBI files, became an important source of information for the NKVD. In February, 1945, Duncan Chaplin Lee, a senior figure in the Office of Strategic Services (OSS), wanted to withdraw from spying. Joseph Katz reported to Anatoly Gorsky: "Saw (Lee) last night. After beating his chest about what a coward he is, how sorry he feels about it, etc., he told me he must stick to his decision to quit. Though I agreed to meet again in case of necessity, in my opinion, there is no sense in using him. He is totally frightened and depressed. He suffers from nightmares where he sees his name on lists (of accused Communists within OSS), his life is destroyed, etc." (7) NKVD instructed Gorsky to use Lee as a "talent-spotter" within the OSS. However, after Judith Coplon warned that investigations would soon begin on all previous leads on Communist sources within the government, Gorsky was ordered to cease all contact with Lee. (8)
Judith Coplon became one of the most NKVD's most valued sources. It was pointed out that she was completely devoted to the cause: "She treats very seriously and honestly our task and considers our work the main thing in her life. Her serious attitude is demonstrated by her decision not to marry her former fiancé because, otherwise, she couldn't continue working with us." (9)
Coplon's main attention was focused on the main Justice Department counter-intelligence archive that collected information from the various government agencies - FBI, OSS, and naval and army intelligence. She passed to her NKVD contact a number of documents from this archive. This included FBI materials on Soviet organizations in the United States and information on leaders of the Communist Party of the United States (CPUSA). A review of the data shocked NKVD. "The materials show how thoroughly the smallest facts from conversations, correspondence, and telephone talks held by our organizations, individual representatives, and workers in the country are recorded." (10)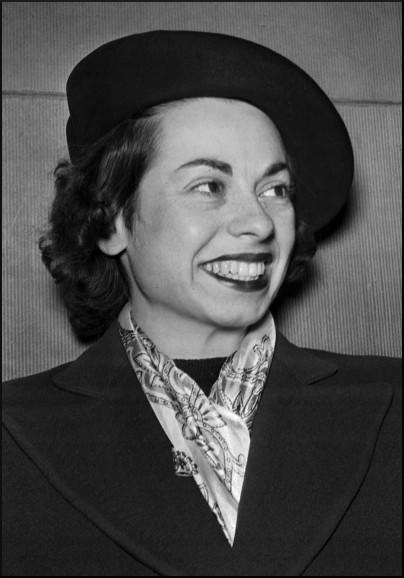 On 26th October, 1945, Judith Coplon told the NKVD's station chief in New York City that the FBI had been listening to the telephone conversations of Robert Oppenheimer and Haakon Chevalier since May 1943. (11) This was important information as "Oppenheimer had been a constant, if unsuccessful, target for recruitment." (12) As a result of this information NKVD decided to bring an end to their attempts to recruit Oppenheimer.
Evidence emerged in December 1948 that suggested Judith Coplon was a Soviet spy. Robert J. Lamphere, the author of The FBI-KGB War (1986), pointed out: "Coplon's case had to be handled with the utmost care, because her position at justice was a difficult one for us. The FBI had always felt relatively secure from Soviet penetration, but here was Coplon, as a political analyst in the Foreign Agents Registration (FAR) section of Justice, who also worked on some 'internal security' matters in which sensitive FBI reports were continually on her desk or within easy reach. That meant the agency most compromised by her was the FBI. Coplon routinely handled some Bureau materials that had to do with the Soviets. While the most sensitive stuff such as that dealing with our breakthrough in the KGB's communications - never went near her, what she did see on a regular basis was damaging enough. (13)
FBI officials obtained the authorization of Tom C. Clark, the Attorney General, to wiretap Coplon's office and home phones. She was also followed in the hope that they would be able to identify her Soviet contacts and other members of the spy network. In January 1949 FBI agents discovered that she was meeting Valentin Gubitchev, a Soviet employee on the United Nations staff. They decided to set a trap by creating a memorandum "that contained enough truth to make it seem important and enough false information to make it imperative for Coplon to grab it and quickly deliver it to her Soviet contact." (14)
As Hayden B. Peake has pointed out: "After surveillance established that she was in regular contact with an NKGB officer in New York City, the FBI planned to arrest them when she passed classified documents to him. However, two problems arose. First, at the time of arrest, she had not passed the documents, although they were in her possession. Second, she was arrested without a warrant, although the FBI had had plenty of time to get one. These details would figure significantly in her appeals." (15)
Judith Coplon was arrested on 4th March, 1949 in Manhattan as she met with Valentin Gubitchev. They discovered that she had in her handbag twenty-eight FBI memoranda. This included details of the intensive monitoring of individuals such as David K. Niles, Frederic March, Edward G. Robinson and Edward Condon, who were all supporting Henry Wallace in his 1948 Presidential Campaign.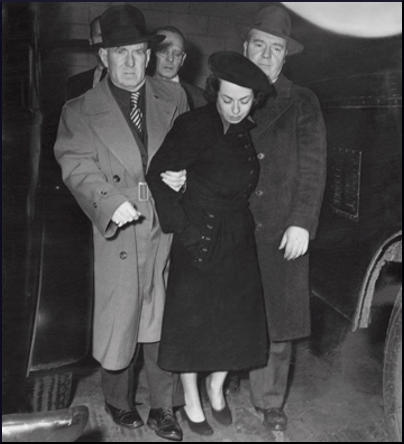 Judith Coplon was charged with espionage. At her trial that began on 25th April 1949 Coplon claimed "she was meeting Gubitchev because they were in love and was not planning to give him the documents. But he was married, and prosecutors brought out that she had spent nights in hotels with another man at about the same time." (16) Coplon was helped in her defence by the decision of Judge Albert Reeves to rule that in order to convict her on the charge of unauthorized possession of classified documents, government prosecutors must produce in open court the originals of the FBI documents found in her handbag at the time of her arrest.
During the trial, Coplon's lawyer, Archie Palmer, argued that the evidence from the confidential informant was in fact from illegal telephone taps. Then, over the strenuous objections of the FBI, he succeeded in getting raw FBI data collected on many famous people admitted as evidence, although they had nothing to do with the case. This included Paul Robeson, Dalton Trumbo, Frederick March, Helen Hayes, Danny Kaye, and Edward G. Robinson. At the end of her trial Coplon was found guilty of espionage.
Judith Coplon claimed: "I'm innocent of all charges. I'm a victim of a horrible, horrible frame-up." Next day, before the judge pronounced sentence, Judith CopIon had her final say. She had not received a fair trial, she insisted. "I understand that I can plead for mercy. That I, will not do, because pleading for mercy would mean an admission of guilt and... I am innocent." Judge Reeves handed down his sentence: 40 months to ten years on the first count; one to three years on the second; sentences to be served concurrently, i.e., a maximum of ten years. (17)
The following year Coplon and Valentin Gubitchev were charged with conspiracy. As Hayden B. Peake has pointed out: "The alleged telephone taps became a major element in the second trial in New York, when Coplon and her case officer, Gubitchev, were convicted together. During the first trial, FBI special agents had denied direct knowledge of the taps. At the second, however, one of them admitted that taps had been used to collect evidence presented at trial. Later, the authors found a memorandum acknowledging the recordings and indicating that they had been intentionally destroyed to avoid having to reveal their existence." (18)
Both Coplon were found guilty and Gubitchev was deported. However, Coplon appealed against both convictions. "The appellant judge in New York concluded that it was clear from the evidence that she was guilty, but the FBI had lied under oath about the bugging. Moreover, he wrote, the failure to get a warrant was not justified. He overturned the verdict, but the indictment was not dismissed. In the appeal of the Washington trial, the verdict was upheld, but, because of the possible bugging, a new trial became possible." (19)
The case caused considerable embarrassment to the FBI. As Athan Theoharis, the author of Chasing Spies (2002) has pointed out : "Their public release confirmed that FBI agents intensively monitored political activities and wire-tapped extensively - with the subjects of their interest ranging from New Deal liberals to critics of the House Committee on Un-American Activities, and with information in fifteen of the twenty-eight reports coming from wiretaps. And because Coplon's own phone had been wiretapped, her conviction was later reversed on appeal. The appeals judge concluded that FBI wiretapping had possibly tainted Coplon's indictment, under the Supreme Court's 1937 and 1939 rulings in Narclone v. U.S., requiring the dismissal of any case based on illegal wiretaps." (20)
After her release, Judith Coplon married one of her attorneys, Albert Socolov. She remained free on $40,000 bail. The bail money was not returned until 1967, when the Justice Department formally dropped the case. Coplon tutoring women in prison in creative writing, and, with her husband, ran "two Mexican restaurants in Manhattan (the Beach House in TriBeCa and Alameda on the Upper West Side)." (21)
Judith Coplon refused to talk about her case but her daughter, Emily Socolov did comment that: "It's very hair-raising to read about your mother being given a code name and moved around like a chess piece.... Was she a spy? I think it's another question that I ask: Was she part of a community that felt that they were going to bring, by their actions, an age of peace and justice and an equal share for all and the abolishing of color lines and class lines? If these were things that she actually did, she was not defining them as espionage. If you feel that what you're doing answers to a higher ideal, it's not treason." (22)
Judith Coplon Socolov died on 26th February, 2011.