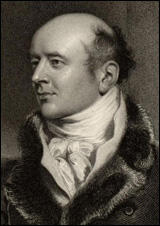 James Perry, the son of a builder, was born in Aberdeen on 30th October, 1756. He attended Aberdeen University but was forced to leave when his father's building business collapsed. After a period working in a draper's shop, Perry became an actor. However, while working in Edinburgh Perry was told his strong Scottish accent would prevent him from having a career on the stage.
In 1777 Perry moved to London where he made his living by writing essays and poems for The General Advertiser. His contributions on the trial of Admiral Augustus Keppel helped to increase circulation of the newspaper to several thousand copies a day. Perry began to develop radical political ideas, but fearing prosecution, he published he anonymously several political pamphlets.
Perry was now in great demand as a journalist and after editing the European Magazine (1782-83) he moved to the London Gazette. Perry edited the newspaper for eight years but when it was purchased by a group of Tories, he left and in 1789 he formed a partnership with James Gray and purchased the Morning Chronicle from William Woodfall. The newspaper now became a firm supporter of the Whigs in Parliament. At first the paper did not make money and Perry, Gray and their printer, John Lambert, all lived in the same house together.
Perry's support for parliamentary reform brought him into conflict with the authorities and in 1793 was charged with seditious libel. Defended by Thomas Erskine, the jury decided that he was "guilty of publishing, but with no malicious intent". The judge refused to accept the verdict and after another day's discussion, decided he was "not guilty". Perry and Gray were less fortunate in 1798 when they were found guilty of libelling the House of Lords and sentenced to three months in Newgate Prison.
Sales of the Morning Chronicle gradually increased and by 1810 the newspaper had a circulation of 7,000. Perry was now able to recruit Britain's best radical journalists, including William Hazlitt and Charles Lamb. Perry continued to be hounded by the government and in February 1818 was charged with Leigh Hunt and The Examiner for criticizing King George III. Perry defended himself well in court and was found not guilty.
In 1817 Perry developed an internal disease that compelled him to undergo several hospital operations. John Black was appointed as the new editor of Morning Chronicle. When he failed to improve, his doctor suggested that he should live by the sea. This was also unsuccessful and James Perry died in Brighton on 5th December, 1821.