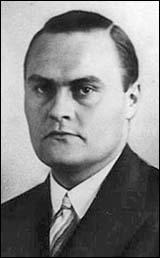 Josef Wirmer, the son of a headteacher was born in Paderborn, Germany, on 19th March, 1901. He came from a Catholic family of teachers. After his Abitur in Warburg he studied law in Freiburg and Berlin. During the Great Depression he developed left-wing views and gained the nickname, "Red Wirrner". Unable to find work he was a regular visitor to "the Franciscan soup kitchen". (1)
After Adolf Hitler came to power Wirmer became a "passionate anti-Nazi". (2) He joined the Catholic Centre Party (BVP) where he became the leader of its left-wing section and was active in the Christian trade union movement, Wirmer had built up a network of opponents of the regime that spanned all of Germany, including representatives from the churches, industry and administration. Known for his skill as a negotator he mediated between the right and left wings of the BVP. (3) Wirmer campaigned for Heinrich Brüning in the 1932 and 1933 elections and in 1936 he joined the group of anti-Nazi trade unions headed by people such as Wilhelm Leuschner and Jakob Kaiser. (4)
In January, 1942, General-Major Henning von Tresckow established Operation Valkyrie, a conspiracy to remove Hitler. Members of the group included Field Marshal Erwin von Witzleben, General Friedrich Olbricht, Colonel-General Ludwig Beck, General Erich Fellgiebel, General Paul von Hase, Lieutenant Fabian Schlabrendorff, Wolf-Heinrich Helldorf, Admiral Wilhelm Canaris, General-Major Hans Oster, Wilhelm Leuschner, Ulrich Hassell, Hans Dohnanyi, Carl Langbehn, Carl Goerdeler, Julius Leber, Helmuth von Moltke, Peter von Wartenburg, Johannes Popitz and Jakob Kaiser. (5)
According to Hans Gisevius, who was also a member, during 1942, several senior military officers, joined the conspiracy. This included Field Marshal Günther von Kluge, Field Marshal Erwin Rommel, General Eduard Wagner, General Fritz Lindemann, Lieutenant-Colonel Claus von Stauffenberg, Lieutenant Werner von Haeften, Colonel Albrecht Metz von Quirnheim, General-Major Helmuth Stieff, and Colonel-General Erich Hoepner. "These generals, either because of their strength of numbers, their key positions for a revolt, or because of the recognition that the fate of the class was at stake, began to feel an increasing sense of unity." (6)
Eventually, Lieutenant-Colonel Stauffenberg, decided to carry out the assassination himself. But before he took action he wanted to make sure he agreed with the type of government that would come into being. Conservatives such as Carl Goerdeler and Johannes Popitz wanted Field Marshal Erwin von Witzleben to become the new Chancellor. However, socialists in the group, such as Julius Leber and Wilhelm Leuschner, argued this would therefore become a military dictatorship. At a meeting on 15th May 1944, they had a strong disagreement over the future of a post-Hitler Germany. (7)
Stauffenberg was highly critical of the conservatives led by Carl Goerdeler and was much closer to the socialist wing of the conspiracy around Julius Leber. Goerdeler later recalled: "Stauffenberg revealed himself as a cranky, obstinate fellow who wanted to play politics. I had many a row with him, but greatly esteemed him. He wanted to steer a dubious political course with the left-wing Socialists and the Communists, and gave me a bad time with his overwhelming egotism." (8)
Peter Hoffmann has argued: "On Goerdeler's insistence he agreed that Goerdeler should be the main negotiator with Leber, Leuschner and their representatives. Goerdeler had already written a letter to Stauffenberg, transmitted through Kaiser, protesting against Stauffenberg negotiating independently with trade union leaders and socialists... This meant that Goerdeler should play the leading role in all non-military questions, as Beck was still insisting as late as July 1944. This he did not so much from suspicion of Stauffenberg as from aversion to exaggerated concentration of power. Moreover Stauffenberg was politically inexperienced; his views were vague; goodwill and idealism by themselves generally only do damage in politics. The fact that he was risking his life did not give Stauffenberg the right to claim power of political decision; Goerdeler and Beck were risking their lives too. The ability to murder Hitler was no adequate justification for assuming the role of political leader." (9)
Wirmer was an important figure he convincing Stauffenberg that Carl Goerdeler should be Chancellor in the new government. The original plan was for Ludwig Beck, Erwin von Witzleben and Erich Fromm to take control of the German Army and Wolf-Heinrich Helldorf, promised to use his role as Chief of the Berlin Police, to help the conspirators to gain power. It was decided that Josef Wirmer was to become Minister of Justice after the overthrow of Hitler. (10)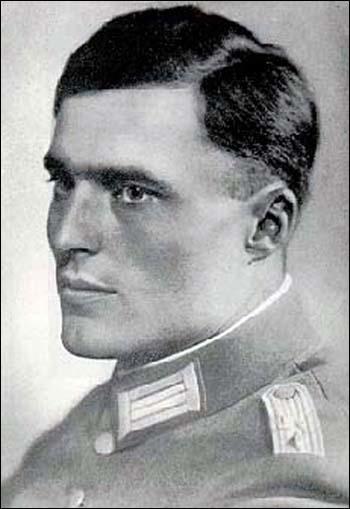 On 20th July, 1944, Lieutenant-Colonel Claus von Stauffenberg and Lieutenant Werner von Haeften left Berlin to meet with Hitler at the Wolf' Lair. After a two-hour flight from Berlin, they landed at Rastenburg at 10.15. Stauffenberg had a briefing with Field Marshal Wilhelm Keitel, Chief of Armed Forces High Commandat, at 11.30, with the meeting with Hitler due to take place at 12.30. As soon as the meeting was over, Stauffenberg, met up with Haeften, who was carrying the two bombs in his briefcase. They then went into the toilet to set the time-fuses in the bombs. They only had time to prepare one bomb when they were interrupted by a junior officer who told them that the meeting with Hitler was about to start. Stauffenberg then made the fatal decision to place one of the bombs in his briefcase. "Had the second device, even without the charge being set, been placed in Stauffenberg's bag alone with the first, it would have been detonated by the explosion, more than doubling the effect. Almost certainly, in such an event, no one would have survived." (11)
When he entered the wooden briefing hut, twenty-four senior officers were in assembled around a huge map table on two heavy oak supports. Stauffenberg had to elbow his way forward a little in order to get near enough to the table and he had to place the briefcase so that it was in no one's way. Despite all his efforts, however, he could only get to the right-hand corner of the table. After a few minutes, Stauffenberg excused himself, saying that he had to take a telephone call from Berlin. There was continual coming and going during the briefing conferences and this did not raise any suspicions. (12)
Stauffenberg and Haeften went straight to a building about 200 hundred yards away consisting of bunkers and reinforced huts. Shortly afterwards, according to eyewitnesses: "A deafening crack shattered the midday quiet, and a bluish-yellow flame rocketed skyward... and a dark plume of smoke rose and hung in the air over the wreckage of the briefing barracks. Shards of glass, wood, and fiberboard swirled about, and scorched pieces of paper and insulation rained down." (13)
Stauffenberg and Haeften observed a body covered with Hitler's cloak being carried out of the briefing hut on a stretcher and assumed he had been killed. They got into a car but luckily the alarm had not yet been given when they reached Guard Post 1. The Lieutenant in charge, who had heard the blast, stopped the car and asked to see their papers. Stauffenberg who was given immediate respect with his mutilations suffered on the front-line and his aristocratic commanding exterior; said he must go to the airfield at once. After a short pause the Lieutenant let them go. (14)
According to eyewitness testimony and a subsequent investigation by the Gestapo, Stauffenberg's briefcase containing the bomb had been moved farther under the conference table in the last seconds before the explosion in order to provide additional room for the participants around the table. Consequently, the table acted as a partial shield, protecting Hitler from the full force of the blast, sparing him from serious injury of death. The stenographer Heinz Berger, died that afternoon, and three others, General Rudolf Schmundt, General Günther Korten, and Colonel Heinz Brandt did not recover from their wounds. Hitler's right arm was badly injured but he survived. (15)
However, General Erich Fellgiebel, Chief of Army Communications, sent a message to General Friedrich Olbricht to say that Hitler had survived the blast. The most calamitous flaw in Operation Valkyrie was the failure to consider the possibility that Hitler might survive the bomb attack. Olbricht told Hans Gisevius, they decided it was best to wait and to do nothing, to behave "routinely" and to follow their everyday habits. (16) Major Albrecht Metz von Quirnheim long closely involved in the plot, had already begun the action with a cabled message to regional military commanders, beginning with the words: "The Führer, Adolf Hitler, is dead." (17)
On hearing this General Carl-Heinrich von Stülpnagel arrested as planned 1,200 SS and Gestapo men in Paris and cut off all communication from France to Germany. (18) According to Hans Gisevius, at a meeting soon after the assassination attempt, General Friedrich Olbricht "informed Helldorf in the tone of a military command that the Führer had been the victim of assassination that afternoon" and "the Wehrmacht had taken over the direction of the government; a state of siege was being proclaimed." (19)
Adolf Hitler, seized by a "titanic fury and an Unquenchable thirst for revenge" ordered Heinrich Himmler and Ernst Kaltenbrunner to arrest "every last person who had dared to plot against him". Hitler laid down the procedure for killing them: "This time the criminals will be given short shrift. No military tribunals. We'll hail them before the People's Court. No long speeches from them. The court will act with lightning speed. And two hours after the sentence it will be carried out. By hanging - without mercy." (20)
It is estimated that 4,980 people were arrested by the Gestapo. Himmler gave instructions that these men should be tortured. He also ordered that family members should also be punished: "When they (the people's Germanic forbears) put a family under the ban and declared it outlawed or when there was a vendetta in the family, they were totally consistent about it. If the family was outlawed or banned; it will be exterminated. And in a vendetta they exterminated the entire clan down to its last member. The Stauffenberg family will be exterminated down to its last member." (21) What became known as the "kith and kin" law, was a particularly sophisticated form of torture. When interrogating suspects the Gestapo could, quite legally, threaten to ill-treat their wives, children, parents, brothers and sisters or other relatives. (22)
Josef Wirmer was arrested, tortured and put on trial in September, 1944, with Carl Goerdeler, Wilhelm Leuschner and Ulrich Hassell. "Their trials proceeded like all the rest, with a raving, wildly gesticulating Friesler constantly interrupting and refusing to allow any of the accused to explain their motives." (23) Wirmer told Nazi judge, Roland Freisler: "If I am hanged, the fear will be yours, not mine." Friesler scoffed at him: "You'll be in hell soon". Wirmer replied: "It will be a pleasure if you follow me there quickly." (24) Wirner was found guilty and sentenced to death. In his last letter he wrote: "It is not at all easy to die. I hope to keep up my spirit to the end. All I can say is, love one another, be kind to one another, help one another. (25)
Josef Wirmer was executed at Fürstenberg Prison on 8th September 1944.

On October 19, 1938, Colonel General Ludwig Beck resigned as chief of the General Staff in protest against Hitler's plan to annex Czechoslovakia. For some time Beck had concentrated on winning the support of high-ranking army officers in a plan to arrest or eliminate Hitler, and he founded a loosely knit organization to achieve this end. Over the next five years discontent proceeded in three stages, from opposition to resistance to conspiracy.

At the centre of the plot were such senior officers as Major General Henning von Tresckow, chief of staff in Army Group Center on the Russian front; Colonel General Erich Hoepner, the commander of an armoured force who had been dismissed by Hitler in December 1941; Colonel Friedrich Olbricht, head of the Supply Section of the Reserve Army; Colonel General Karl Heinrich von Stuelpnagel, military governor of France; Major General Hans Oster, chief of staff of Abwehr; and Field Marshal Erwin von Witzleben, who has been retired from active service in 1942. Added to these senior members were a number of younger officers who believed that the Third Reich was a catastrophe for Germany and were willing to gamble their lives on the outcome of the plot. Among them were Colonel Claus Schenk Graf von Stauffenberg, chief of staff to General Friedrich Fromm, commander of the Reserve Army (who was both in and out of the conspiracy); 1st Lieutenant Fabian von Schlabrendorff, staff officer under General von Tresckow on the eastern front; and Lieutenant Werner von Haeften, Von Stauffenberg's adjutant.

Added to the military were such diplomats as Christian Albrecht UIrich von Hassell, former German Ambassador to Italy; Hans Bernd Gisevius, who worked for the Abwehr from his base in Switzerland; and Adam von Trott zu Solz, an official in the Foreign Office. On the political side were such figures as Carl Friedrich Goerdeler, former lord mayor of Leipzig; Julius Leber, a former Social Democratic member of the Reichstag; and Johannes Popitz, Prussian Finance Minister. There were such ecclesiastics as Pastor Dietrich Bonhoeffer, religious leader, scholar, and teacher; and a Jesuit, Father Alfred Delp. There were members of the Kreisau Circle, including Helmuth James Graf von Moltke, legal adviser to the Abwehr, who counseled nonviolence; and Peter Graf Yorck von Wartenberg. There were also miscellaneous figures as Admiral Wilhelm Canaris, leader of the Abwehr; Wolf Heinrich Graf von Helldorf, chief of the Berlin Police, General Paul von Hase, President of the Berlin Police; and several lawyers, including Carl Langbehn, Klaus Bonhoeffer, Josef Müller, and Joseph Wirmer.

Others knew of the plot but did not take an active role in it. Among them were Field Marshal Erwin Rommel, popular war hero; Lieutenant General Adolf Heusinger, operations chief of the Army High Command; and Field Marshal Günther Hans von Kluge, army group commander in France.
Josef Wirmer the lawyer, who knew that he had no hope of saving his life, hurled at Freisler: "If I am hanged, the fear will be yours, not mine" and when Freisler scoffed at him: "You'll be in hell soon," Wirmer shot back: "It will be a pleasure if you follow me there quickly, Mr President." Ulrich von Hassell seemed to be the prosecutor rather than the accused when before the court; Hermann Maass, who had twice been interrupted by Freisler's shouting, demonstrated his contempt by refusing to plead; Fritz-Dietlof Graf von der Schulenburg poured all his sarcasm on Freisler and General Fellgiebel told him to hurry up with the hangings or he, Freisler, would hang before the accused. Freisler's conduct of the proceedings became so undignified that even the official Nazi observers and Thierack, the Minister of Justice, complained to Bormann about him.