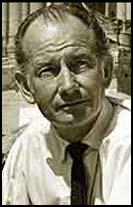 James Cameron was born in Battersea, London on 17th June, 1911. His father, William Cameron, was a barrister and novelist. After leaving school he worked as an office boy for the Weekly News. He worked for newspapers in Dundee and Glasgow before joining the Daily Express in 1940.
Cameron witnessed atom bomb tests in 1946. Shocked by what he saw he became a strong opponent of the possession of these weapons and later helped form the Campaign for Nuclear Disarmament.
In 1950 Tom Hopkinson sent Cameron and Bert Hardy to report on the Korean War for the Picture Post. While in Korea the two men produced three illustrated stories for Picture Post. This included the landing of General Douglas MacArthur and his troops at Inchon. Cameron also wrote a piece about the way that the South Koreans were treating their political prisoners. Edward G. Hulton, the owner of the magazine, considered the article to be "communist propaganda" and Hopkinson was forced to resign.
Cameron now covered world events for the News Chronicle (1952-60). Michael Foot has argued: "Cameron's genius flowed in the truly great and truly liberal News Chronicle of those times. Many contributed to the triumph: Sir Gerald Barry, his editor; Tom Baistow, his foreign editor; and Vicky, the cartoonist, soon to become the closest friend of all. His passion and his wit and his readiness to fit every incident into the worldwide scene were all part of his charm. His matchless integrity was part of it too, and yet he could wear his armour without a hint of pride or piety. He could raise journalism to the highest level of literature, like a Swift or a Hazlitt."
Cameron also wrote several books including Men of Our Time (1963), Witness in Vietnam (1966), an autobiography, Point of Departure (1967), Indian Summer: A Personal Experience of India (1974), The Making of Israel (1976) and The Best of Cameron (1983).
James Cameron died on 26th January 1985.