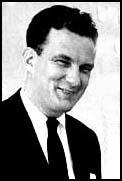 Edward Bennett Williams was born in Hartford, Connecticut, on 31st May, 1920. He studied law at Georgetown University and eventually became a lawyer. In the early fifties, Williams represented several liberals, socialists and communists before the House Un-American Activities Committee (HUAC). This included Carl Foreman, Robert Rossen, Martin Berkeley, Howard Koch, and Harold Hecht. Later he represented Joseph McCarthy during the Senate censure proceedings against him.
Williams also represented William Turner in his legal battle with J. Edgar Hoover. He also helped Warren Hinckle, the editor of Ramparts, during its conflict with the CIA. Turner later claimed: "the Ed Williams I knew was an incorruptible champion of the principle that even the most controversial defendants deserved a competent defense. He was the most impressive courtroom figure I have ever seen."
Williams also worked with Robert Maheu in the defence of a former agent of the Office of Strategic Services, Aldo Icardi, who had been accused of murdering Major William Holohan and stealing $100 million in gold to distribute among Italian partisans. As Warren Hinckle and William Turner pointed out in their book, Deadly Secrets: "Williams and Maheu eventually resolved the case, although not to everyone's satisfaction, on the side of Icardi's innocence, by turning the tables with an evidentiary thesis that the Italian communists had killed the unfortunate major and taken his gold, then attempted to make further postwar capital out of the foul deed by framing an American spy, and an Italian to boot."
Williams gained a reputation of being a mobster lawyer. In 1956 he was hired by Frank Costello who had been convicted of income tax evasion. Williams managed to get him released from prison. Later Costello confessed that ''I've had 40 lawyers, but Ed's the champ.''
Links with organized crime was reinforced when Williams began working for Jimmy Hoffa. In 1958 Robert Kennedy chief counsel for the McClellan Committee, began investigating Hoffa, who had recently been elected as president of the mob controlled Teamster Union. Hoffa hired Williams as his defence attorney. Hoffa was eventually acquitted of the charge of accepting an illegal payment from an employer. Kennedy later claimed that Williams was a major reason why Hoffa was not convicted.
In 1962 rumours began circulating that Bobby Baker was involved in corrupt activities. Although officially his only income was that of an aide to Lyndon B. Johnson, he was clearly a very rich man. Baker was investigated by Attorney General Robert Kennedy. He discovered Baker had links to Clint Murchison and several Mafia bosses. Evidence also emerged that Baker was also involved in political corruption. This included the award of a $7 billion contract for a fighter plane, the TFX, to General Dynamics, a company based in Texas. On 7th October, 1963, Baker was forced to leave his job. Soon afterwards, Fred Korth, the Navy Secretary, was also forced to resign because of the TFX contract.
Bobby Baker employed Williams to defend him against the accusation of corruption. Williams main strategy was to delay the case appearing in court. This was successful and Baker's trial did not take place until January, 1967. Baker was found guilty of seven counts of theft, fraud and income tax evasions. This included accepting large sums in "campaign donations" intended to buy influence with various senators, but had kept the money for himself. He was sentenced to three years in federal prison.
Williams worked closely with Clark Clifford. Apparently Williams told Clifford. "I'm still young enough in spirit to have living heroes, two of them, and you're one.".
In 1967 Williams joined with long-term friend, Paul Connolly to establish the law firm, Williams & Connolly. Over the next few years he had several high profile clients. This included Frank Sinatra, fugitive financier Robert Vesco, Soviet spy Igor Melekh, wealthy businessman Armand Hammer, Senator Thomas Dodd and CIA Director Richard Helms.
According to Arthur Schlesinger (Robert F Kennedy and His Times) Williams was told about the assassination attempts by Sam Giancana on John F. Kennedy while trying to engage him as his lawyer for a fight against the Government. This story was later confirmed by another friend, Robert Maheu.
Williams was also friendly with Ben Bradlee and encouraged him to publish the Pentagon Papers and the investigation into the Watergate case. This brought him into conflict with J. Edgar Hoover and Richard Nixon. According to Evan Thomas (The Man to See): "Before anyone else, Williams exposed the illegal acts of the Federal Bureau of Investigation - the wiretapping, break-ins, buggings, and "black-bag jobs" - that were rotting J. Edgar Hoover's empire from within. Behind the scenes, he played a little-known but critical role in revealing and ultimately reining in the abusive power of Richard Nixon's White House. Williams not only urged Ben Bradlee to print the Pentagon Papers, he helped give The Washington Post editor the courage - and quite possibly, the inside information - to press forward with the newspaper's probe into Watergate when the rest of the establishment press was turning the other way."
In 1975 Williams defended John Connally, who had been accused by Jake Jacobsen of taking bribes while working as Secretary of the Treasury. The jury was not allowed to hear a recording of a conversation that took place between Connally and Richard Nixon in March 1971. On the tape Connally says to Nixon:"It's on my honor to make sure that there's a very substantial amount of oil in Texas that will be at your discretion," the treasury secretary said. "Fine," said Nixon. "This is a cold political deal," Nixon continued. "They're very tough political operators." "And they've got it," Connally said. "They've got it," Nixon agreed. "Mr. President," Connally concluded, "I really think you made the right decision."
Connally was found not guilty. He later said that: "To be accused of taking a goddamned $10,000 bribe offended me beyond all reason." According to Evan Thomas (The Man to See): "Among cynics in the firm, there was a sneaking suspicion that Connally's indignation stemmed from the fact that he had been indicted for taking such a small payoff. The joke around the firm was that if the bribe had been $200,000, Williams would have believed the government, since, in Texas politics, $10,000 was a mere tip."
A sports fan, Williams was part owner and president of the Washington Redskins football team for over 20 years. He also owned the Baltimore Orioles baseball club.
Edward Bennett Williams died in Washington on 13th August, 1988.