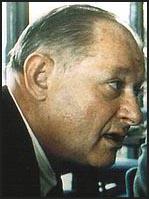 Lewis McWillie worked as a professional gambler in Memphis, Tennessee (1932-36). Later he worked in Jackson, Mississippi, and Dallas, Texas (1940-58). Then he moved to the Deauville Casino in Cuba. A fellow worker at the casino was John Martino. McWillie was also a business associate of Santos Trafficante and Meyer Lansky and later ran the Tropicana Casino in Havana. In August 1959 Jack Ruby visited McWillie.
When Fidel Castro took control of of the island McWillie was arrested and then deported to the United States. After a period in Miami Meyer Lansky placed him inside of his Tropicana Casino in Las Vegas. In 1961 Sam Giancana and Johnny Roselli recruited McWillie to look after Frank Sinatra's Cal-Neva Lodge in Nevada.
On 17th November, 1963, McWillie was seen with Jack Ruby at the Thunderbird Casino Las Vegas. According to John William Tuohy: "Two days after meeting McWillie in Las Vegas, Ruby was back in Dallas, flush with nough cash to pay off his back taxes."
In Nomenclature of an Assassination Cabal William Torbitt claims that the assassination of John F. Kennedy was organized by Louis M. Bloomfield, the head of Permindex. According to the author Permindex was comprised of:
(1) Solidarists an Eastern European exile organization.
(2) American Council of Christian Churches led by Haroldson L. Hunt.
(3) Free Cuba Committee headed by Carlos Prio.
(4) The Syndicate headed by Clifford Jones, ex-lieutenant governor of Nevada. This group also included McWillie, Bobby Baker, George Smathers, Roy Cohn and Fred Black.
McWillie became a professional gambler in Dallas and Las Vagas.
In 1961 a Chicago hood named Joseph "Crackers" Mendino died of a heart attack. Over the years, he had worked under everyone from Torrio to Giancana in the juke box, pinball and gambling end of the business. Tony Accardo was one of his pallbearers, and anybody who was anyone in the Chicago outfit was there for the burial, probably the last big time mob funeral since the days of Al Capone.

At the funeral, Accardo and Sam Giancana held a meeting and directed Johnny Roselli to plant in Nevada somebody to watch over Frank Sinatra because the boys had decided that Sinatra was much to enamored with the Kennedys and wasn't thinking straight anymore.

When Roselli returned to the West Coast he called a hood named Lewis McWillie, whom he had first met back in 1938, when Roselli did a short stint as the Chicago representative to the Sans Souci Casino in Havana.

McWillie had worked in Cuba for years, mostly for New York racketeer Meyer Lansky, McWillie was never clear to anyone on exactly what it was he did for Lansky, telling the Warren Commission only that he was a "key man" at Lansky's Tropicana Casino in Cuba. When Castro booted Lansky out of Cuba, he brought McWillie with him and placed him inside of his Las Vegas Casino, the Tropicana in Las Vegas. Otherwise, there was very little known about McWillie, who also used the obvious alias of Lewis N. Martin. It is known that he had deep contacts within the New York and Chicago mobs, and, although never a member of any one specific outfit, the FBI kept him under surveillance and considered him to be a top mob hit man and enforcer for hire.

Roselli told McWillie that Chicago wanted him out at Sinatra's Cal-Neva Lodge to keep an eye on their investment in the place, and to watch over Sinatra and report his activities back to Roselli.

McWillie did as he was told, and created a job for himself at Sinatra's casino, working under the title of "pit boss," but McWillie, a trained card sharp, was no mere pit boss as he made himself out to be. Instead, he was a very rich, seasoned, major gambler who traveled in the highest circles of organized crime, always driven around in a sleek, new limousine and seldom went anywhere without a bodyguard. Whenever he worked in a mobbed up casino, it was always as a high level executive, several times removed from a lowly blackjack dealer on the floor that he purported to be.

At about that same time, McWillie was in frequent contact with Jack Ruby, the man who silenced Lee Harvey Oswald forever. In fact, one of the last persons Ruby spoke to before he leaped on to history's stage, was Lewis McWillie. The little that is known about their odd relationship is that, according to what McWillie told the Warren Commission, he and Ruby had known each other from their childhood days in Chicago, and McWillie was Ruby's host for an eight-day vacation in Cuba in August of 1959. That same year, the Dallas Police department's Office of Intelligence listed Jack Ruby and "Chicago-Las Vegas hood Lewis McWillie" as being among those connected with mob run gambling in Dallas.

Gray haired and stylish, McWillie impressed the easily impressible Ruby, who admired McWillie and called him "a very high (class) type person" who reminded Ruby of "Like a banker or a man who understood and enjoyed the finer things in this life, which we are given."

Yet, after Ruby gunned down Oswald, the FBI asked him to draw up a list entitled "people who may dislike me" and at the top of the list was Lewis McWillie.

On Sunday, November 17, 1963, five days before Kennedy was gunned down, Ruby showed up at the mob owned Stardust Casino in Las Vegas where he invoked McWillie's name to cash a check and was later seen at the equally mobbed up Thunderbird Casino with Lewis McWillie. Two days after meeting McWillie in Las Vegas, Ruby was back in Dallas, flush with nough cash to pay off his back taxes.
From 1960 to 1963, the ruling hierarchy of Lionel Corporation was General John B. Medaris, Roy Cohn and Joe Bonanno (Joe Bananas), a top Mafia man from New York, Las Vegas, Tucson and Montreal, Canada. Lionel Corporation during this period did over ninety percent of their business with the space agency and army ordnance furnishing such items as electronic equipment, rocket parts, chemical warfare agents and flame throwers. Also, during this period, General Medaris, though having retired in 1960, remained on active duty as special advisor to Army Intelligence in the Pentagon. The Lionel Corporation management was in direct contact with Louis Mortimer Bloomfield who, among other things, was a lawyer with offices in Tangiers, Morocco and Paris, France. Bloomfield was also the president of Heineken's Brewers, Ltd., Canada. General Medaris was a director of one of the land speculation companies of Bobby Baker and Senator George Smathers in Florida. Joe Bonanno (Joe Bananas) in his capacity as a Mafia leader, was associated in the Havana and Las Vegas gambling with L.J. McWillie, Clifford Jones and others.

In addition to J. Edgar Hoover's close association with Roy Cohn, he was also a long time friend of General Medaris. Joe Bonanno (Joe Bananas) had been a personal informer for J. Edgar Hoover for over a decade during 1963. Grant Stockdale, ex-United States Ambassador to Ireland and former George Smathers Administrative Assistant and a stock holder and officer in Bobby Baker's vending machine and Florida land transactions, knew and was closely associated with almost all of the top figures in the cabal. Shortly after President Kennedy's assassination on November 22, 1963, Grant Stockdale was pushed, shoved or fell from the fourteenth story of a Miami building and was killed immediately in the fall. As an officer in the Bobby Baker enterprises, Grant Stockdale had particular knowledge of a good part of the workings of the cabal and his death was one of a series made necessary to protect the group from public exposure...

Fred Black of Washington, D.C. was a lobbyist for North American Aircraft and business associate with Bobby Baker and Clifford Jones. Black has confirmed the connection between Jones, McWillie, Baker, Ruby and ex-Cuban President, Prio.

After November 22, l963, Black publicly told many people in Washington, D.C. he had informed J. Edgar Hoover that an income tax conviction against him must be reversed or he would blow the lid off Washington with revelations of the assassination conspirators. Lobbyist Black prevailed upon J. Edgar Hoover to admit error before the Supreme Court where his case was reversed in 1966. Hoover did well to rescue Black from the conviction. Fred Black, while socially drinking with acquaintances in Washington has, on numerous occasions, been reported to have told of J. Edgar Hoover's and Bobby Baker's involvement in the assassination through Las Vegas, Miami and Havana gamblers. He named some of these as the Fox Brothers of Miami, McLaney of Las Vegas, New Orleans, Havana and Bahamas, Cliff Jones of Las Vegas, Carlos Prio Socarras of Havana, Bobby Baker and others. He stated there was also a connection in that some of the gamblers were Russian emigres.

Don Reynolds, Washington, D.C. businessman and associate of Bobby Baker and who had a number of questionable business transactions with Walter Jenkins on behalf of Lyndon Johnson, also gave testimony concerning Bobby Baker's involvement with the principals and he has stated on numerous public occasions that this group was behind the assassination of President John F. Kennedy. Black was a stockholder with Baker in the Waikiki Savings & Loan Association in Honolulu. The other members were Clifford Jones and his law partner, Louis Weiner. There was the Farmers and Merchants State Bank in Tulsa where Jones joined Baker and Black in a stock deal and brought in a Miami pal by the name of Benny Sigelbaum, a courier of funds and documents to the Swiss banks for Permindex and the Syndicate.

Of all the enterprises, none could compare with the controversial Serv-U Corp., a Baker-Black controlled vending- machine firm. Ed Levinson, president of the Fremont Hotel, Las Vegas, Nevada, was also a partner. Grant Stockdale, President of Serv-U and his money is covered later. Formed late in 1961, Serve-U Corporation provided vending machines for the automatic dispensing of food and drink in companies working on government contracts. In the next two years, Serv-U was awarded the lion-share of the vending business at three major aerospace firms - North American Aviation, Northrop Corporation and Thompson Ramo Wooldridge's Space Technology Laboratories. Baker and Black each bought stock in the company for $1 a share, while the others paid approximately $16 a share.
Donald Purdy: How would you characterize your relationship with Jack Ruby in the 1950's in Dallas?

Lewis McWillie: 1950's, I wasn't around him a real lot, you might say, he would come out to my apartment and swim in the pool and he was a kind of a leech, you might say.

Donald Purdy: Kind of a leech?

Lewis McWillie: Leech. And he was just a hard fellow to get rid of.

Donald Purdy: You say he came over uninvited?

Lewis McWillie: Yes, he came over uninvited after so long a time and he would hang around the pool everyday and swim and have dinner with me and different things.

Donald Purdy: Did you ever have to ask him to leave?

Lewis McWillie: I don't recall. I could have. I don't recall it, though.

Donald Purdy: Were you and Jack Ruby friends during the 1950's?

Lewis McWillie: Yes, we were friends.

Donald Purdy: Were you aware that Jack Ruby considered you one of his closest friends?

Lewis McWillie: I would have to say so, yes, on account of the favors I had done him.

Donald Purdy: What was the reason?

Lewis McWillie: The favors I have done him.

Donald Purdy: So he liked you because you had done favors for him?

Lewis McWillie: I helped him.

Donald Purdy: How had you helped him other than getting Mr. Julius Schepps to help him? Did you help him in any other way?

Lewis McWillie: I helped him with, he had a union problem, he called me in Las Vegas in the early part of 1963.

Donald Purdy: We will go into that in more detail in a little while.

Lewis McWillie: All right.

Donald Purdy: Were you aware that Jack Ruby included you on a list of people who might dislike him?

Lewis McWillie: He put me on a list of people that might dislike him?

Donald Purdy: Yes.

Lewis McWillie: No, I am not.

Donald Purdy: Was there any reason that you could think of that Jack Ruby might think that you disliked him?

Lewis McWillie: No way.

Donald Purdy: Did Jack Ruby idolize you?

Lewis McWillie: In a sort of way I would think so, yes.

Donald Purdy: Why did he idolize you?

Lewis McWillie: I guess because I had helped him keep his business open.

Donald Purdy: What contacts, if any, did you have with Jack Ruby's family, friends and business associates?

Lewis McWillie: I didn't even know his family or friends, I didn't know his family. He told me that he had a brother who was sick and his sister was ill, someway. He didn't elaborate.